This Is The Best Way To Cook Scallops At Home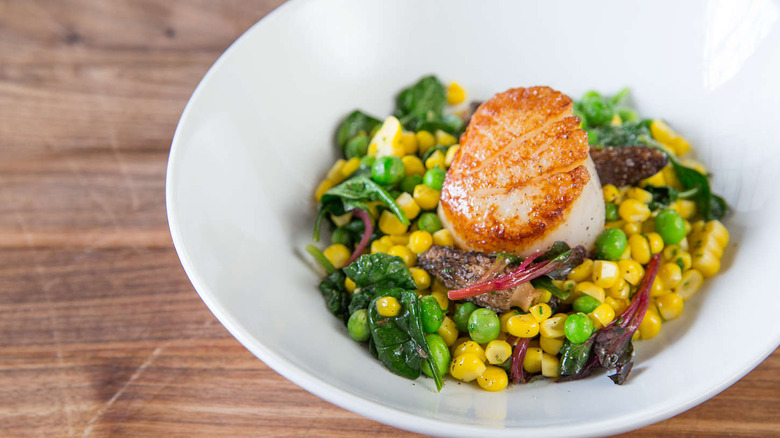 Last week, we spoke about tips for buying the very best scallops on offer at your local fishmonger. We learned to remember four terms: firm, dry, saltwater smell and U/10 (buying fewer than ten scallops per pound). But how best to whip up these tender gems in a matter of minutes? Luckily for us, our friends at ChefSteps wrote in to assure us that cooking scallops is among the easiest of kitchen tasks.
A lot of home cooks avoid messing with scallops, believing that perfect preparation is the exclusive domain of the pros. We're here to dispel that notion and to let you know that it's stupidly quick and easy for anyone to achieve a rich, buttery scallop with a crisp, delicious crust. All that's required of you: a hot pan, a little oil and a modicum of self-control — a modicum. That's not very much. Now take a look at the brief instructional video below and start cooking a meal that's just as perfect for last-minute guests as it is for solo dining in front of the TV. Don't be surprised if you wind up impressing yourself.
ChefSteps comprises a team of award-winning chefs, filmmakers, scientists, designers and engineers focused on revolutionizing the way people cook by inspiring creativity and encouraging expertise in the kitchen. You can also get access to all of ChefSteps' Premium content — including paid classes and dozens of recipes available only to Premium members for a onetime fee — for the special price of $24 (regularly $39). Classes include Sous Vide: Beyond the Basics, Fluid Gels, French Macarons and more!