4 Refreshing Beer Styles To Drink This Spring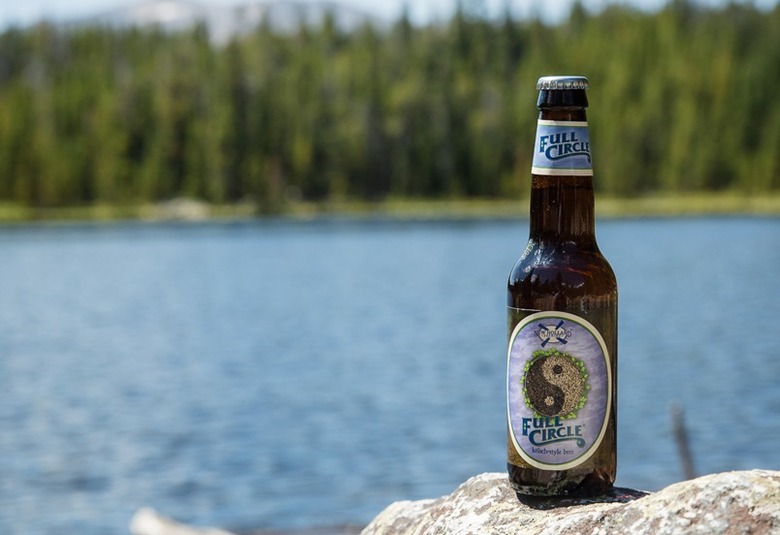 We may receive a commission on purchases made from links.
Spring is an underappreciated time to be a beer drinker in America. Its seasonal releases lack the malty heft of fall brews or the gooey complexity of winter beers, never mind the richness of their packaging. A snow-coated landscape or a roaring fire will do it for winter releases, a pile of multicolored leaves or a cluster of pumpkins for fall ones — how is a brewery supposed to convey "spring" in a single label?
As for the season right after spring, that's a breeze to conceptualize. Summer beer is easy. Summer is vacation. Summer is flip-flops and back-deck barbecues. Beaches. Sun-drenched vistas. People get summer. Spring is often just prelude.
Yet there are beers that are particularly enjoyable in these slightly warmer months. They are not necessarily seasonal releases and perhaps thankfully so. The spring months seem to have become the dumping ground for breweries unsure of where to drop their most experimentally inoffensive concoctions.
Instead, the perfect beers of spring arise from certain styles. And these styles are by and large not as heavy on the palate nor as strong in alcohol as the fall and winter beers that have dominated the previous six or so months. They're also generally lighter in color — and lighter on the belly.
Here are four such styles to drink deeply from before it gets too hot.
Helles
This style arose as a German answer to the rocket-ship rise of pilsner in the late 19th century out of what was then Austria-Hungary. Munich's Spaten Brewery released the first helles in late March 1894, unsure of whether Germans used to eons' worth of darker, heavier fare would embrace a lighter-colored, and lighter-tasting, lager.
They would.
Helles — roughly "a lighter one" in German — is by definition not very hoppy nor bitter. It's instead supposed to be malty sweet and eminently quaffable, light as can be on the belly. Helles, too, it's been said, is basically the one beer style for those who say they don't really like beer.
Its alcohol volume falls generally from about 4 percent to 6 percent, making helles positively sessionable for languid May afternoons.
Recommended: Queen City Brewery South End Lager; Victory Helles Lager; Cigar City Hotter Than Helles
Pilsner
As for that mighty pilsner out of the now-Czech Republic town of Pilsen, so many versions of it have swept the world that it's hard now to appreciate how revolutionary the lager was when it was born in the early 1840s.
Until pilsner, the vast majority of beers produced were darker, heavier ales — think stouts and another 19th-century invention, porters — or they were at least hazy, especially those made with wheat. Clear, clean, crisp — these were not adjectives applied to beer back then. Along comes pilsner and its clear, golden hue, and its clean, crisp, almost spicy taste, and the game quickly changed.
The best-known pilsner brand is Budweiser, though let's just charitably say it's probably not the finest example. There are plenty of better ones out there, wonderfully direct, straight-ahead iterations of the Czech blockbuster. These brands make pilsner the style for people who just want a beer, without the froufrou or the high alcohol content. Most pilsners will mimic helles in their ABV percentages.
Recommended: Lagunitas Pils; Oskar Blues Mama's Little Yellow Pils; Two Roads Ol' Factory Pils
Cream Ale
One of only three beer styles born in the U.S.A., cream ale is light-bodied and mildly bitter, though much less so than most other ales, particularly the reigning craft-beer style of India pale ale. Cream ales also have an almost bready taste to them and should have a lingeringly sweet finish.
The style arose in the late 19th century and early 20th as an American answer to kolsch, which was itself a German answer to the Czech-born pilsner (see below — so much of beer styles is Six Degrees of Separation). Brewers used adjuncts such as corn and rice to lighten the body of what would normally have come out as a conventionally thicker, richer ale. Cream ales were also fermented and aged in cooler temperatures than were their ale cousins.
The finished product? That lighter-tasting, almost sweet beer with an ABV of around 5 percent.
For a time beginning in the early 1960s, cream ale was the best-selling ale style in an America gaga for pilsner lagers such as Budweiser. That sales bounce was due almost entirely to the million or so barrels of cream ale rolling out of the Rochester, New York–based Genesee Brewing Co. every year.
Those sales ebbed, particularly against the late 1970s rise of light beer, another American-born beer style. Cream ales, though, are very much back in vogue, and Genesee's signature is once again widely available.
Recommended: New Glarus Spotted Cow; Sixpoint Sweet Action; Terrapin Golden Ale
Kolsch
Like cream ale, kolsch is another kind of ale-meets-lager style. And, like helles, it was born in what is now Germany — in this case, in Cologne — in the 19th century as a response to the rise of pilsner. Kolsch also became, more or less, the German answer to the English pale ale.
Of the four styles listed here, kolsch is probably the fullest-tasting. It's made in much the same way as cream ale: an ale that's fermented and aged at cooler temperatures. It lacks cream ale's sweetness, though, or that of helles, for that matter, and will come across as spicier and almost prickly, but ultimately clean on the finish.
Like all the other styles here, kolsch will pour a kind of straw-slash-golden color, and will be on the lower end of the ABV spectrum (at least by American standards). It should also taste crisply refreshing, which is why many recommend it for the hotter days of summer. We say start now.
Recommended: Saint Arnold Fancy Lawnmower; New Holland Full Circle; Ballast Point Yellowtail
Tom Acitelli is the author of  The Audacity of Hops: The History of America's Craft Beer Revolution. His latest, American Wine: A Coming-of-Age Story, is a finalist for the 2016 James Beard Award for best beverage book.