Fall Preview 2015: 15 Excellent Beers To Drink This Autumn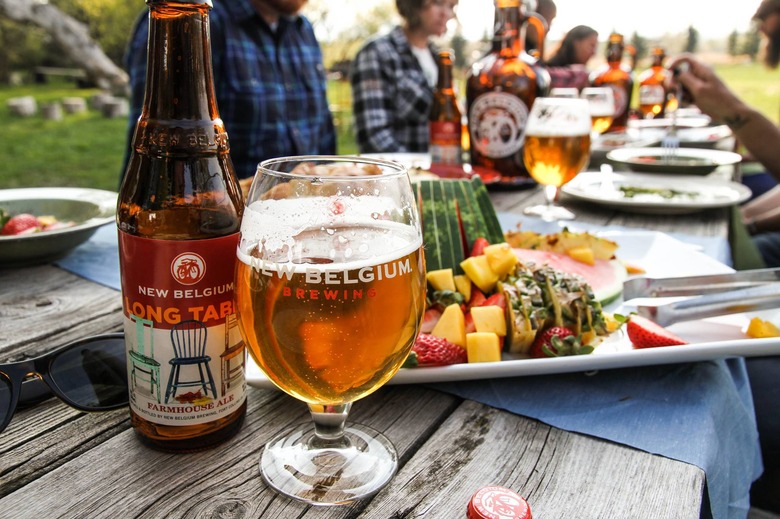 We may receive a commission on purchases made from links.
Autumn is arguably the best time to be a beer drinker in America. The richer, fuller, more complex brews come out to play as the thinner wares of summer retreat. Plus, the beers of fall, including the 15 American-made ones recommended below, seem to pair perfectly with the cooler weather that settles upon most of the nation from about Labor Day through Thanksgiving.
Bracing and warming, not to mention plenty spicy, these beers are the perfect accoutrements to football and turkey — or simply to sitting on the back deck, watching the leaves turn. We won't judge.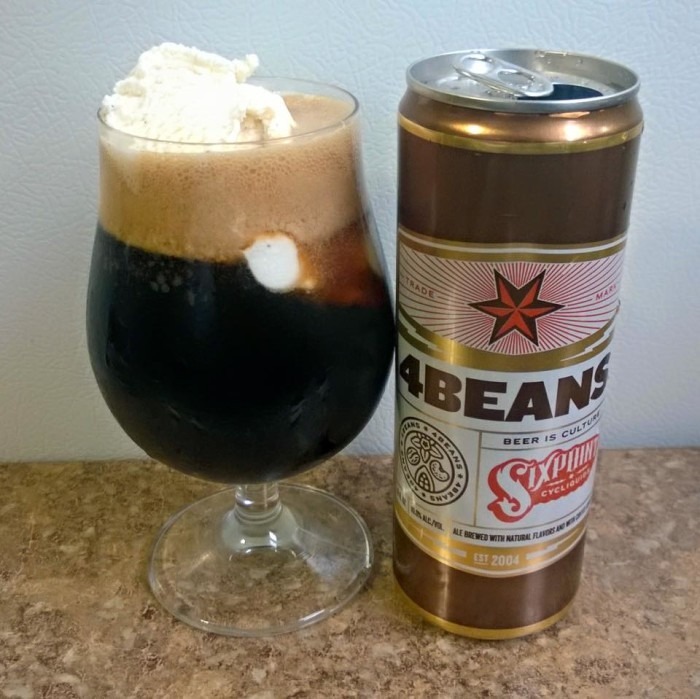 Made with vanilla, cocoa, coffee and Romano beans, the 4Beans Imperial Porter is one of the season's most complex brews. (Photo courtesy of Sixpoint Brewery.)
4Beans Imperial Porter
Sixpoint Brewery, Brooklyn, New York
'Tis the season for more complex brews, and this offering from Sixpoint clearly fits the bill: It comes with vanilla, cocoa and coffee added, plus Romano beans (think snap peas), altogether creating a warm, thick beer that is dense in both color and taste. You could find yourself sipping this all evening, discovering a fresh layer of something on the finish (we picked up vanilla, for sure, but also roasted peanuts) — and then you'd need help getting home or to bed, as 4Beans clocks in at a wobbly 10 percent alcohol by volume.
Little Sumpin Extra! Ale
Lagunitas Brewing Co., Lagunitas, California
It comes as no surprise that this fall seasonal from the rapidly expanding Lagunitas defies categorization. There's a lot of wheat in the grain bill, which helps give it a nice, heavy, grassy taste and aftertaste. It's also, per typical Lagunitas, quite bitter and strong — nearly 9 percent ABV. A bit ironically, it's one of the lighter-tasting beers on this list.
Samuel Adams OctoberFest
Boston Beer Co., Boston, Massachusetts
It's entirely debatable whether Octoberfest (or Oktoberfest) is a distinct beer style or just a marketing ploy. The name has its origins in an 1810 festival to mark the marriage of the crown prince of Bavaria in present-day Germany, a festival that has grown into the annual Munich shindig of the same name. In the U.S., Octoberfest beers are generally sweet fall-time treats, all malt up front, with only a mild bitterness. America's biggest craft brewery produces one of the better examples of this quasi-style, at a nice, session-able 5.3 percent ABV.
Long Table Farmhouse Ale
New Belgium Brewing Co., Fort Collins, Colorado
This is a brand-new release from one of the nation's biggest craft breweries, and it seems to bridge nicely the lighter-tasting beers of summer with the heavier ones of fall. There's a ton of citrus up front and in the aroma, but the taste and aftertaste are all sugary malt. Plus! New Belgium says it uses Munich malt in its grain bill for the beer — a perfect nod to the season (though more likely because that particular malt adds quite a bit of sweet finish to many beers). Careful, though: It's a deceptively sippable 6 percent ABV.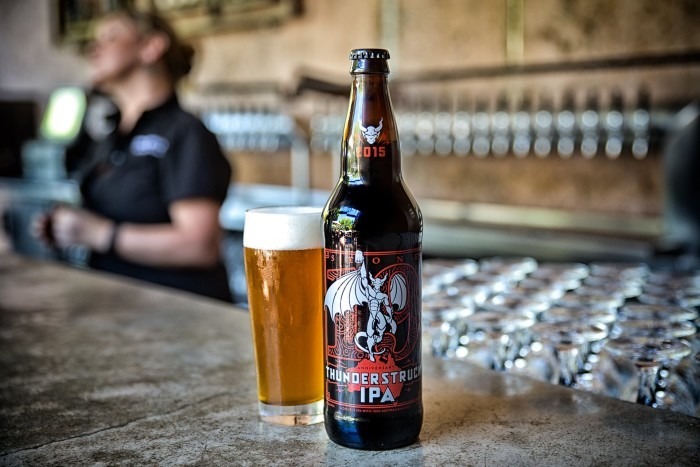 Stone Brewing's 19th Anniversary Thunderstruck IPA is made with four kinds of Australian hops. (Photo courtesy of Stone Brewing Co.)
19th Anniversary Thunderstruck IPA
Stone Brewing Co., Escondido, California
This new release from the Southwest's biggest craft brewery started rolling out nationally in late July. True to form for Stone, one of the progenitors of the ultra-hoppy West Coast take on IPAs, 19th Anniversary Thunderstruck IPA leads and finishes (and after-finishes) with a citrusy, tongue-sizzling bitterness. The brewery used four hops native to Australia — Topaz, Galaxy, Ella and Vic Secret — as well as Fairview malt from Down Under. Hence the name, a nod not only to Stone's years in business but to the AC/DC song of your high school years. Nine percent ABV, as if you couldn't guess.
Big Foot Barleywine-Style Ale
Sierra Nevada Brewing Co., Chico, California
You generally want to pound beer as quickly as you acquire it — that is, it usually tastes best the fresher it is. Bolder, thicker concoctions such as the annual Big Foot barleywine offering from Sierra Nevada are the exception. This hearty monster is made for cellaring, and you can even taste subtle differences year to year — should you be able to restrain yourself enough to collect several vintages. The 2015 Big Foot tastes quite bitter, with only a little sweetness on the end. At the start, we actually detected hints of bourbon. Perhaps the 9.6 percent ABV explains that. We'll see what a few months of aging does.
Oktoberfest Marzen Lager
Left Hand Brewing Co., Longmont, Colorado
This seasonal is on the drier-tasting side as far as Octoberfests go, which only makes it maddeningly more drinkable, with a bready nose and mouthfeel and a bracing, bitter finish — all of it complemented by a crisp thinness that had us thinking that the definition of session beer deserves yet another tangent: the session Octoberfest. Alas, Left Hand's contribution checks in at 6.6 percent ABV, not quite session-able.
Roadsmary's Baby
Two Roads Brewing Co., Stratford, Connecticut
It is dang near impossible to avoid pumpkin ales this time of year. The style — basically a rich ale infused with pumpkin flavoring, either genuine or artificial, as well as spices — positively screams "Fall!" Two Roads takes, um, the road less traveled in the pumpkin-ale genre with this seasonal release. Yes, it's a pumpkin ale, and you taste the pumpkin throughout. But there's also rum on the finish. Seriously. While a plethora of breweries have been using old bourbon casks for aging, Two Roads aged this offering in barrels once used for rum. It's nearly 7 percent ABV.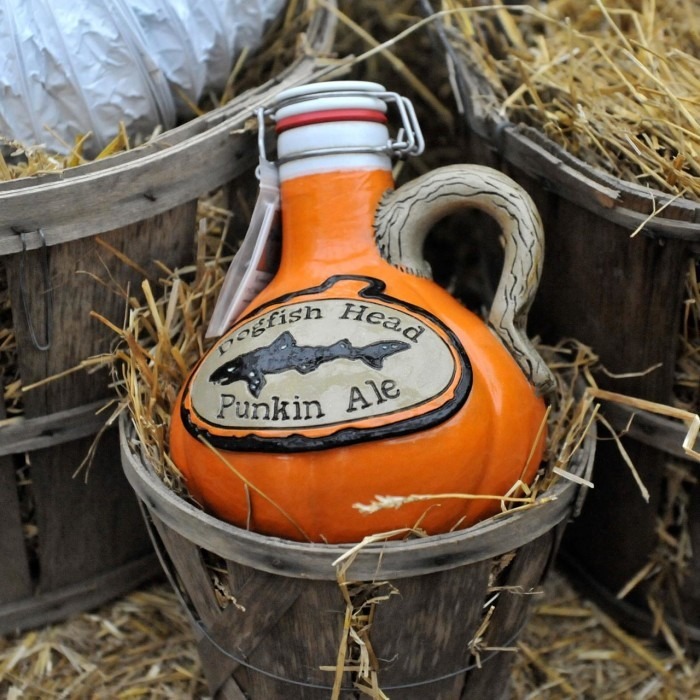 Pumpkin ales are everywhere this fall, though Dogfish Head actually classifies its version as a brown ale. (Photo courtesy of Dogfish Head Craft Brewery.)
Punkin Ale
Dogfish Head Craft Brewery, Milton, Delaware
Again, pumpkin ales — they're everywhere in the fall. This number from the godfather of extreme beer in America is all pumpkin, all the time — aroma, mouthfeel, aftertaste, gentle belch minutes later. Smooth and sweet, barely bitter, it is practically a dessert within itself, though could just as well go along with some pie at Thanksgiving. It's 7 percent ABV and Dogfish Head classifies it as a brown ale, which the world needs more of now.
Long Trail Harvest Ale
Long Trail Brewing Co., Bridgewater Corners, Vermont
Another brown ale! This one has real Vermont maple syrup added, which balances Long Trail Harvest's nutty aroma and initial taste with a lingering sweetness. A very warming beer with nary any bitterness save for a crispness on the finish, it clocks in at a mere 4.4 percent ABV. Definitely session-able.
Cherry Stout
Bell's Brewery, Kalamazoo, Michigan
The Midwest's oldest craft brewery usually rolls this seasonal out in October. It's a deeply hued, deeply textured take on that most opaque of English beer styles, the stout. Real Montmorency cherries from Michigan undergird the whole affair, giving the brew a tart aroma and foretaste, with a nice, sweet chocolaty finish. It's 7 percent ABV, though it's difficult to taste the alcohol. This would be the beer on the list for people not too keen on beer.
Saranac Dark-toberfest
F.X. Matt Brewing Co., Utica, New York
One of America's oldest breweries (est. 1888) offers what might just be a unique spin on the autumnally omnipresent style: a darker Octoberfest. The Munich malts lay down another layer of rich sweetness on top of what would have been a rather sweet creation to begin with. A bready, meal-in-a-glass fullness rescues Saranac Dark-toberfest from being too treacly, however, and it's eminently session-able at 6 percent ABV.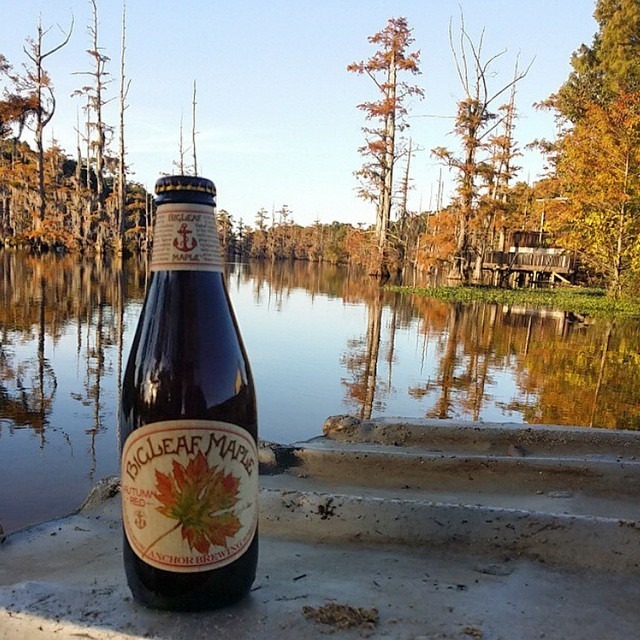 Anchor Brewing's Big Leaf Maple Autumn Red is made with Vermont maple syrup. (Photo courtesy of Anchor Brewing Co.)
Big Leaf Maple Autumn Red
Anchor Brewing Co., San Francisco
This seasonal from America's oldest craft brewery is going into its third autumn. The real maple syrup that Anchor adds, not to mention the caramel malts, leaves the red ale with a lush, candy-like taste. (Toffee, maybe, or straight-up caramel?) There is a strong hop presence, too, more so than most of those on this list. Clean and crisp at the finish; 6 percent ABV.
Southern Tier Harvest
Southern Tier Brewing Co., Lakewood, New York
There is definitely a hint of caramel sweetness in Southern Tier's interpretation of the classic English style known as extra-special bitter (a.k.a. strong bitter). But what really comes through is a resin-y, spicy bitterness that is rare in fall offerings. Damn refreshing, though. Just under 7 percent ABV, as well.
Harpoon UFO Pumpkin
Mass. Bay Brewing Co., Boston, Massachusetts
Mass. Bay/Harpoon's contribution to the genre is hands down one of the all-time great pumpkin ales — mild yet lush, with a full pumpkin-and-spice taste (and aftertaste) unencumbered by any bitterness. It is fall in a glass, and at under 6 percent ABV, we should think you could have more than one glass.
Tom Acitelli is the author of  The Audacity of Hops: The History of America's Craft Beer Revolution, and the new fine wine history, American Wine: A Coming-of-Age Story.