Amazon Prime Day Editors' Picks: The Stuff You Actually Need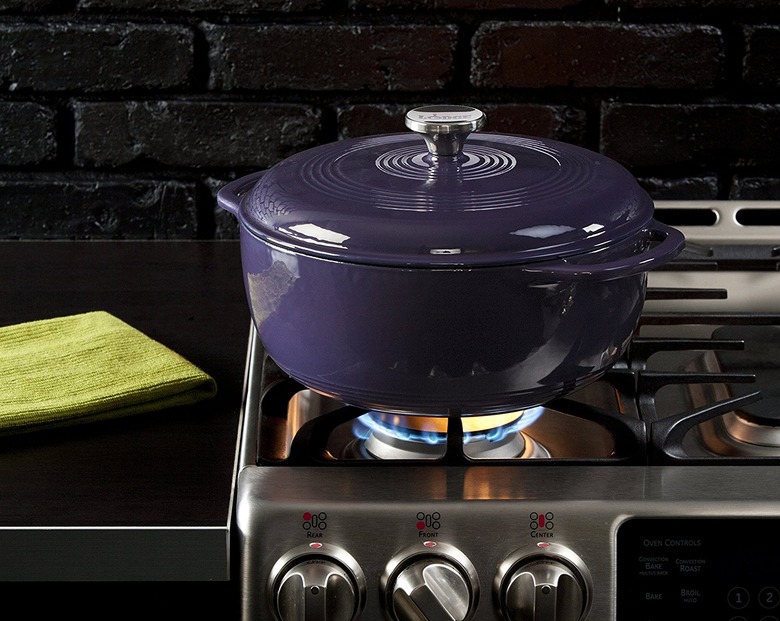 Happy third annual Amazon Prime Day! It's an online shopping holiday for members of Amazon's premium delivery service, with none of the trampling and tears of Black Friday. There are thousands of deals to be jumped in every genre, but some of the the steals you'll find today in the "home chefs" section are exceptional, and easily the lowest price you'll find for dozens of things you need in your kitchen. Stock up on essentials like baking sheets, silicone mats and dish towels, then pick up a few cool treats. Here are Food Republic's editors picks. Get 'em before we do!
uKeg 64 Pressurized Growler
GrowlerWerks, $149.00
Ordinarily we'd say this looks like a gimmicky piece of tin crap, but the reviews speak for themselves. This steampunk-looking growler doubles as a mini-keg. Show up at your favorite craft beer bar to fill 'er up and bask in all the attention.
Cast-Iron Dutch Oven
Lodge, $57.80
If you don't have an enameled cast-iron Dutch oven or your current one is on its last legs, there's never been a better time to pick up a replacement for one of the most important and versatile tools in the kitchen. Boil, braise, fry and simmer away in style.
Glass Microwave Popcorn Maker
Epoca, $19.99
You may have heard rumors that microwave popcorn in bags isn't terribly healthy for you. Circumvent that issue with this cute glass popcorn-maker that needs nothing more than a cup of kernels and melted butter at the ready.
Truffle Zest
Sabatino Tartufi Truffles, $14.99
Ordinarily we're as skeptical as the next food enthusiast when it comes to truffle products, but this Italian black truffle "zest" is one of Oprah's Favorite Things, and we take that stuff very seriously. It's Amazon's #1 best-selling truffle product, and Oprah eats it on her eggs and popcorn. Hey, has anyone told her about the Epoca glass microwave popcorn maker?
Almond Butter
Barney Butter, $18.65
This healthy almond butter goes where you go, and 24 should last you a while! Who wants to be the person at the airport with a packet of almond butter to spread on a $2 apple? How about the person with the screaming toddler who needs a snack right now?
Professional Kitchen Butane Culinary Torch
SMAGREHO, $13.99
If you've made it this far down the list, you should own a culinary torch. From creating that iconic crispy sugar crust on crême brûlée to kissing the surface of a perfect slice of sashimi or flash-toasting marshmallows, this is the tool you need to do it all. And hey, if you want to light some candles to set the mood for this crême brûlée sashimi marshmallow fest, this'll do the trick nicely. Just don't burn the house down.
Griddle for Grills
Little Griddle, $64.34
Whether you're barbecuing while camping or simply hanging in the backyard, this griddle fits onto your round grill to provide a flat surface for breakfast fare or simply all the bacon you'll need for those bacon cheeseburgers.
Floor Mat
Nuva, $41.99
Any cook who's every stood over a simmering pot or stirred a skillet of risotto knows the value of a squishy but supple place to stand. These gel mats cushion your feet and ankles so you can go ahead and knock out that insane culinary project without breaking a sweat.
Digital Thermometer
Taylor Precision Products, $8.18
You do need a meat thermometer, but it doesn't have to be fancy, wireless or even wire-ful. Drop an easy-peasy $8 on one of the best-rated digital thermometers out there, and slice into that roast, chicken or meatloaf with full confidence.
Insta Pot
Impresa Products, $13.99
We're a little obsessed with the Instant Pot. It has the ease of a slow-cooker and the power of a pressure cooker, and that's a sweet spot we've been hunting down for years. Once you've whipped up your low-country boil or citrus bacon Brussels sprouts, simply snap this handy, sturdy lid over the bowl and stash the leftovers in the fridge for later.
Ceramic Non-Stick Pans Set
GreenLife, $26.98
Chances are your current non-stick pan could use an upgrade. They're not made to last forever, and they're cheap enough to replace once or twice a year to keep things sliding off the surface gracefully and with little to no swearing. GreenLife pans don't contain any of the harmful compounds found in some non-stick coatings, and this set comes with two sizes. Fried egg party at your house!
Silicone Stretch Lids
Orblue, $14.87
Gone are the days of wrestling with your cling wrap's scary serrated cutter and untangling the corner of wrap that always folds in on itself and makes more folds when you try to unfold the stupid...anyway, these silicone stretch lids fit over any round container or bowl, and keep things extra-fresh without the waste or wrestling.