Bacon Blue Cheese Burger Recipe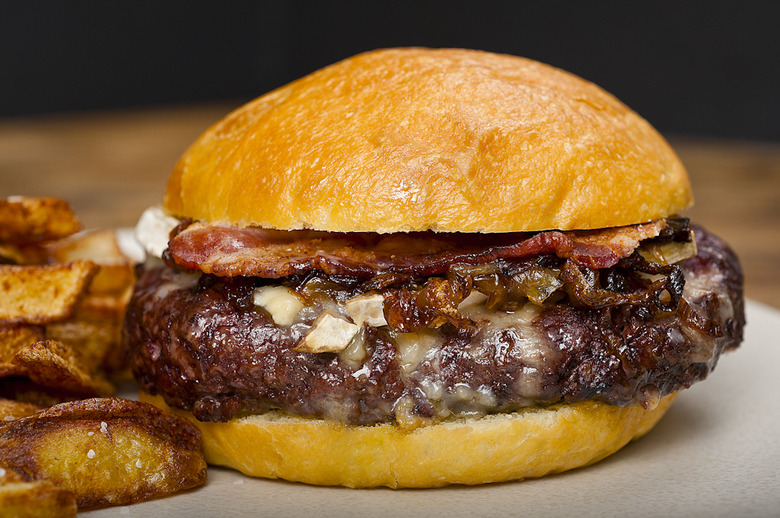 Photo: Mark Shaw
Now that we've planted the All-American Cheeseburger seed, it's time to explore the rest of the burger family tree. This bacon blue cheese burger combines salty cheese and bacon and sweet caramelized onions for a fully balanced flavor experience that could even survive a heavy dose of ketchup. But if you want to add one more note to the symphony, our Grown Up Ketchup is a great jumping off point to the world of homemade condiments.
One logical shortcut might be mixing blue cheese crumbles in with the ground beef, but we've found that too much of the cheese melts out and what's left behind is overly salty. The addition of cheese throughout also prevents the burger from cooking evenly, so we recommend topping your patty with a couple of slices of Saga Bleu, gorgonzola or roquefort instead. Pair that with some crispy bacon you cooked perfectly and sweet, sticky caramelized onions. You've never seen a homemade burger bun so excited to meet its demise.
Not a fan of blue cheese yet? We can fix that.
Bacon Blue Cheese Burger Recipe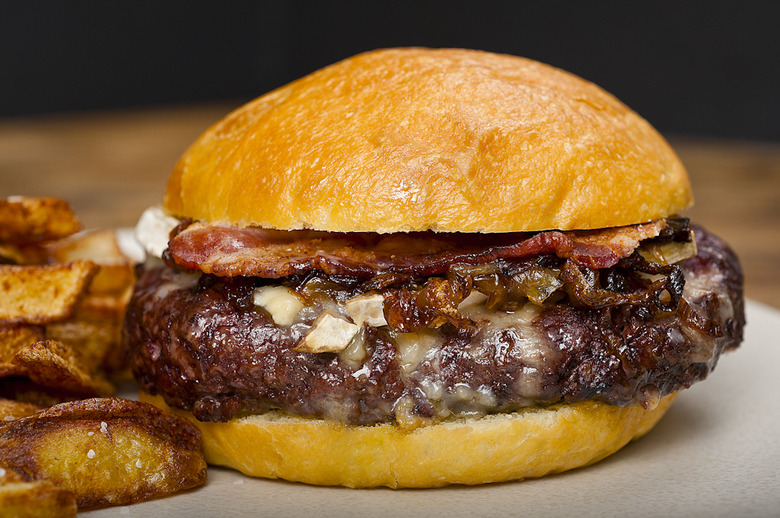 Ingredients
2 pounds freshly ground chuck
1 tablespoon onion powder
1 teaspoon salt
1 teaspoon freshly ground black pepper
8 ounces blue cheese
12 slices thick-cut bacon
6 large Hamburger buns
2 tablespoons olive oil
2 large yellow onions
1/2 teaspoon salt
Directions
Heat the olive oil in a large, heavy-bottomed saucepan on medium heat. Add the onions, stir briefly to coat with oil and cook without stirring for 10-12 minutes.
Flip so that the onions on the bottom of the pot are now on top, and cook for another 10-12 minutes. Flip one more time, lower heat and allow onions to caramelized until completely brown — about 15 minutes — gently stirring occasionally. Remove from heat and set aside. These can be reheated before you put the burgers together.
In a large bowl, mix ground beef, onion powder, salt and pepper until just combined. Do not overmix, or your patties will be tough. 
Divide into six portions and form patties, without pressing too hard. They should be uniform in thickness. Smooth out any cracks using your fingers. Make these right before you grill them, so they stay at room temperature. 
Preheat your grill, grill pan or cast-iron skillet to high heat and add burger patties. If using a grill, cover with the lid.
Cook until the crust that forms on the bottom of the burger releases it from the pan or grate — about 2 minutes. Gently test, but don't flip it until it gets to this point. When burgers lift up easily, flip, add enough blue cheese to cover completely, close lid if using a grill, and cook on the other side for another 2-3 minutes for medium to medium rare. 
Remove patties carefully using a metal spatula and transfer to buns. Top with caramelized onions and bacon and serve immediately.