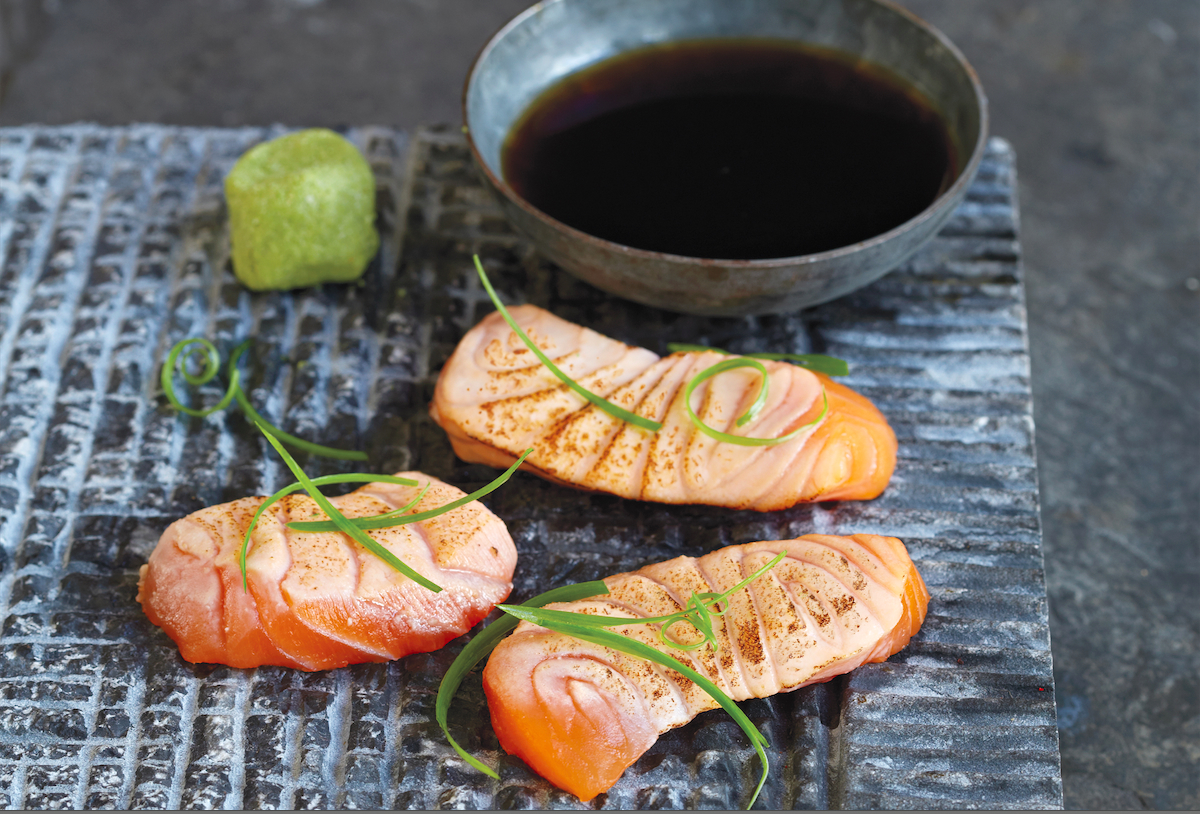 You can trust Steven Raichlen, author of the best-selling Barbecue! Bible, when it comes to making great dinners with all the confidence in the world. His newest book, Man Made Meals, is your no-nonsense highway to something meaty, preferably grilled, and easy enough to make on a weeknight. This one involves your favorite toy in the kitchen (or soon to be favorite).
A few years ago I started seeing blowtorches at sushi bars where they were used to shoot fire at icy-cold sliced raw fish. The intense heat did something extraordinary — it brought the flavorful oils to the surface of the fish and singed the edges, imparting a smoky, almost baconlike flavor. And of course, any dish that encourages you to use a welder's tool is a winner in my book. This dish was inspired by a boldly innovative Boston restaurant called o ya, but you'll find blowtorched sashimi everywhere from Sushi Roku in Santa Monica to Kushi in Washington, D.C. Crudo (raw fish) turns up in many cutting-edge restaurants. Think of this as crudo with a live-fire twist. 
Ingredients
1

pound

skinless salmon fillet, preferably wild, well-chilled

1

heaping tablespoon

wasabi powder

1

tablespoon

hot water, or as needed

1/2

cup

good soy sauce

1/4

cup

yuzu juice or rice vinegar (or 2 tablespoons each fresh lemon and lime juice)
Directions
Run your fingers over the salmon fillet, feeling for bones. Pull out any you find with needle-nose pliers or tweezers (or your fingers).
Holding a knife on a 45-degree angle to the cutting board, cut the salmon fillet crosswise on the diagonal into thin (not more than 1/4-inch) slices.
Arrange the salmon slices in a single layer on a heatproof platter or plates. Slice the salmon not more than 1 hour before serving and keep the platter or plates of salmon slices on ice or in the refrigerator.
Meanwhile, make the dipping sauce: Place the wasabi in a small bowl and add 1 tablespoon of hot water or as needed—enough to form a thick paste when stirred.
Let this paste stand for 5 minutes to let the heat and flavor develop.
Place a marble-size blob on each plate.
Divide the soy sauce and yuzu juice or rice vinegar evenly among 4 small bowls.
Just before serving, light the blowtorch and run the flame over the salmon just long enough to lightly singe the edges and to bring the oils to the surface, about 15 seconds. The leading edge of the flame should be about 1 inch above the fish.
Serve at room temperature. Have each eater add wasabi paste to taste to the soy sauce mixture, stirring it in with chopsticks. Dip the salmon into the wasabi sauce and get ready to experience crudo at its electrifying best.
Find more fresh fish recipes on Food Republic: