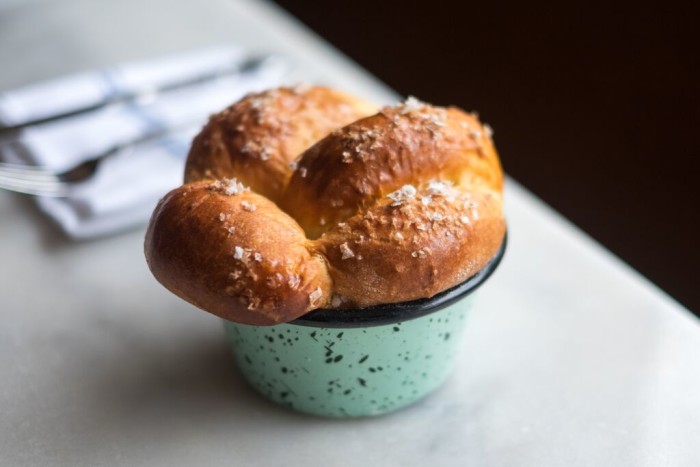 It's Thursday afternoon inside Kindred Restaurant, one of the newest additions to the quaint college town of Davidson, just 20 minutes north of Charlotte, North Carolina. Servers fill the cushy leather bar stools, folding stacks of linens atop the sleek marble bar and actively awaiting lineup, which begins promptly at 4:30 p.m. Kitchen staff emerge from the basement kitchen in procession, bearing hands full of small plates for the servers to sample and deconstruct.
This sort of pregame huddle is not unusual in the restaurant industry. But here in his eponymous restaurant, Joe Kindred delivers a speech like no other chef in town. He walks the team through the entire menu, line by line, pointing out new items, such as the pappardelle with guinea hen ragù, before diving into very specific details about ingredients and techniques. "I don't know if anyone's noticed, but the gnocchi has been looking a lot more beautiful," the chef says. "That's because we've focused on the vegetables in the sugo," he explains, using the Italian term for sauce. "We're ricing them, which helps with viscosity." The attentive servers, like students in a lecture, nod in acknowledgement and scribble notes to take with them into the evening. "Our number one job here is hospitality," Kindred says, addressing the newest server on his staff. "When we make a mistake, what separates the good from the great is your ability to handle it." Game on.
For husband-and-wife owners Joe and Katy Kindred, this kind of thoroughness is part and parcel of their in-house culture and is perhaps one of the reasons Kindred was recently named to Bon Appétit's "Hot 10" list of America's Best New Restaurants 2015. Well, that and the outstanding food, like the ambrosial milk bread and the perfectly pulverized lamb tartare. Since earning this honor, the couple says restaurant reservations have practically doubled overall (they tripled in the two weeks after the news broke).
"The news has increased the radius for people willing to check us out," says Katy Kindred. "It puts a lot of eyes on us and with that, some pressure in terms of expectations."
This is big news, and not just for the team at Kindred. Their honor is a victory for Charlotte's entire culinary community. The city has been waiting for this. Though national spectators have come to the Queen City in the past, this new spotlight urges people to look again at what's happening in Charlotte's dining scene.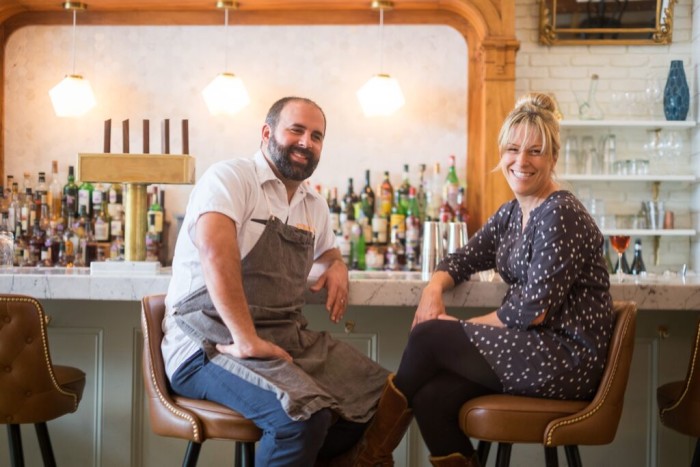 A former textile town turned banking nexus (behemoth Bank of America is headquartered here), Charlotte has long been labeled a corporate town, and the perception of its culinary scene was that it never strayed too far from the predictable steakhouses of the banking set. The city has long had a lot more going for it, although its merits never reached the type of crescendo that would influence outsiders. It must be said, too, that the city was arguably late to the party. Until 1978, Mecklenburg County (the county in which Charlotte resides) held a 70-year ban preventing the sale of liquor in restaurants, which didn't exactly bode well for a robust food and drink scene.
When people talk of culinary destinations in the South, the cities most often named are Atlanta, Charleston and Nashville. Draw the lens closer to North Carolina and you will hear praises for Asheville, the Triangle region (Raleigh/Durham/Chapel Hill) and site-specific hot spots, like Kinston, North Carolina, where Vivian Howard's Chef & the Farmer draws national attention.
Those in Charlotte's food community will tell you that their city has felt more like the "red-headed stepchild" of the South, a place identified as a "bank town" and little else. The perception, as veteran chef Bruce Moffett says, is that the Queen City is a soulless food town, overwrought by corporate chains and Southern fried foods. TV's Guy Fieri only bolstered the stereotype when he came to town to broadcast his reckless consumption of fried pickles and greasy hamburgers. Yes, you can find those things in Charlotte, but there is so much more. Especially now.
---
"What Joe Kindred did is more than a catalyst — it's a template."
---
"We have a maturing food scene," says Kathleen Purvis, the food editor for the Charlotte Observer since 1989. "There's a vibrancy in our city reflected in what's going on in food."
Indeed, signs of this new vibrancy are everywhere. The formerly desolate quiet of Uptown Charlotte is now a steady hum of a younger, growing population with new aspirations and ideas about what they want from their city. And the staunch, suited preferences native to the Bank of America executives that branded the city in the 1980s are giving way to the loose-necked desires of millennials in favor of alternative workspaces, good coffee shops and authentic experiences.
When I landed in Charlotte six years ago, I was first struck by the established farmers' markets all around the city. Sure, nowadays every major city has similar markets, but there was something very different here, something more personal. I would argue that the chef-farmer partnerships forged here at Charlotte's markets have defined the underpinnings of today's contemporary scene.
You can trace the roots of these relationships back to 1991, when residents of the tiny town of Matthews, located just southeast of the city, banded together to create a growers-only market that sold produce from within 50 miles of the town center. By the late 1990s, Charlotte chef and local farm-to-table pioneer Tim Groody, who now owns Fork! in Davidson (just down the road from Kindred), along with Bruce Moffett, owner of Barrington's Restaurant, Good Food on Montford and Stagioni, had set a new standard for local chefs who are laser-focused on the freshest ingredients. These old-guard figures introduced local diners to the nuances of seasonal cooking and earned the trust of their community, which set the precedent for Charlotte's new guard to do what they do. These days, it is a weekend ritual to find Charlotte's chefs fraternizing at the local farmers' markets.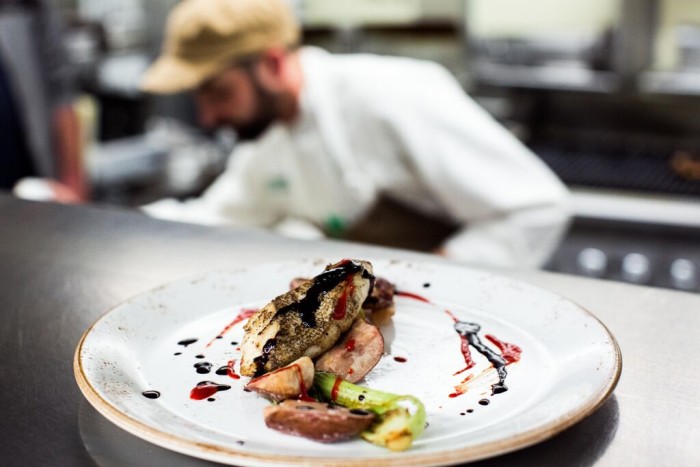 Two restaurants that perhaps best exemplify this current chef-farmer synergy in the Charlotte area both come with traditional-sounding names but contemporary sensibilities, and both start with "H." At Heritage, chef Paul Verica takes a Dan Barber–esque approach to his weekly changing menu, making modern dishes driven by his relationships with local farmers. Something as simple as a surplus of beets becomes beets four ways, delegated into a salad, beet meringue, beet sponge cake and tender beet greens.
Then there is the more avant-garde Heirloom restaurant, where chef Clark Barlowe digs into farm-to-fork 2.0, using primarily North Carolina–sourced ingredients. The chef-forager is known for his "waste not, want not" attitude, employing a root-to-leaf philosophy with unusual ingredients and featuring a 12-course tasting that changes nightly. Ten years ago, these small restaurants, on Charlotte's outskirts, would never have survived. Yet a new dining public, educated by the community-driven farmers' markets and bolstered by an increasing level of trust in these local chefs, is beginning to move outside of its comfort zone.
One could argue that the local-food angle is not enough to drive national eyeballs on a city, and it's not. The use of local ingredients in a New American style can produce a culinary sameness, even when well executed by a cadre of talented chefs. Someone needed to break the mold, to push outside of the current creative realm into something…more.
Enter chef Joe Kindred, the bright, young chef who honed his chops in the high-end kitchens of Chicago and San Francisco and worked under the tutelage of veteran chef Jim Noble, owner of two well-loved uptown establishments, Rooster's and the King's Kitchen. When Joe and his wife, Katy, opened their namesake restaurant inside an old pharmacy, it was with the notion of offering a holistic experience like that of the great food cities in which they worked.
"It's hard to understand great hospitality until you've experienced it," says Katy Kindred, who handles the restaurant's front-of-house operations and also serves as sommelier. "In a competitive market, only serving good food isn't going to cut it." She's right, of course, and her restaurant fully demonstrates that level of understanding. So many restaurants in Charlotte offer good food or great ambience. Far less common is the kind of place that excels at both. Dining at Kindred is a top-to-bottom experience that begins as soon as you approach the hand-painted facade of the restaurant (a throwback to its pharmacy days) and enter into the thoughtfully designed space. What follows is a dazzling array of small plates seasoned with nostalgic notes, complemented by well-crafted cocktails, and guided by warm, knowledgeable service that extends to the entire team, from the hostess to the mixologists to the servers.
---
Overall, Charlotte steadily checks off the boxes of a well-rounded food city. Great ethnic eats? Check. Craft breweries? Check. Craft coffee? Check. Craft cocktails? Check. Highfalutin wine bars? Yes, even those.
---
If the national spotlight has long escaped Charlotte's culinary community, then Kindred has captured it, which raises the question: Is this the tipping point?
Sometimes all it takes is one great restaurant. John Kessler, former restaurant reviewer for the Atlanta-Journal Constitution, says it was the opening of Holeman & Finch in 2008 that transformed the Atlanta food scene from high-dollar derivative concepts to places that helped establish a collective voice.
Insiders suggest that a similar phenomenon is already under way in Charlotte. "There's a lot of honest growth going on right now," says Marc Jacksina, executive chef at Earl's Grocery, an eclectic gourmet shop and restaurant that attracts Charlotte's hip working set for a lunch menu that includes steak tacos and ramen. "I don't think we've hit saturation," Jacksina says. "What Joe Kindred did is more than a catalyst — it's a template."
Jacksina came to Charlotte in 2003 and remembers only a handful of chef-driven restaurants, most of them spread out. Today, he says, people are sharing resources and collaborating more. Organizations like the Piedmont Culinary Guild, a nonprofit made up of chefs (so far there are 65 chefs registered as active members), farmers, food artisans and culinary educators, are helping to fuel that supportive spirit.
The talent exists. The building blocks are in place. And the options just keep multiplying. "It's almost like the half-life of radioactive material," Jacksina says. "What used to take us five years now takes two. Everything is moving at an accelerated rate."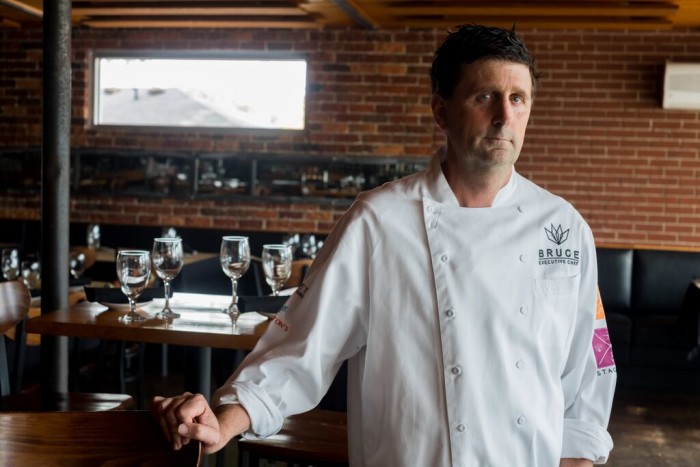 Prior to Kindred's arrival, perhaps the closest the Charlotte area's culinary scener came to national acclaim was Moffett's sophomore effort, Good Food on Montford, a 2010 semifinalist for the James Beard Foundation's Best New Restaurant honor. Opened in 2009, Good Food is still one of the best meals in town. While Moffett's place may have fallen short on the national stage, it had tremendous impact on the local scene, especially on its immediate neighborhood. Located on a previously overlooked strip of road once labeled seedy and lifeless, Montford Drive today has developed into a walkable district filled with casual dining options.
Around town, other similarly sparse areas are beginning to take shape. Charlotte's Elizabeth Avenue is an interesting pocket that includes stalwart restaurant Carpe Diem and its sister spot, the aforementioned Earl's Grocery. Just down the street, Passion8 beckons diners into its glittering dining room with chef Luca Annunziata's interpretation of New American cuisine, which includes nods to his native Italy.
Also promising: The neighborhoods are filling in with middle-of-the-road options, like the Workman's Friend, a new pub in Plaza Midwood, which aims at serving a good pint and a solid plate of food (go for the pickled, fried okra) and LittleSpoon, the bumping breakfast spot in Myers Park, a welcome disruption to the Stepford Wives vibe of the community.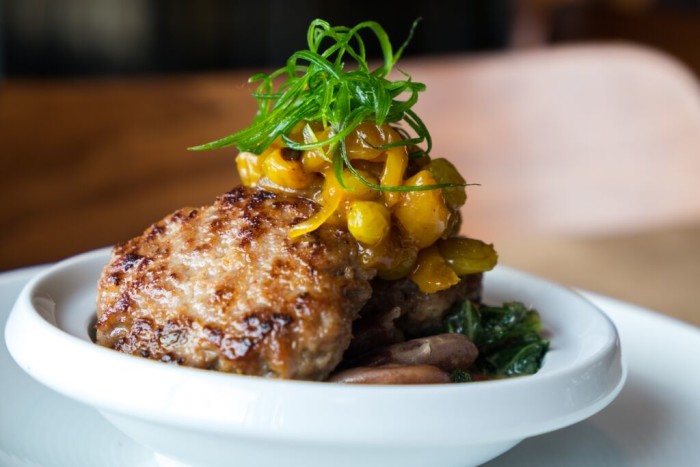 Overall, Charlotte steadily checks off the boxes of a well-rounded food city.
Beloved local institutions? Check. Lunchtime lines on the north and south side of town extend out the door at places like Price's Chicken Coop and Brooks' Sandwich House, where fried chicken (Price's) and legendary burgers (Brooks') work to unify the mishmash of customers, from men in suits to families and hard-scrapping workers.
Great ethnic eats? You bet. Global corridors filled with healthy immigrant populations add dynamism all over the city, from Chinese egg tarts inside the Grand Asia Market and taquerias along Central Avenue to regional Indian food south of the city and a significant selection of noteworthy Vietnamese radiating throughout.
Craft beer? Check. Charlotte "proper" is home to 11 breweries at last count, with more on the way. Considering that Charlotte's very first brewery opened only six years ago, this is a testament to the city's healthy momentum.
Craft coffee? Yes, and an ever-growing enthusiastic coffee community that hosts latte art throwdowns and pop-ups in Charlotte's coolest enclaves.
Craft cocktails? Check. Sip a highball atop the Ritz-Carlton, or gather at Soul Gastrolounge for a late-night beverage.
Highfalutin wine bars? Yes, even those. New Yorker Laura Maniec opened Corkbuzz, her third wine studio, the first one outside of New York City.
Trendy noodle soups? Finally, yes. In South End, chef Michael Shortino opened Futo Buta Ramen this year with a surprising izakaya serving fine bowls of ramen.
So what's still missing? "One of the impediments to Charlotte's dining scene is geographical," says Jay Pierce, former executive chef of Rocksalt Charlotte, who points out that many of the area's best restaurants are nowhere near each other. "Kindred is not close to Heirloom is not close to Heritage," as Pierce puts it. Moreover, many of these excellent dining options are located on the outskirts of town, far away from the business travelers who frequent Uptown hotels and who might otherwise spread the good gustatory news abroad. Instead, the Uptown crowd is faced with mostly a barrage of corporate chain restaurants, the kind that can easily win over landlords with lucrative corporate rent guarantees, pushing independently owned, chef-driven restaurants to the fringes.
All of which just makes Kindred's recent acclaim even more important for the city and its overall culinary ambitions. "It's an exciting time, and we're proud to be a part of this scene," says Katy Kindred. "The best part is that, in time, [the restaurant scene] will begin to feed itself and then layer on itself. When I was cutting my teeth in Chicago, it was experiencing similar growing pains, and it wasn't until Chicago tapped into its Chicago-ness that it really came into its own."
Perhaps now, with Kindred and its contemporaries, we're finally beginning to get a taste of that ever-elusive Charlotte-ness.
---
Restaurants that appear in this article (listed alphabetically) include:
Barrington's Restaurant, 7822 Fairview Rd., Charlotte, NC 28226; 704-364-5755; barringtonsrestaurant.com
Brook's Sandwich House, 2710 N. Brevard St., Charlotte, NC 28205; 704-375-7808; eatbrookschili.com
Carpe Diem, 1535 Elizabeth Ave., Charlotte, NC 28204; 704-377-7976; carpediemrestaurant.com
Corkbuzz, 4905 Ashley Park Ln., Charlotte, NC 28210; 704-625-1328; charlotte.corkbuzz.com
Earl's Grocery, 1609 Elizabeth Ave., Charlotte, NC 28204; 704-333-2757; earlsgrocery.com
Fork!, 20517 N. Main St., Cornelius, NC 28031; 704-655-7465; forkdining.com
Futo Buta, 222 E. Bland St., Charlotte, NC 28203; 704-376-8400; futobuta.com
Good Food on Montford, 1701 Montford Dr., Charlotte, NC 28209; 704-525-0881; goodfoodonmontford.com
Grand Asia Market, 4400 Potters Rd., Stallings, NC 28104; 704-821-0899; grandasiamarket.com
Heirloom Restaurant, 8470 Bellhaven Blvd., Charlotte, NC 28216; 704-595-7710; heirloomrestaurantnc.com
Heritage Food & Drink, 201 W. South Main St., Waxhaw, NC 28173; 704-843-5236; heritagefoodanddrink.com
Kindred, 131 N. Main St., Davidson, NC 28036; 980-231-5000; kindreddavidson.com
The King's Kitchen & Bakery, 129 W. Trade St., Charlotte, NC 28202; 704-375-1990; kingskitchen.org
Little Spoon Eatery, 2820 Selwyn Ave., Charlotte, NC 28209; 704-469-9908; littlespooneatery.com
Passion8, 1523 Elizabeth Ave., Charlotte, NC 28204; 704-910-3161; thepassion8.com
Price's Chicken Coop, 1614 Camden Rd., Charlotte, NC 28203; 704-333-9866; priceschickencoop.com
Rocksalt, 512 Brandywine Rd., Charlotte, NC 28209; 704-503-9945; rocksaltrestaurants.com
The Ritz-Carlton, 201 E. Trade St., Charlotte, NC 28202; 704-547-2244; ritzcarlton.com
Rooster's, 150 N. College St., Charlotte, NC 28202, 704-370-7667; 6601 Morrison Blvd., Charlotte, NC 28211, 704-366-8688; roosterskitchen.com
Soul Gastrolounge, 1500 Central Ave., Charlotte, NC 28205; 704-348-1848; soulgastrolounge.com
Stagioni, 715 Providence Rd., Charlotte, NC 28207; 704-372-8110; stagioniclt.com
Workman's Friend, 1531 Central Ave., Charlotte, NC 28205; 980-224-8234; theworkmansfriend.com