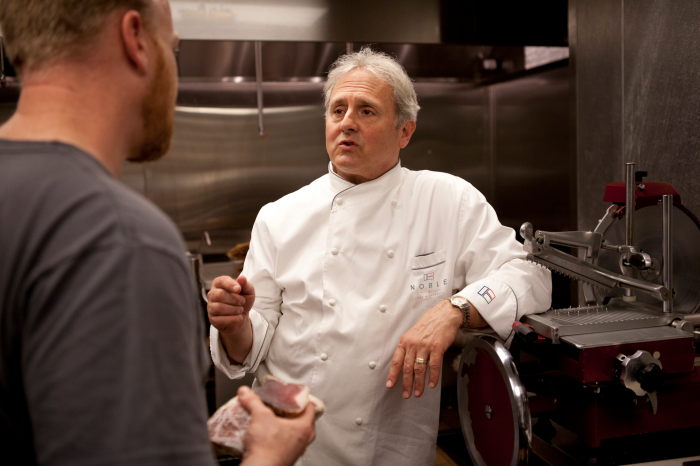 Jim Noble is an ordained minister, doesn't have any formal culinary training and isn't one to follow trends. But for more than three decades, he's been one of the most successful chefs and restaurateurs in North Carolina.
It's hard to pinpoint Noble's style. He's opened French-inspired spots with menus featuring imported wines and truffles. And he's launched a not-for-profit restaurant, the King's Kitchen, where he serves his famed fried chicken and hosts Sunday morning worship services. But he seems to have found his niche in Rooster's, an upscale restaurant featuring farm-fresh vegetables and wood-fired meats in a rustic setting. After two popular Charlotte Rooster's, he has his eye on Southern culinary mecca, Charleston, for a third. We spoke to Noble about his Charleston choice, restaurants for restoration and, of course, his North Carolina-bred love for barbecue.
Why Charleston?
I've been looking to do something in Charleston since 1981. I'm from a small town in North Carolina, but at the time I was in the nightclub business in Clemson, South Carolina. We were trying to open the second location in Charleston. Back then, it wasn't a food city, and I wasn't much of a chef — I was just starting out on my own.
What will set you apart in a city with so many great restaurants?
Most chefs go to Charleston to try to win a James Beard Award. That's not my goal. We're looking at a great space in the old Cigar Factory. And my goal is to create a restaurant where my customers can come once a week. I don't think Charleston has a place like that — this is a niche.
Do you think Charlotte could ever have that kind of food scene?
If I'd gone to Charleston in 1981, it wouldn't have been a food town at all. There was Lowcountry stuff, but not serious food. With the advent of Johnson & Wales, it changed everything. Johnson & Wales produces a bevy of passionate people who want to do food. If you get them with sous chefs and chefs that have a passion, you can get them to explore and grow and learn.
You think that's happening in Charlotte?
I think when chefs work together and aren't competitive and cross-promote each other, it lifts a city up.
Do you see Charlotte as a Southern food city like Charleston?
It would be hard for Charlotte to be considered a Southern food city with as many transplants as there are in town. Most of the chefs here, including me, aren't even from Charlotte. There are chefs here, though, who are passionate about all kinds of food. And with the influx of people from all over the country, there's been a real demand here for good food, especially in recent years. I think of the food here as being more continental and more international than a lot of Southern cities.
Don't people come to Rooster's seeking Southern fare, though?
If they really want Southern, they get fried chicken at my other restaurant, the King's Kitchen. At Rooster's, it's a Southern interpretation of applied French principles of cuisine. My restaurants do have a Southern taste — I can't help it. I'm Southern.
The King's Kitchen was an unusual venture — why do it?
If it wasn't for the ministry part of it, I wouldn't have done it. If I'd wanted top-line sales, I would have opened another restaurant in SouthPark. But we wanted to reach a different population.
Do you see your restaurants as a ministry?
I'm in the restoring business. The word "restaurant" comes from a French word that means restore. It was because taverns and inns were prevalent before public restaurants — places where people could be restored from their travels. I think it's a physical and spiritual thing. Something happens when people sit down at the table. Walls drop. They break bread and drink wine together. It's a place of restoration.
Will Charleston's Rooster's be your finale?
I want to do at least two more projects — the first is Charleston. The next would be barbecue in Charlotte. Barbecue is a passion with my heart. It would be rustic industrial — smoked meat with good sides. I'm always going to be tied to Charlotte. And I've got at least 10 or 15 more years.
Read more FR Interviews on Food Republic: