The Research Dinner Triangle: Where To Eat Well In Raleigh, Durham And Chapel Hill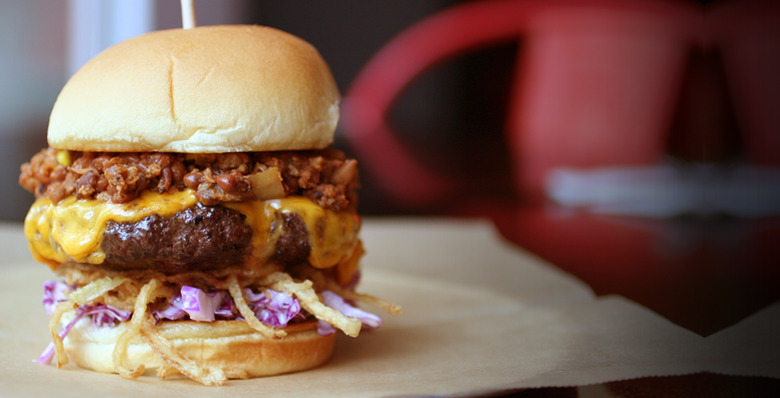 Sure, you're familiar with Nashville and Atlanta. But what about the smaller southern cities packing just as much flavor? In The Hidden South, Chris Chamberlain takes a look at a region of the South that is most certainly worth traveling to for the food.
College sports usually draws the nation's eyes to the basketball (and sometimes football) crazed region of North Carolina known as "Research Triangle" thanks to the anchor universities of UNC, NC State and Duke. The Piedmont region of the state is home to three lovely towns, Raleigh, Durham and Chapel Hill, with a combined population of about 2 million of the friendliest folks you'll ever encounter.
Perhaps they're so personable because they are well-fed thanks to a long roster of acclaimed restaurants ranging from down-home diners to white tablecloth fine dining establishment. Old school meets new world at Nana's in Durham, where diners have been feasting on the kitchen's take on European classics featuring native North Carolina ingredients for over two decades. The dining space is dramatic, with chandeliers and candlelight flickering off of a hardwood floor made from heart pine reclaimed from a warehouse built in downtown Durham over 60 years ago. The menu changes monthly depending on availability of local produce and fresh seafood, but the five-course tasting menu is always a wise choice, especially for only $50!
At Watts Grocery, Amy Tornquist has brought her experience working under the iconic North Carolina chef Bill Neal of Crook's Corner in Chapel Hill back to her hometown of Durham. Her menu of Tarheel State classics features the ubiquitous deviled eggs as an appetizer, served with Johnston County country ham, house potato chips and pickles. Since her mentor Neal practically invented shrimp and grits, you'd expect some version on the menu. But Tornquist's variation is something special, with North Carolina Shrimp and Oyster Etouffee over crispy Carolina Gold rice calas served with grilled andouille sausage and pepper relish.
Chapel Hill is by far the smallest of the three towns in The Triangle, but in terms of notable restaurants per capita, the home of the University of North Carolina more than holds its own. The national spotlight shone upon Chapel Hill's Lantern and chef/owner Andrea Reusing when she won the James Beard Award for Best Chef-Southeast in 2011. David Chang made the trip down from NYC to cook in her kitchen and celebrate her fusion of Asian and North Carolina cuisine with dishes like crispy whole NC flounder, done Vietnamese, in cha ca la vong and lemongrass-grilled Niman Ranch pork chops.
Related: North Carolina: The 2 Female Chefs You Need To Know All About
There's been a lot of buzz lately in Chapel Hill over Kim Floresca and Daniel Ryan's new project which they call [ONE] restaurant. With resumes that include stints at Per Se, The French Laundry, Alinea, El Bulli and The Restaurant at Meadowood, these two chefs definitely show off their cooking chops with modernist presentations of regional cuisine.
When Homa Jahannia opened Sage Cafe as a strictly vegetarian restaurant in meat-crazy Chapel Hill in 2003, even her kindest friends told her she was crazy. But her Persian-based cooking adapted well to vegetarianism, and the eclectic menu, which draws on other regional influences like Italian cuisine, quickly won over vegetarians and carnivores alike, who flock to the warm and attractive space. Her use of exotic spices that are generally unfamiliar North Carolina diners has educated and delighted palates ever since.
In Raleigh, restaurateur/chef Ashley Christensen is the undisputed master of all she surveys in her particular corner of downtown. Starting out with her first restaurant Poole's Diner in 2007 — located in a building that shares the name and location of one of Raleigh's first restaurant's — Christensen established a reputation for cooking a menu of comfort-food classics, informed by French techniques and featuring locally sourced seasonal ingredients. Her updated versions of classic Southern fare like mac 'n cheese and pimento cheese are considered archetypical by many chefs around the region, and the latter dish may soon be available in a grocery near you as a retail product. Another Christensen specialty is her fried chicken drizzled with honey, which became so popular that she spun off an entire restaurant dedicated to the dish.
Beasley's Chicken + Honey is just around the corner from Poole's in a converted Piggly Wiggly supermarket. In 2011, Christensen also added two other ventures in the space, Fox Liquor Bar and Chuck's, a spot for a fine burger to accompany all that chicken and booze. With the addition of Joule Coffee last year, you'd think that Christensen might be ready for a little break from her aggressive expansion efforts, but she has three more projects on tap for this calendar year!
If a week of eating in a Christensen restaurant every night isn't enough for you, Raleigh still has plenty of other great dining options, from Cajun and Creole cuisine at Battistella's to more modern Southern food at Mandolin and inventive Laotian fare at Bida Manda. For those seeking a more down-home experience, try Big Ed's City Market for the morning meal or at lunch to enjoy traditional farm breakfasts of eggs, bacon, country ham or sausage, or a tall stack of pancakes served with a slab of pork tenderloin.
All this food is enough to make you wonder how any of those kids playing hoops in The Triangle can even get six inches off the floor ...
Nana's
2514 University Drive #104
Durham, NC 27707
919-493-8545
Watts Grocery
1116 Broad Street
Durham, NC 27705
919-416-5040
Lantern
423 West Franklin Street
Chapel Hill, NC 27516
919-969-8846
[ONE] restaurant
100 Meadowmont Village Circle
Chapel Hill, North Carolina 27517
919-537-8207
Sage Cafe
1129 Weaver Dairy Road
Chapel Hill, NC 27514
919-968-9266
Poole's Diner
426 South McDowell Street
Raleigh, NC 27601
919-832-4477
Beasley's Chicken + Honey
237 South Wilmington Street
Raleigh, NC 27601
919-322-0127
Fox Liquor Bar
237 South Wilmington Street
Raleigh, NC 27601
919-322-0128
Chuck's
237 South Wilmington Street
Raleigh, NC 27601
919-322-0126
Joule Coffee
223 South Wilmington Street
Raleigh, NC 27601
919-424-7422
Battistella's
200 East Martin Street
Raleigh, NC 27601
919-803-2501
Mandolin
2519 Fairview Road
Raleigh, NC 27608
919-322-0365
Bida Manda
222 South Blount Street
Raleigh, NC 27601
919-829-9999
Big Ed's City Market
220 Wolfe Street
919-836-9909
Read more The Hidden South columns on Food Republic: