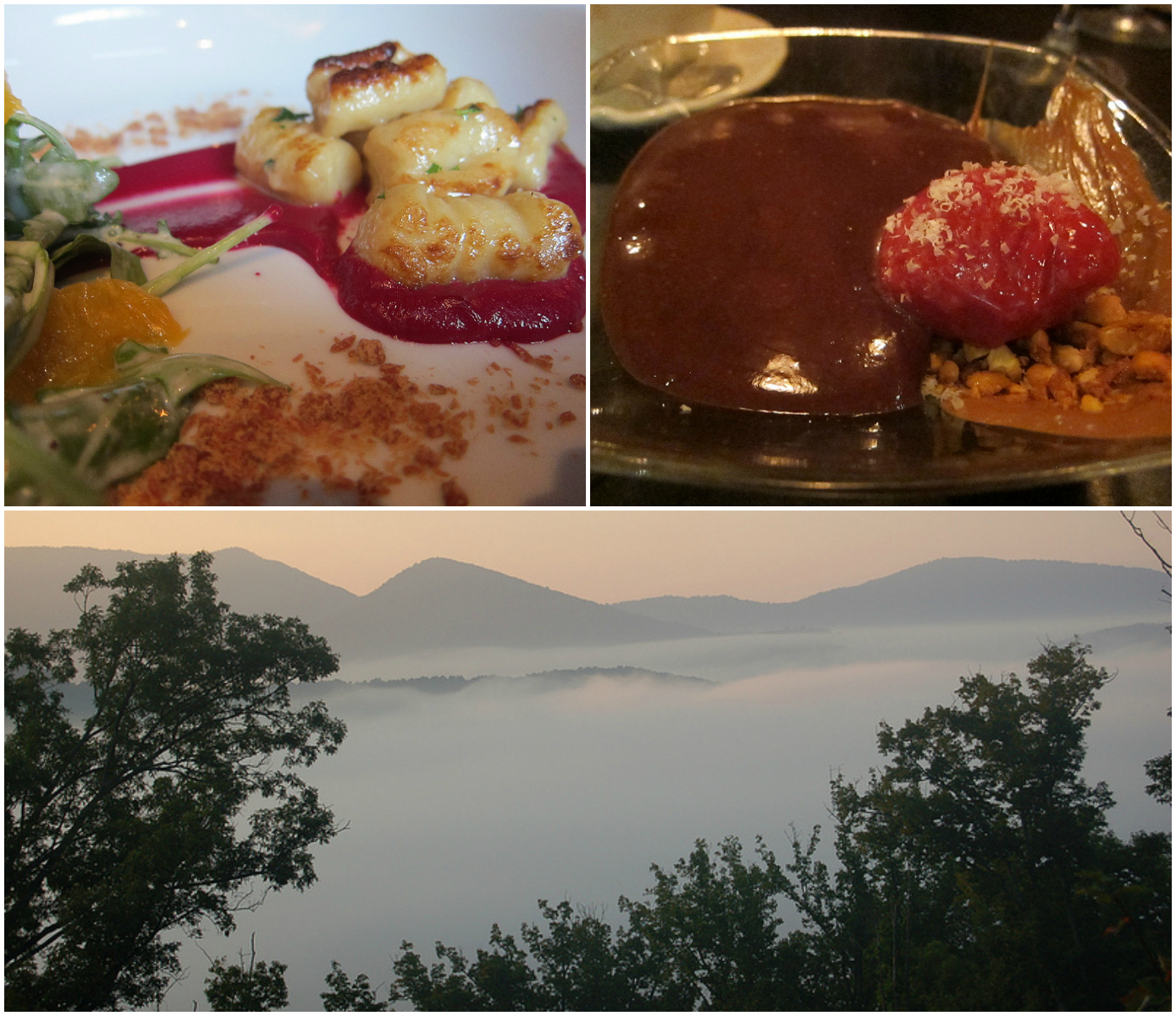 Sure, you're familiar with Nashville and Atlanta. But what about the smaller southern cities packing just as much flavor? In The Hidden South, Chris Chamberlain takes a look at a region of the South that is most certainly worth traveling to for the food.
Nestled in the mountains of western North Carolina, Asheville battles yearly with Portland, Oregon and Boulder, Colorado for the title of "Beer City USA" thanks to a higher number of craft beers per capita than probably anywhere else in the country. A visit to "The Land of the Sky" to visit such notable craft breweries as Highland Brewing Co. and Wicked Weed Brewery is certainly worth the trip, but man cannot live by liquid bread alone, so here are some recommended dining options to soak up the hops and barley.
Two of the biggest names in Asheville's restaurant scene actually specialize in small plates. Reservations at The Admiral are tough to come by, but once you get in to the cinderblock building on the west side of town, you're in for a treat. Ordinarily when restaurateurs set out to create a dive bar atmosphere, the exercise can feel contrived, but at The Admiral it's natural. Most of the illumination in the dim room comes from neon beer signs, so it's tough to photograph the amazing array of small plates that parade from the small kitchen. That's okay, nobody wants to see you taking pictures of your food anyway. Just enjoy dishes like Crab Carbonara, Veal Sweetbreads and Buttermilk Fried Quail and keep your darn phone in your pocket.
Parking is inexpensive and readily available in downtown Asheville, which is fortunate because there are so many excellent drinking and dining options with a few blocks that it's a great town for walking. A frequent destination for diners in the know is Cúrate. (Those savvy patrons also know to pronounce it "KOO-ruh-tay.") Katie Button and her husband Felix Meana met when they were both working in the kitchen for Ferran Adrià at El Bulli. Luckily, Button fell in love with Spanish cooking in addition to her co-worker, and brought them both back to America with her. The inventive menu of tapas at Cúrate focuses on bold flavors in small bites with outstanding versions of Iberian classics like Tortilla Espanola, Espinacas de Catalana and Rossejat Negro. Button's Rossejat is a version of paella made with thin noodles instead of rice, with a splash of squid and its ink to add color and the flavor of the sea. Button also likes to play with molecular gastronomy, particularly with her desserts, so save room for that.
Even with all these refined plates, sometimes Ashevillians just want a great burger, and they recently named Farm Burger as the best new restaurant in town. A spin-off from an Atlanta area chainlet, Farm Burger serves up novel interpretations of burgers made with 100% grass-fed antibiotic– and hormone-free, locally raised, ground fresh beef, and diners get to pick the add-ons to make each burger even more special. Besides the expected topping of a fried farm egg (yawn), slaw, caramelized onions and a variety of cheeses, Farm Burger offers some really freaky-deaky options to elevate your patty. Oxtail marmalade? Sure. Pork belly? But of course. Roasted bone marrow? GTFOH!
Asheville was early to the farm to table game, in part due to the availability of some amazing produce and livestock growing in the verdant hills and fields of the area. But there's also been a long history of hippiedom in the area, so organic and veggie-friendly food has a tradition that has been embraced by much of the cooking and dining community. Perhaps nowhere is this more evident than at Early Girl Eatery, where John and Julie Stehling have been cooking Southern comfort food to the delight of vegans, vegetarians and avowed carnivores since 2001. Everything is made from scratch at Early Girl, three meals a day. You have to respect a place that makes two versions of biscuits and gravy, one with a vegetarian herb cream and another studded with smoky Benton's bacon. Jack Sprat would be very happy to take his wife to a joint like this.
[Editor's Note: During a recent visit to Asheville, a friend of mine advised "Early Girl is good but Sunny Point Café is just as good," and it was more convenient a meeting place for us. He was right: Southern staples like a grilled pimiento cheese and biscuits were done right here, and healthy options like salad also excelled. The brunch is extremely popular as well, with good reason. — R.M.]
At The Market Place, just down Wall Street from Early Girl, William Dissen has been putting his own spin on farm to table since he took over as chef a few years back. The large and modern interior of the dining space is a surprise from the street, were diners enjoy cool jazz at several bistro tables. Once you enter and head upstairs, it's all business at the Market Place that has been delighting locavores for almost 35 years. Dissen has a predilection for using preserved products, a result of growing up on a family farm in West Virginia, where if you didn't pickle any vegetables for the winter, you didn't eat any vegetables for the winter. Pickles and charcuterie are the highlights of the starters, but don't be afraid to try small seafood plates like PEI Mussels or Togarashi Seared Yellowfin Tuna. Dissen is a Seafood Watch Ambassador in a program sponsored by the Monterey Bay Aquarium, so you can rest assured that all his fish is sustainably harvested. The Smoked Potato Gnocchi with roasted beets, arugula & orange salad, buttermilk dressing and Benton's country ham cracklins' is also quite remarkable. Entrées also feature fish like N.C. Sunburst Farms Trout, but it's tough to pass over dishes like wood-grilled Pork Shoulder or Beef Striploin Steak, so feel free to give in to your inner caveman.
Between the beer, the beef and the beets, Asheville's culinary scene has something for every appetite. Or heck, go for all three.
The Admiral
400 Haywood Road
Asheville, NC 28806
828-252-2541
theadmiralnc.com
Cúrate
11 Biltmore Avenue
Asheville, NC 28801
828-239-2946
curatetapasbar.com
Farm Burger
10 Patton Avenue
Asheville, NC 28801
828-348-8540
farmburger.net
Early Girl Eatery
8 Wall Street
Asheville, NC 28801
828-259-9292
earlygirleatery.com
Sunny Point Café
626 Haywood Rd.
Asheville, NC 28806
828-252-0055
Sunnypointcafe.com
The Market Place
20 Wall Street
Asheville, NC 28801
828-252-4162
marketplace-restaurant.com
Read more The Hidden South columns on Food Republic: