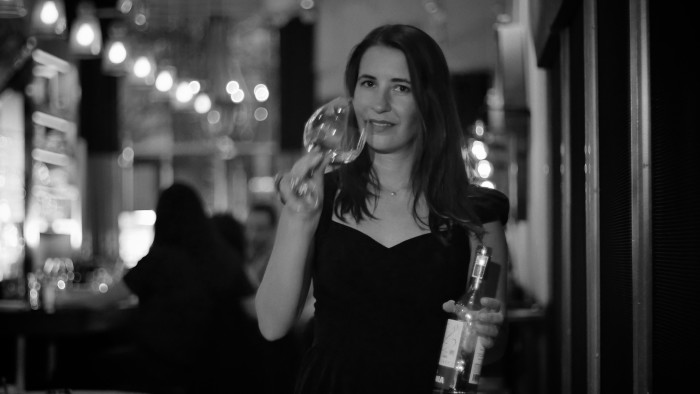 As soon as she was old enough to take a legal drink, Laura Maniec signed up for an 18-week wine course on a whim, which forever changed the trajectory of her life. In 2009, at 29 years old, Maniec became the youngest female at the time to gain the prestigious certification of Master Sommelier. By 2010, with 10 years of industry experience, Maniec quit her job to pursue her own endeavors. In November 2011, she opened Corkbuzz Union Square, a wine studio and restaurant that explored all facets of wine, from education to pure enjoyment, in a restaurant setting. Maniec opened a second location, in Chelsea Market, in 2014 and recently opened a third location, the first outside of New York City, in Charlotte, North Carolina.
Sitting in the Charlotte space shortly after its opening earlier this month, Maniec discusses what influences her passion for wine, what drives the Corkbuzz concept, the importance of Sunday suppers and why she chose the Charlotte as her first venture outside of New York.
Tell me about what attracted you to the subject of wine in the first place.
From a young age, I knew I wanted to be in hospitality. I grew up in a big, Italian family where entertaining and food played a big part. I went to school for hotel and restaurant management, and when I took a course at Windows on the World [formerly located at the top of the World Trade Center], I was like 'What is this?!' This guy is talking about geography and art and culture and language and science and history. I felt like it's what I had been missing. I remember the first time my eyes lit up in that class. My objective is to do that for other people.
What is your chosen approach to building a wine list?
I think I go about 80/20 with classic wines versus eclectic. I like classic wines, classic regions that are representing their names. Then I like to pepper it with more esoteric choices. I like a list where you don't need a sommelier for every experience, because it's not fair to intimidate people. I like to go for tried and true and then add a twist.
Corkbuzz is part wine-education hub, part restaurant and part gathering space. How did you come up with the idea for the concept?
I had an idea that I wanted a wine school modeled after a yoga studio, where I could teach everyone from the novice to the enthusiast. But the concept morphed into something that included the restaurant. I didn't want to host a class, teaching people about Barolo, and then send people elsewhere to drink Barolo. It seemed better to teach a class where people could learn and then come and eat and use what they learned. That's when we settled on a wine studio.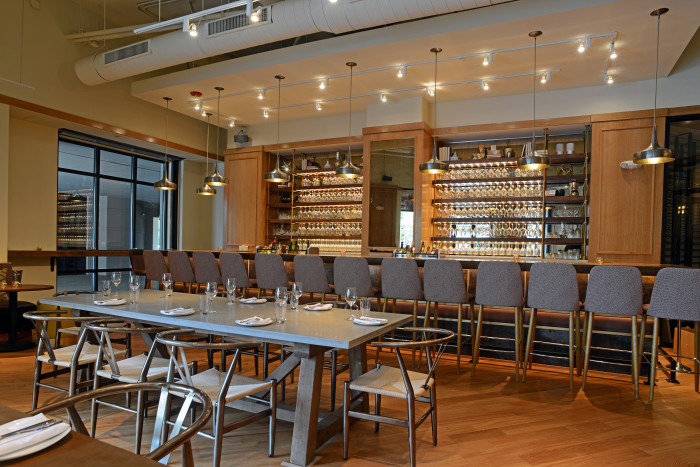 Corkbuzz hosts Sunday Suppers in all of its locations. Where did that idea come from?
Growing up, my grandmother would host Sunday suppers. There would be a huge table filled with all different types of people, friends and neighbors, and so much food. The first Sunday Supper we ever did was a replication of one of my grandmother's meals with traditional dishes like cacio e pepe, panzanella and suckling pig. At Corkbuzz, I wanted to find a way to make a restaurant feel less transaction-based. I wanted our Sunday Suppers to feel more communal. People pay for everything ahead, so there is no awkward moment at the end of the meal. You come in, you eat and then you leave, as if you were at someone's house.
Everybody is wondering, why Charlotte, North Carolina?
In the beginning, we started thinking if we could do this in multiple places. We always knew that there were other markets where we could make a difference and make wine approachable. We had Charlotte in mind before we even opened our Chelsea location. My uncle [and business partner] and cousins live here. I kept thinking, 'Where do we have roots? Where do we like going? What city is close enough? And what city makes you feel good when you go there?' It was Charlotte.
Okay, last question. What would you pair with classic Southern dishes like pimento cheese and Carolina barbecue — vinegar-based, of course?
For pimento cheese, it may sound weird, but I think you need a Napa Cab. Fat takes away tannin and tannin takes away fat. The high fat content in pimento cheese would take the full-bodied tannins of a Cab really well.
Vinegar is typically hard to pair. For a vinegar-based barbecue I would choose something with the acidity to match. A wine from someplace cold, like the Willamette Valley. I think the sweetness and tart flavors of a Pinot Noir and its silkiness would match the fat of the pork. Or something like a really good German Riesling that has sweetness balanced with acidity. It would almost become a glaze to the barbecue.