9 Craft Breweries Making Great Local Beer In Charlotte, North Carolina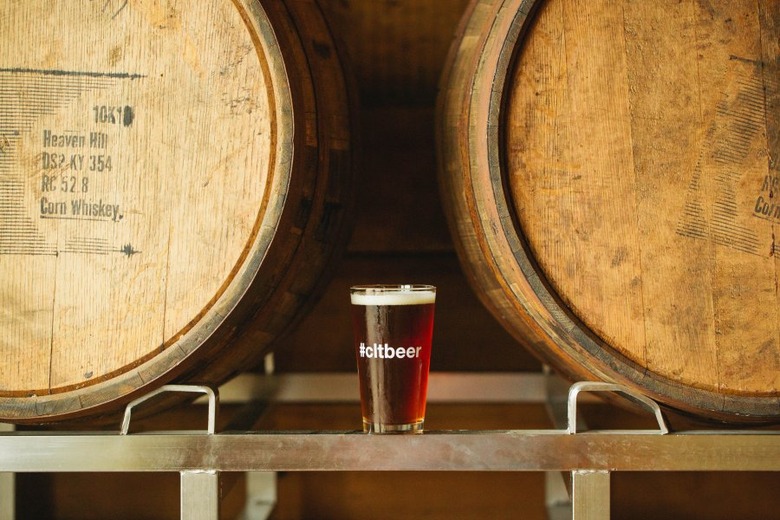 Charlotte's NoDa Brewing Co. won a gold medal at last year's World Beer Cup for its Hop Drop 'N R
Welcome to Craft Beer & Spirits Week, when we take a look at some of the passionate producers, bars and people helping make our world a more spirited place.
People often joke that the beer industry is recession-proof, and perhaps there's some truth to that. Craft beer is an affordable luxury, and even in tough economic times many still manage to treat themselves to some of the world's best beers. Yet when the Great Recession hit in 2008, even a major financial center like Charlotte, North Carolina — home to Bank of America and Wells Fargo — didn't have a local brewery to help drown its collective sorrows. But one man was looking to change that. In 2009, John Marrino opened the doors to the Olde Mecklenburg Brewery. Though he was the first to bank on Charlotte's desire for local beer, many others quickly followed suit. Here are nine breweries now working to put the Queen City on the national craft-beer map:
1. The Olde Mecklenburg Brewery
Charlotte's pioneering craft brewery didn't have to look far when it outgrew its taproom. The newer and much bigger facility sits on 8.5 acres of sprawling green grass, located a mere 500 feet down the road from its original digs. Inside, proprietor John Marrino has built a warm, spacious beer hall inspired by the hallowed brew dens of Düsseldorf, Germany, the city best known for the Altbier style that also inspired Olde Mecklenburg's flagship Copper ale. Outside, the brewery now boasts a huge biergarten, where rows upon rows of communal tables sit beneath towering oaks. Like its counterparts in Deutschland, it's a very family-friendly brewery, too. The kitchen turns out traditional biergarten staples like soft pretzels and bratwurst as well as American bar-food classics like pizza and wings. 4150 Yancey Rd., Charlotte, NC 28217, 704-525-5644; oldemeckbrew.com.
2. Sugar Creek Brewing
When Olde Mecklenburg moved out of its original home, Sugar Creek Brewing moved in. Everything was set up as a turnkey brewery, so the new crew could easily get to work. Like the building's previous tenants, Sugar Creek chose to focus on old-world styles. But the new proprietors favor Belgium over Germany, serving up many witbier, saison and dubbel-style brews in a refreshed maritime-meets-steampunk setting. Sugar Creek does not brew Belgian styles exclusively, however. Other offerings include a hop-forward pale ale and Mocha Java Porter. If you're hungry, consider pairing these beers with a house-made panini, like the Thermal Nuclear Kraken, a juicy jalapeño-spiced chicken breast. 215 Southside Dr., Charlotte, NC 28217, 704-521-3333; sugarcreekbrewing.com.
3. Triple C Brewing
Opened in 2012, Triple C was the first of Charlotte's current crop of breweries to open in the city's rapidly growing South End area. Apartment buildings have sprung up around the brewery since it opened, which means the clean and modern taproom is usually teeming with a mix of young professionals, die-hard beer geeks and their respective dogs. There's plenty of space for canine and owner alike outside, where you'll find several umbrella-covered picnic tables. Triple C has no kitchen, but food trucks often pull up and park outside. What the brewery does have is one of the Queen City's most diverse tap lists. There really is something for everyone here, from blondes to IPAs to big, barrel-aged beers. (Triple C's barrel program consists of various wine and whiskey barrels and continues to grow.) 2900 Griffith St., Charlotte, NC 28203, 704-372-3212; triplecbrewing.com.
4. Sycamore Brewing
Justin and Sarah Brigham opened their brewery in November 2014 with a lofty goal of brewing 100 unique beers in their first year. Having just recently eclipsed 60, they are well on their way. Needless to say, you can almost always find something new at Sycamore Brewing, in addition to a few mainstays, like the Peak Farm Double Pale Ale and Southerly OPA, a pale ale brewed with toasted oats. Enjoy these beers inside amid the rich, reclaimed wood and copper bar, or outside in the spacious beer garden. The outside area is filled with picnic tables and has proven so popular in Sycamore Brewing's short history that the Brighams have already expanded the space. 2161 Hawkins St., Charlotte, NC 28203, 704-910-3821; sycamorebrew.com.
5. Lenny Boy Brewing Co.
Just down the road from Sycamore is Lenny Boy Brewing Co., which boasts a couple of distinctions in the Charlotte market. The first is that Lenny Boy originally built its name not on beer, but on kombucha. The fermented tea still constitutes the majority of its business. But at Lenny Boy's low-key taproom, you'll find not only traditional kombucha, but also what founder Townes Mozer calls "wild ales," which are not ales at all but actually alcoholic kombuchas. The second unique thing about Lenny Boy is that it's the only certified organic brewery in North Carolina. That's part of Mozer's motto: "Leave it better than you found it." And it's reflected in the organic ingredients he sources in brewing several core and seasonal beers. 2224 Hawkins St., Charlotte, NC 28209; discoverlennyboy.com.
6. The Unknown Brewing Co.
If you're walking into the Unknown Brewing Co. expecting the typical reclaimed lumber, you might be taken aback by the neon-green floor and the Hunter S. Thompson quote on one of the taproom's walls. Thompson would probably get along well with the brewery's founder, Brad Shell, who encourages others to "step into the Unknown." That's not just empty marketing speak — it is Shell's motto. Since opening the brewery in November 2013, Shell has brewed with Sriracha, bacon, cream cheese, even 99 scorpions. Don't worry: His core lineup of a wheat, pale ale and IPA might seem tame by comparison, but they're worth venturing into the Unknown. 1327 S. Mint St., Charlotte, NC 28203, 980-237-2628; unknownbrewing.com.
7. NoDa Brewing Co.
If you've heard of only one brewery in this article, it's probably NoDa Brewing Co. At last year's World Beer Cup, the brewery's Hop Drop 'N Roll beat out 223 other beers to win a gold medal in the highly competitive American IPA category. Winning gold propelled the brand into the national spotlight, even if the brewery is still struggling to meet demand in Charlotte. The label has taken a giant stab at fixing that, though, having recently purchased a 32,000-square-foot building that will house a new production brewery. The original taproom will still be used for sours, barrel-aged beers and other, more limited offerings. Visit the brewery to try a range of year-round and seasonal beers. On Tuesdays, the brewery taps its NoDable series of small-batch beers (each with its own unique, and often hilarious, accompanying video). 2229 N. Davidson St., Charlotte, NC 28205, 704-900-6851; nodabrewing.com.
8. Birdsong Brewing Co.
Formerly located right next door to NoDa Brewing Co., Birdsong quickly ran into capacity issues after just a few short years in business. In early April, the brewery moved into a much larger facility about a mile down the road and outfitted its spacious new taproom with rustic wooden tables crafted from trees felled at the general contractor's own home. Pouring from the new 18 taps are old favorites like the Jalapeño Pale Ale, which packs a ton of pepper flavor with little heat, as well as seasonal beers like the Doin' Thyme Witbier and Up on the Sun Saison. You can often find a food truck parked outside. Or you can simply enjoy complimentary peanuts inside. 1016 N. Davidson St., Charlotte, NC 28206, 704-332-1810; birdsongbrewing.com.
9. Heist Brewery
Heist Brewery has breathed new life into what was previously an old mill building through its "twisted eats," craft cocktails and house-made beers. While some of the other breweries in town have added small kitchens, Heist is the only independent brewpub in the city. (Rock Bottom, a national brewery chain, has a location downtown.) Here, you'll find elevated and creative takes on beer-friendly small plates (pork-belly corn dogs, anyone?) as well as a variety of flatbreads. The beer menu is usually divided between core beers — like the Out to Pasture saison — and rotating "not-so-small batch" selections. Visit on Sunday morning to take advantage of the popular brunch buffet. 2909 N. Davidson St., Suite 200, Charlotte, NC 28205, 704-375-8260; heistbrewery.com.
Read more craft-beer stories on Food Republic: