Ina Garten's Store-Bought Shortcut For Thanksgiving Mashed Potatoes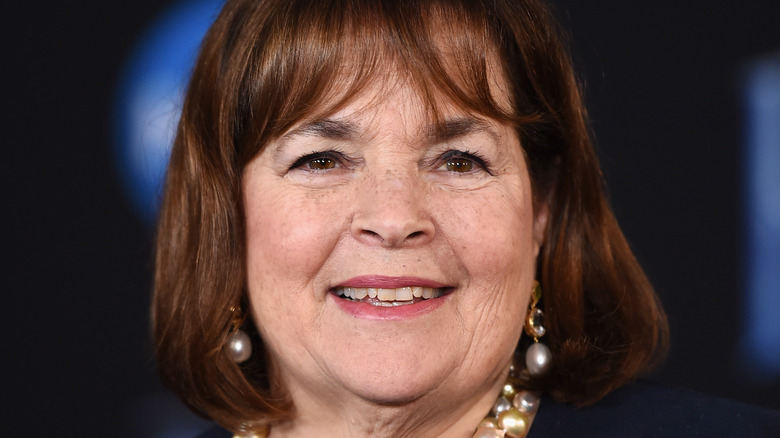 Amanda Edwards/Getty Images
Ina Garten's Parmesan smashed potatoes recipe was first published in 1999 in "The Barefoot Contessa Cookbook." Since then, the recipe has been shared on numerous websites and recreated by an abundance of food bloggers who tout the dish's taste and texture. In 2022, the talented cook — known for her catchphrase "store-bought is fine" — reimagined her popular elevated mashed potatoes with an even more simplified version that makes it a breeze to whip up for Thanksgiving.
Garten's original recipe called for cooking several pounds of red potatoes before combining them in a stand mixer with parmesan and other creamy ingredients. The traditional process would take a home cook at least 45 minutes from start to finish. However, the chef's updated version takes significantly less time, mixing sour cream, Italian Parmesan, butter, salt, and pepper into store-bought Bob Evans mashed potatoes in a double-boiler for nearly effortless results.
Since Garten personally taste-tested her recipe trying all of the prepared mashed potato products in the refrigerated and frozen sections of the grocery store, it's probably safe to assume that using the Bob Evans brand is the best option, but you can always swap it with your favorite prepared variety. Or, for a low-carb version, try using prepared mashed cauliflower.
Garten's hack can be used for other gourmet potatoes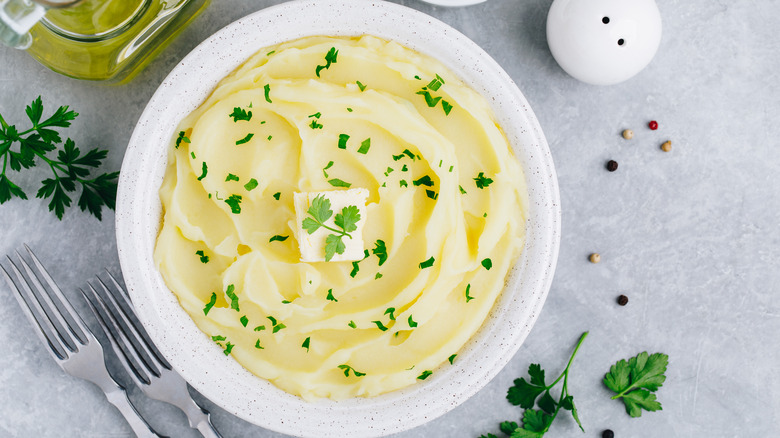 nblx/Shutterstock
While creamy Parmesan mashed potatoes sounds like an amazing way to upgrade traditional taters for Thanksgiving, you can also experiment with Ina Garten's mashed potato hack using other flavors she's incorporated in similar recipes over the years. For example, make Parmesan mashed potatoes even cheesier by folding in seasoned goat cheese for a version of her goat cheese mashed potatoes. Or, omit the Parmesan all together to make Garten's classic mashed potatoes. You can also add a generous amount of cloves for creamy, garlicky mashed potatoes, and don't sleep on the chef's trick for taking a simple mashed potato recipe up a notch by adding some lemon zest.
While any of The Barefoot Contessa's flavored mashed potato recipes pair well with Thanksgiving turkey, you can also make year-round meals easier by using her store-bought trick to quickly cook up tasty taters. Garten once famously paired her garlic mashed potatoes with coq au vin for a special anniversary dinner with husband Jeffrey, but they'd also make a great side dish for simple standard meals like basic meatloaf or pork chops. You can also use Garten's recipe hack to slice time off making shepherd's pie or mashed potato pancakes, or adapt it to whip up some mashed potato scones.
More Thanksgiving dishes made easy by Ina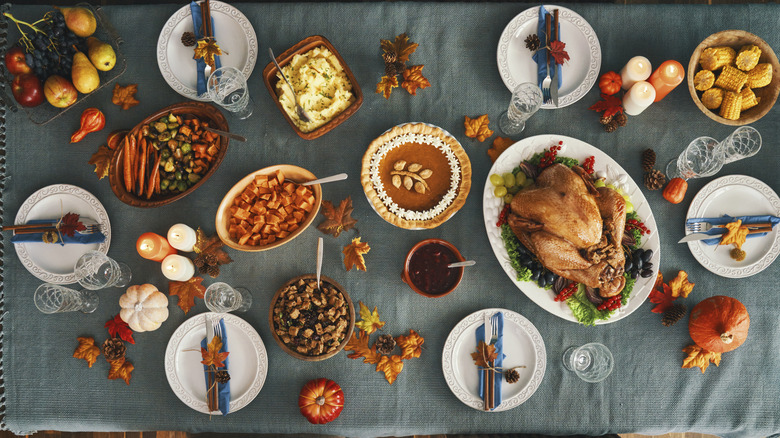 Gmvozd/Getty Images
Ina Garten has even more tricks up her sleeve for simplifying Thanksgiving beyond just making the easiest and tastiest mashed potatoes. For another way to lighten the loads of time it often takes to prepare the holiday meal, Garten suggests making cranberry sauce by dressing up a prepared whole berry sauce. Just heat it on the stovetop with orange juice, zest, and grated apple before folding in raisins and walnuts.
If you typically make your stuffing entirely from scratch, the chef advises to ditch the process of slicing and toasting your bread. Instead, grab the prepackaged version at the grocery store to save time. Then, use it to make your favorite simple recipe or jazz it up with sausage and mushrooms or pumpkin and herbs. Garten likes to use Gruyère as well as mushrooms sauteed with onions, garlic, rosemary, and sherry.
And finally, for a festive and fun cocktail, consider pouring Garten's cranberry martini. Simply mix together cranberry juice, vodka, and Triple Sec and store it in the refrigerator until ready to serve. When it's time to pour, just shake with ice and strain it into a glass garnished with dried cranberries.