Let's hear it for pork chop recipes! You may know them as that rubbery cut of meat that dries out instantly, has no flavor and is generally unpopular. Welcome to Food Republic. This big meaty recipe roundup features jerk spice, chutneys, brines and, most importantly, bones. A thick-cut bone-in pork chop isn't going to dry out like some of its lesser chop brethren, especially if you brine it. You're brining your amazing bone-in pork chop, right? Good, here's what to do with it.

Cherries and mustard may sound like an unusual pairing, but they taste great together. Sweet, tart and hot, this sauce goes well with chicken and veal as well as pork.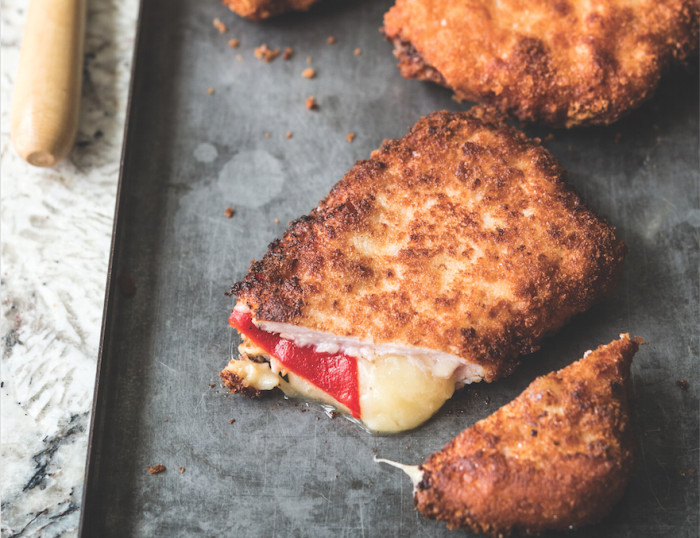 These cheesy, crunchy pork chops are the most popular kid-friendly meal in Spain. They're usually thrown together with cheap, rubbery cheese, so I've decided to elevate it for discerning kids and all adults. I shave the cheese fresh from a block of Cordobés or Manchego and add piquillos to cut through the richness and bring some brightness in taste and appearance. Plus, vegetables. I like the pork-on-pork action with the chops and ham, but the same technique can be applied to skinless, boneless chicken breasts, too.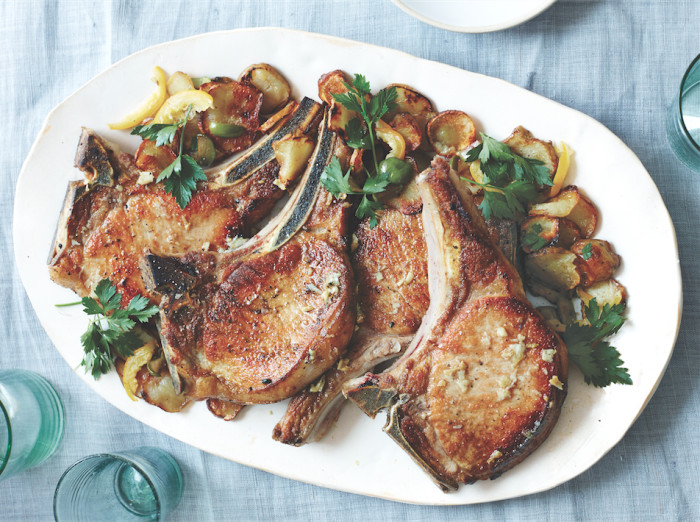 If you remember, rub the chops with the garlic mixture in the morning and let them marinate in the fridge all day before you cook them.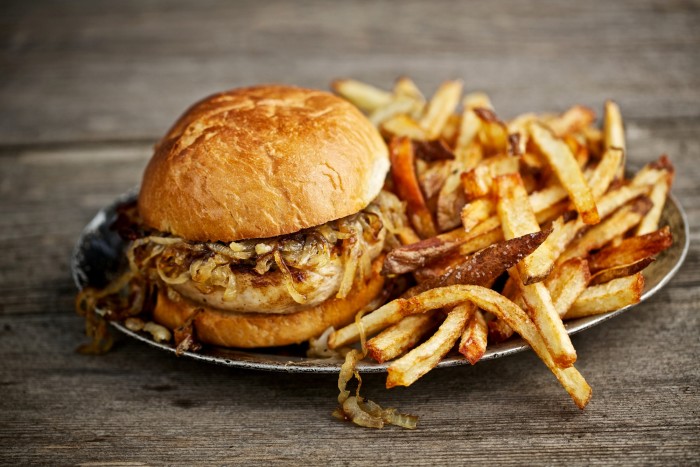 In my days as a truck driver, I became very famil­iar with the street food of Chicago. One classic that doesn't get much attention is the Maxwell Street pork chop. Maxwell Street is the Sunday morning market, and the pork chops are cooked on a griddle next to a huge pile of sliced onions. The original uses bone-in chops, but boneless chops make the sandwich easier to manage. I'd serve these with homemade French fries.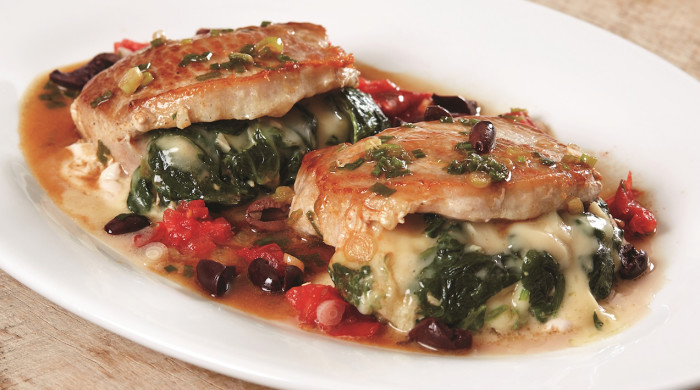 Stuffed with spinach and Gruyère cheese, these boneless pork chops are sautéed and finished with a mixture of tomatoes, scallions, white wine and black olives. It is a filling dish and, with just a salad, makes a perfect meal.
Hong Kong Harbor is a Chinese restaurant just down the street from Woodfire Grill, where I used to work in Atlanta. One of their best dishes is salt and pepper pork chops. The chops are flash fried, so bone-in, thin chops work better than thick ones and will give you the best flavor. The breading is two parts all-purpose flour, one part cornstarch, and one part rice flour. This gives you a light, crisp crust. I retested this a few times to get it just right, and I can tell you that the dish won't be the same without the Sichuan peppercorns. They add that tongue-numbing buzz to the spice rub. The stir-fried vegetables add crunch. The chiles bring the heat. And all these elements combine to make the dish work as a whole. Serve it with cooked white rice.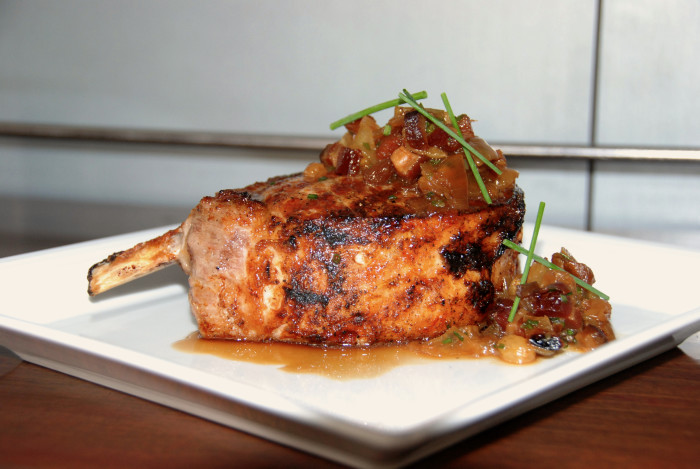 "I created the recipe thinking of the fall, and nothing says fall like apple cider! Brines are a great way to add flavor, tenderness and juiciness to dishes. You have to plan a little further ahead since most items need to sit for a day or more, but it's well worth it," chef Rick Gresh says.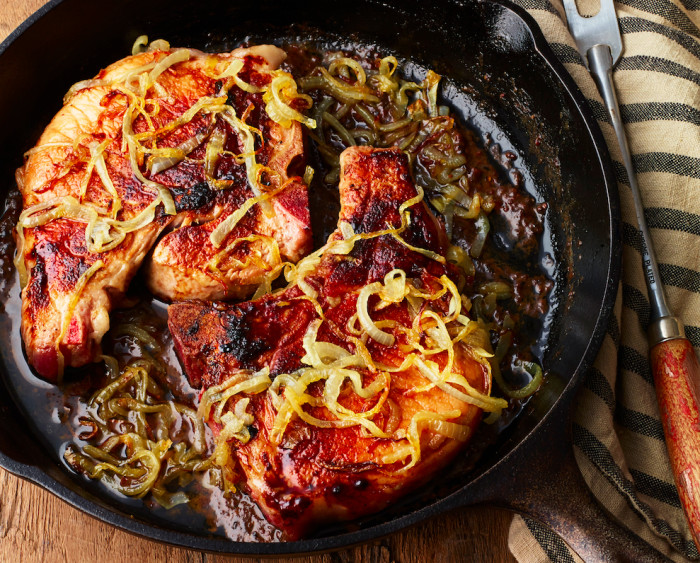 Pickle juice serves as our brine for a moist, tender and infused-with-flavor chop. You can use pickle juice as the brine for other cuts of meat such as steak, chicken and turkey, too: Remember this and you'll never toss the juice from your pickle jar again! The chops are finished with mustard and créme fraîche for a cultured flourish, thanks to the superior flavors that fermentation brings to the plate. Serve with cultured applesauce and it will be over the top.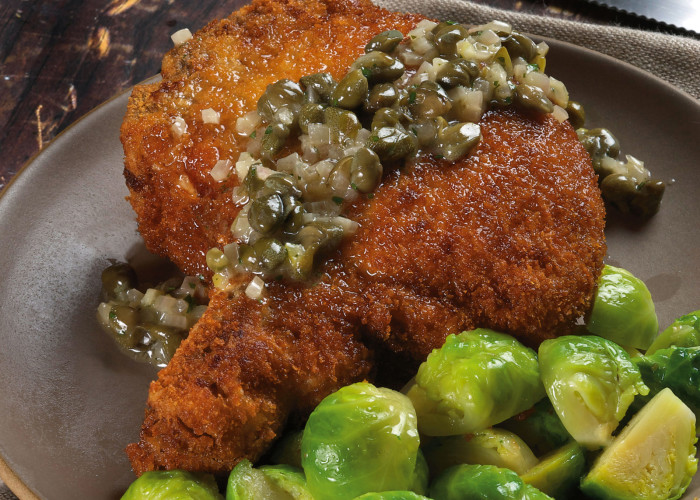 Pork is one of the best meats to brine because brine helps pork stay juicy. Overcooking pork is perhaps the main way people err when they prepare it; brining allows a little leeway when cooking the pork. It's also a way to infuse the meat with flavors—here shallot, lemon, pepper, and sage.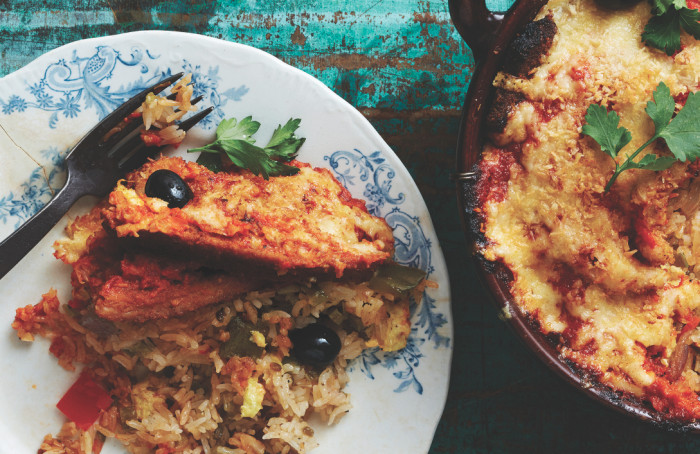 This dish seems so wrong and dirty in the most delicious way possible: a cookie-crusted, deep-fried pork chop over fried rice, covered in a rich sauce and melted cheese. It's a product of cha chaan teng (diner-like and tea restaurants) that were meant to appeal to the taste of visiting Westerners, offering Chinese-ified Western food (as opposed to the Americanized Chinese food found in the United States today).