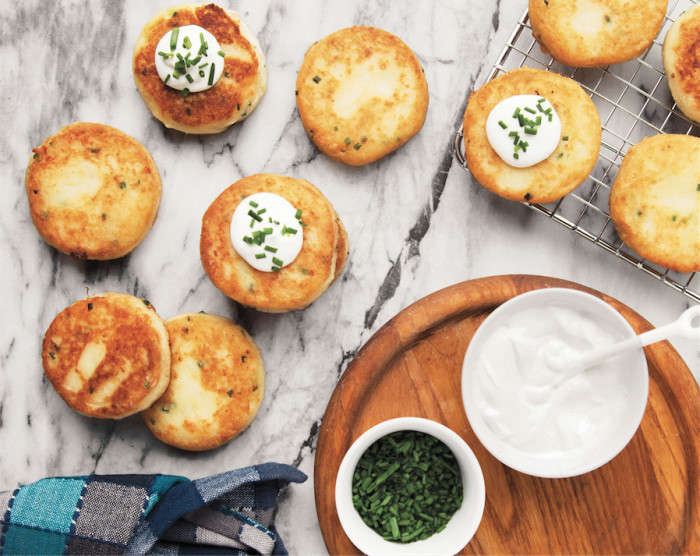 Award-winning blogger Joy Wilson, better known as Joy the Baker, has a new collection of recipes out just itching to hit your brunch table. Liven up the best meal of the week with her innovative and classic approaches to hearty morning fare. These mashed potato scones will quickly become one of your brunch staples.
These stovetop-cooked scones are buttery-crisp on the outside and creamy mashed potatoes on the inside. It's like the most comforting dish at the dinner table went incognito at brunch. I've found that these scones are best made in a nonstick skillet or on a griddle pan coated well in fat to keep them from sticking. Serve warm with loads of sour cream and chives, fried eggs, and lots of coffee.
Ingredients
2

large russet potatoes, peeled and cut into large chunks

6

tablespoons

unsalted butter, at room temperature

2

tablespoons

sour cream, plus more for serving

1

tablespoon

fresh chopped chives, plus more for serving

1

scant teaspoon

salt, plus more as needed

3/4

teaspoon

freshly cracked black pepper, plus more as needed

3/4

cup

all-purpose flour, plus more for rolling

3/4

teaspoo

baking powder

clarified butter, for the pan
Directions
For the scones
Place the potato chunks in a large saucepan and cover with cool water. Set the pan over medium-high heat and bring to a boil. Boil until tender, 10 to 12 minutes. Drain and let cool for 5 minutes. Press the cooked potatoes through a ricer or the holes of a colander and back into the saucepan. Add the butter, the sour cream, chives, salt, and pepper and stir well.

In a small bowl, whisk together the flour, baking powder, and season with a bit more salt and pepper. Add the flour mixture to the potato mixture and use a wooden spoon to stir until just combined. The mixture may still be very warm at this point. Let rest until cool enough to handle.

Using a lightly floured rolling pin, roll the dough out on a lightly floured work surface to ¾-inch thick. Use a 2½-inch round biscuit cutter (or the top of a small glass) to cut rounds and place them on a rimmed baking sheet. Flour the biscuit cutter as needed so the scones don't stick. Reroll the scraps to create as many rounds as possible. Refrigerate for 30 minutes.

On a griddle or in a medium skillet set over medium heat, heat about 1 tablespoon of clarified butter until very hot. Place up to four scones in the skillet at a time. Cook for about 4 minutes per side, until deliciously crisp and golden brown on both sides. Transfer to paper towels to drain. Repeat with the remaining dough, adding more fat to the pan as necessary. Enjoy warm.