12 Delicious Hacks For A Bag Of Frozen Tater Tots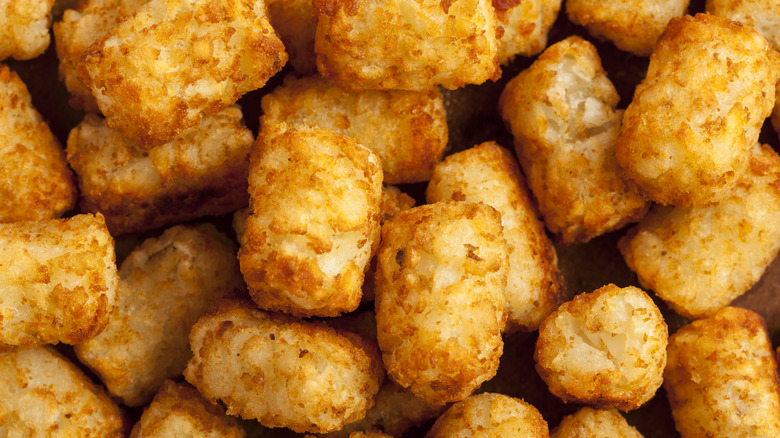 Bhofack2/Getty Images
Potatoes can be served many ways — baked, roasted, mashed, and even boiled — but no preparation is quite as magical as when spuds are turned into glorious tots. Originally created by two farmers in the 1950s as a novel way to use up leftover potato shavings during the production of French fries, these "baby potatoes" — hence the name "tater tot" — have gone on to become a classic American comfort food. In the United States alone, experts estimate we eat more than 70 million pounds of tots each year.
While you could make your own tots — our Red Flannel Hash recipe combines potatoes and beets — most tots you're likely to eat will come from the freezer aisle. To make those frozen tots as tasty as possible, always preheat your oven or air fryer before cooking them — this ensures maximum crispiness. Load up on seasonings — salt and pepper, paprika, garlic powder, onion powder, and a dash of cayenne. Cajun seasoning, dill, rosemary, and thyme — or even dry ranch salad dressing seasoning — are also great options. 
Drizzle a bit of olive oil over the tots and toss them well before you add your spices to help that flavoring really adhere while they cook. Finally, spread your tots evenly during cooking — overcrowding leads to sogginess. And don't forget to flip them halfway through baking so they get golden brown on both sides. 
Once you've mastered basic tot preparation, here are a dozen additional hacks to help you work these superstar taters into almost every meal!
Spread them on a casserole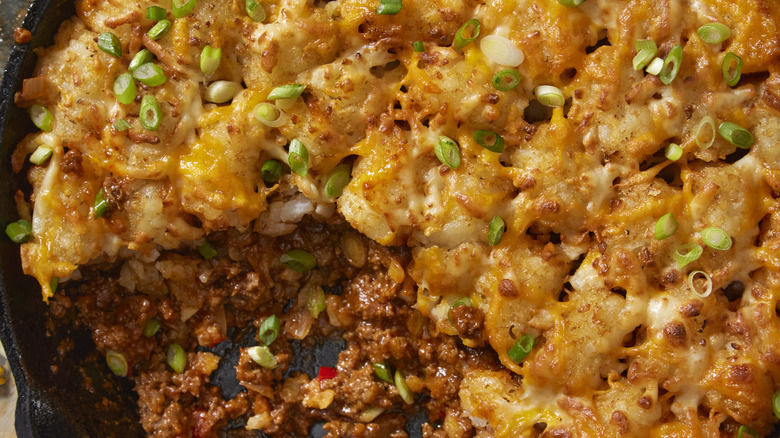 Lauripatterson/Getty Images
While tater tots are savory and delicious on their own, they're the perfect addition to almost any type of casserole you can dream up. Think Shepherd's Pie or even a classic Chicken Pot Pie, only with golden, crispy tater tots spread on top instead of mashed potatoes or pie crust.
Making a casserole topped with tater tots couldn't be easier. You can add a layer of tots to almost any flat, baked dish you might be preparing in the oven, from something meaty made with ground beef to noodle dishes, even plant-based vegetarian recipes. For example, tater tots are excellent on any traditional "hot dish" you might be prepping. Just brown some ground beef, add veggies and creamy soup-based filling, and then top the casserole with an evenly spaced layer of tater tots before you put it in the oven. 
Tater tots can also be a perfect addition to breakfast egg casseroles or even frittatas. Just keep an eye on your tots. If they seem to be browning too quickly, you may need to add a layer of aluminum foil so they don't get too crispy.
For an incredible Mexican-style tater tot casserole, brown ground beef and then mix it with a variety of your favorite canned beans (drained and rinsed). Add some frozen or canned corn, grated cheese, and a layer of tots and then bake until golden all over. Serve each helping with a dollop of salsa and sour cream.
Load 'em up like a baked potato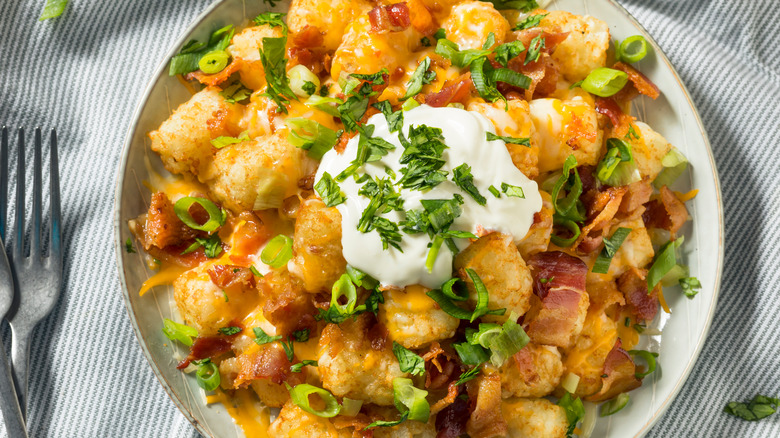 Brent Hofacker/Shutterstock
If layering tots on a casserole seems too involved but you still want to elevate your tots in some way, try thinking of them like a baked potato and "load" them up to savory perfection. First, bake or air fry your tots until crispy and golden. If you're cooking for a group, aim to prepare around 10 to 12 tots per person — more if folks are hungry. Next, let your imagination soar!
For an entree inspired by classic loaded baked potatoes, top those crispy tater tots with a generous dollop of sour cream, shredded cheese, crumbled bacon, and freshly chopped chives. For that perfect ooey, gooey cheese, you can even spread your tater tots out on a cookie sheet, top them with cheese, and then heat everything under your broiler for a couple of minutes before adding your other toppings.
For loaded tots "breakfast style," consider topping your crispy tots with scrambled eggs, crumbled sausage and maybe even some diced tomatoes or green or black olives. You can make a plate of "Greek" loaded tots by topping those taters with tzatziki sauce, diced cucumbers, tomatoes, red onions, feta cheese, and kalamata olives for a Mediterranean-inspired treat. Or, for a Southern BBQ-inspired plate that's sure to impress — or satisfy your own personal cravings — drizzle your tater tots with barbecue sauce, then add a generous scoop of pulled pork, a bit of coleslaw, and some diced pickles. Who needs a "regular" baked potato ever again?
Wrap them in bacon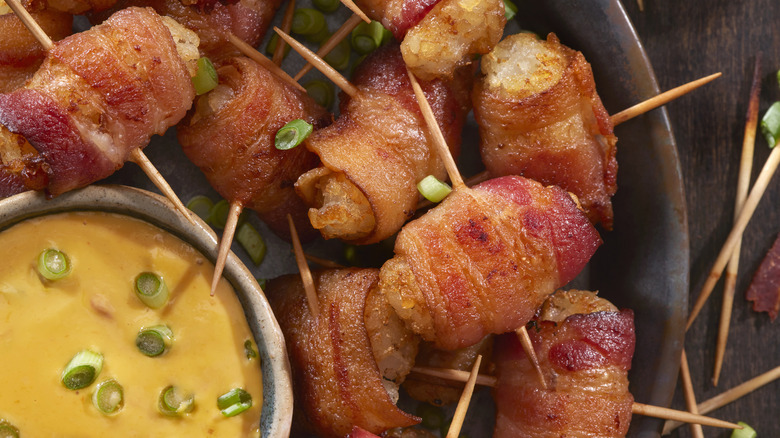 Lauripatterson/Getty Images
You've likely seen bacon-wrapped scallops, dates or even water chestnuts at parties in the past. But if you really want to surprise guests at your next gathering, consider whipping up some bacon-wrapped tater tots! To make a batch of this game-changing appetizer, start by allowing a bag of frozen tater tots to thaw slightly — you want them pliable but not completely thawed. Next, preheat your oven to 425 degrees Fahrenheit. 
To prepare the dish, start with a package of thin-cut bacon and slice each bacon strip in half down the middle to create strips that are just the right size for wrapping around the tater tots. Next, take one bacon slice and wrap it around each tater tot, securing the meat in place with a toothpick. Once all your tots are wrapped, arrange them on a baking sheet lined with parchment paper, making sure they are evenly spaced and not too close to one another. Bake for approximately 20 minutes or until the bacon is crispy and the tater tots are fully cooked. Be sure to flip each tot over halfway through the cooking process to allow for even browning. 
When everything looks done, let your tater tots cool briefly and then serve them right away. Pair them with your favorite dipping sauce — ketchup, ranch dressing, warm homemade queso, or a zesty mayo are all great options that will leave guests asking for seconds.
Turn them into nachos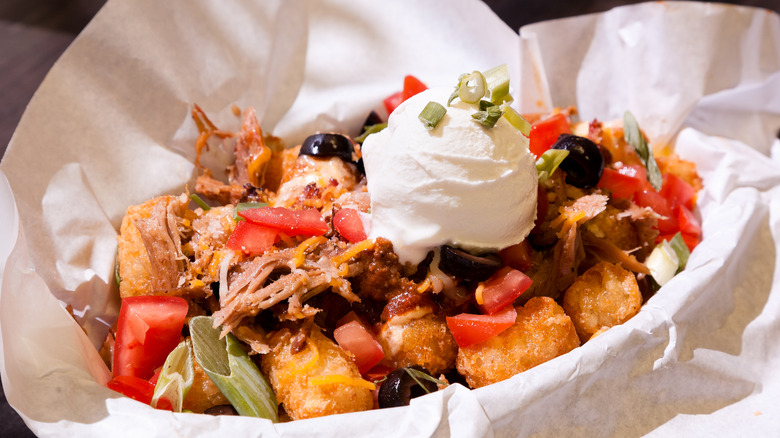 Jestin Korsgaard/Getty Images
With their inherently crispy exterior, pillowy soft middle, and a heft that stands up well to a variety of toppings, tater tots may just be superior to tortilla chips when it comes to making a platter of nachos — the world's most perfect food. Don't believe us? This dish might just change your mind!
First, cook a batch of tater tots at 425 degrees Fahrenheit in a preheated oven for about 20 minutes or until golden and crispy, flipping halfway through to achieve the perfect crunch. While the tots sizzle in the oven, prepare your nacho toppings. Brown some seasoned ground beef, pork, or even sausage. (You could also use pre-cooked, shredded beef, chicken, or pork.) 
Next, grate a generous amount of cheddar and Monterey Jack, dice fresh tomatoes, slice ripe olives, and finely chop green onions. Once the tater tots are done, it's assembly time. Sprinkle the grated cheese evenly over the hot tots, allowing it to melt. Sprinkle the cooked meat evenly across the cheesy layer, followed by some optional sliced jalapeños or a drizzle of hot sauce. 
Return the loaded tater tots to the oven and broil until the cheese is bubbling and golden, and the toppings are heated through. To complete this indulgent entrée, transfer your cooked tots, cheese, and meat to a serving tray and add spoonfuls of sour cream, diced tomatoes, sliced olives, chopped green onions, and a final drizzle of your favorite nacho cheese sauce or salsa.
Press them into a waffle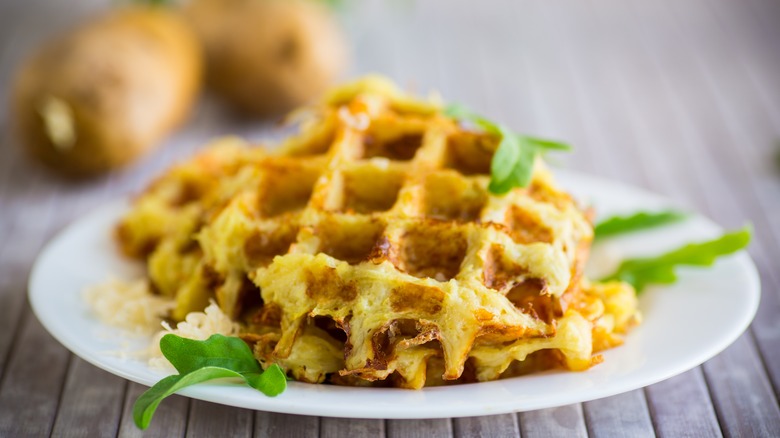 Peredniankina/Shutterstock
Once you've accepted tater tots as a replacement for tortilla chips, you're ready for an even bigger culinary leap: turning tater tots into waffles! Yes, it's possible. And it's even more game changing delicious than it sounds, creating waffles that are incredibly crispy yet fluffy, and packed with potato goodness.
To begin, preheat a waffle press until nice and hot. While it heats, arrange a layer of frozen tots evenly on the bottom plate of the press. Then, when it's ready, close the lid gently but firmly to press the tots together, forcing them into that waffle-like grid pattern. Allow the tater tots to cook in the press until they turn a beautiful golden brown and achieve that signature waffle texture, usually five to six minutes. The exact timing varies depending on your waffle press, so keep a close eye to prevent burning. 
Once your tater tot waffles are done, the fun part begins — prepping them! You might alternate the tater tot waffles with slabs of salty bacon, slices of avocado, and melted queso. Or, treat them as traditional waffles and pair with butter and your favorite jam or jelly. 
Add sour cream and diced green onions for a waffle entree similar to classic potato latkes. If you have a sweet tooth, indulge it with a decadent tater tot waffle topped with warm maple syrup, a dusting of powdered sugar, whipped cream, and slices of fresh berries or bananas.
Turn them into filled cups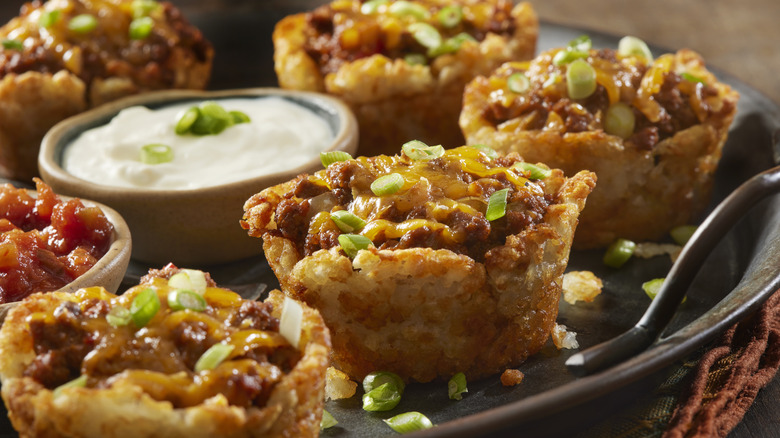 Lauripatterson/Getty Images
After you've mastered turning tater tots into waffles, try your hand at making them into other things as well — like single serving crispy potato "cups" that you can then fill with other ingredients. They make a great snack, fun meal for kids, and can even be served at parties!
To make the cups, first preheat your oven to 425 degrees Fahrenheit. Next, lightly grease the cups in a standard muffin pan with cooking spray or a small amount of oil. This prevents the tots from sticking and helps them crisp up as well. To make your potato "cups," add two to three tater tots into one cup of a muffin pan and then use a small, clean glass or a spoon to gently press them, flattening the tots out and creating a cup shape. Repeat the process until your muffin pan is full. Then place the pan in the oven and cook for 15 to 20 minutes or until the tots turn golden brown. (The tots will fuse together as they bake, forming a crispy potato cup.)
Once the tater tot cups have cooked and cooled, fill them with everything from scrambled eggs and bacon to chili and queso, guac and salsa, or even a small salad of lettuce, diced tomatoes, fresh mozzarella, and a balsamic dressing. Or, consider filling your tater cups with creamy tuna or chicken salad, homemade hummus, or pulled pork or shredded buffalo chicken. The options are endless!
Stuff them in a burger
Looking for an ingredient to take your grilled cheeseburger or veggie burger to the next level? Tater tots are the perfect choice — they add crunch and softness and a wonderfully chewy consistency to any burger (or sandwich) you stuff them in to. And the process for adding them couldn't be easier. Just cook until crisp and then layer into the burger as you are making it. If you're the type that loves the savory juices of the burger, put your tater tots under the beef patty so they help to soak up all that wonderful flavor as you take each bite. However, if you prefer crispness and crunch in your burger, put the tots on top of the patty as you layer things together to preserve maximum crunch.
Tater tots taste great on a classic burger including cheddar cheese, ketchup, and mustard. Or, for something a bit fancier, go with blue cheese crumbles, crumbled bacon, caramelized onions, and tots. Feeling spicy? Try a burger including pepper jack cheese, sriracha, avocado, red onion, jalapeño and a few crispy tots!
Pair them with eggs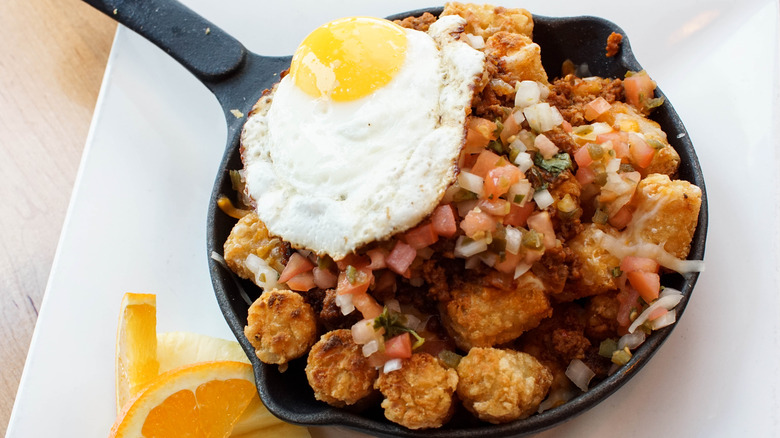 TobinCStudio/Shutterstock
We already mentioned that tater tots can be a great topping for a frittata. But that's just the start of the many incredible options that exist for pairing tater tots and everyone's favorite breakfast staple: the egg!
Perhaps you'd like to start your morning with a tater tot breakfast burrito? To whip one up in minutes, wrap scrambled eggs, tater tots, and your favorite breakfast ingredients like sausage, diced ham, or sautéed veggies in a warm tortilla. Add salsa, avocado, and sour cream for a delicious and instant handheld breakfast.
Eggs benedict with tater tots is another great way to begin any day. To make this tasty dish, swap out the traditional English muffin and use a base of crispy tater tots instead. Top the tots with a poached egg, warm Canadian bacon, and a generous pour of hollandaise sauce. 
You can also use tater tots as a filling in any hearty omelet. Once the edges of the eggs in your omelet begin to firm up, add a layer of tater tots, along with traditional fillings like cheese, mushrooms, and spinach. Fold the omelet over the tots and toppings, cook until the eggs are fully set, and then serve. And if your eggs accidentally crumble before they make it to the plate, that's okay too. Just dump the scrambled egg, cheese, and tot mixture into a large dish and top with hot sauce for a delicious breakfast bowl.
Add them to soup
Crackers and croutons are the standard way to add texture and crunch to soup. But have you ever thought about using tater tots in place of these salty bowl fillers? If not, you should! They're not just more fun — tater tots are also more flavorful than crackers or croutons, they add more substance to your soup, and they also don't turn to mush as quickly, adding texture and body to your soup as well.
One of the best soups to toss a handful of tater tots into is New England clam chowder. Serve crispy tots on the side or float them in the chowder for a delightful potatoes and seafood experience. If you're vegetarian, tots are also an excellent addition to creamy mushroom or corn based chowders.
Feeling under the weather or trying to warm your bones on a cold winter day? Tater tots are an ideal upgrade for chicken noodle soup. The tots soak up the flavorful broth and provide a satisfying crunch alongside that tender chicken and noodles. 
Instead of crumbling crackers or cornbread into your chili, try ladling some of that hot, spicy soup over a bed of cheesy tots and then finish your bowl off with 1 tablespoon of sour cream and some diced green onion. Or, for an altogether different take on French onion soup, float a few tater tots and grated Gruyère cheese in your bowl in place of traditional cheesy croutons.
Toss them with pasta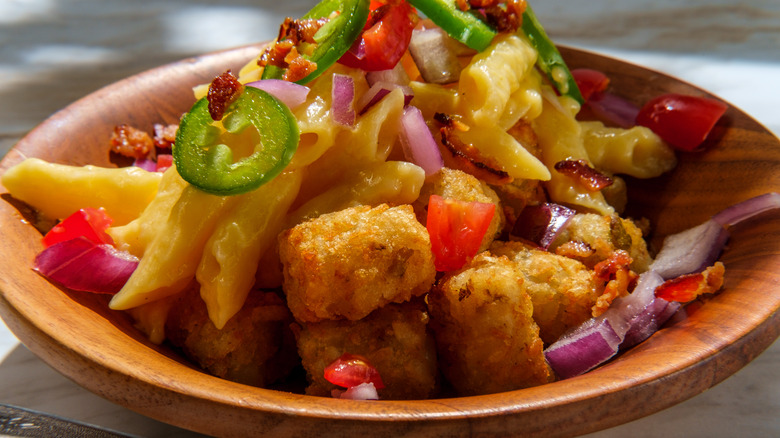 Ezume Images/Shutterstock
You may have stirred a few tater tots into a bowl of mac and cheese in the past. If so, congratulations! You've already discovered just what a delightful pairing pasta and tater tots can make. Those crispy spuds offer a delightful contrast to the softness of pasta. Plus, the mild potato flavor of the tots is often a perfect compliment for the savory cheese, creamy Alfredo, or zesty tomato sauce that accompanies most pasta dishes. (Plus, if you're cooking for kids, they love the pairing!)
To combine pasta and tots, consider a carbonara featuring spaghetti, bacon, Parmesan cheese, and crispy tots. Or go for an Alfredo that includes fettuccine, a rich sauce made with heavy cream and butter, Parmesan cheese, sautéed garlic and spinach and tots. Gnocchi is already made from potato, making it another excellent option to pair with tater tots. For a dish your friends or family are sure to love, try combing store-bought or homemade gnocchi, brown butter sauce, sage, tater tots, grated Parmesan cheese and a generous helping of toasted pine nuts. Easy and oh-so-delicious!
Douse them with truffle oil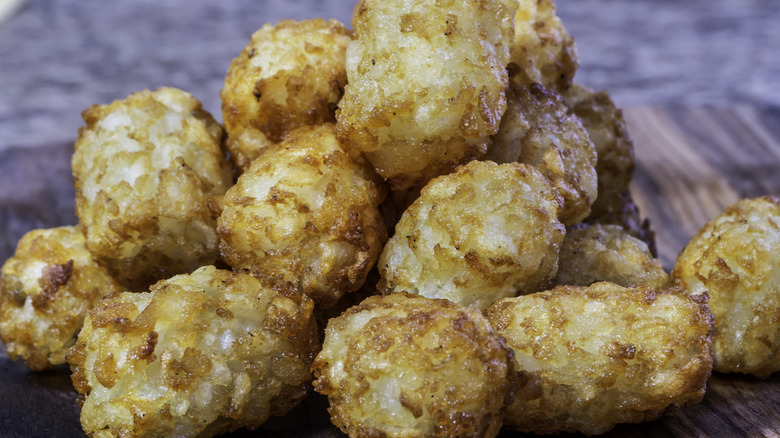 Devon Wilson/Getty Images
Lots of foods don't stand up well to the potency of truffle oil, but thankfully, tater tots are not part of the list! With their crispy, golden shell and soft, fluffy interior, tater tots are the perfect vehicle to enjoy the luxurious richness of truffle oil — you get a delightful contrast in textures and flavors that's incredibly satisfying. Plus, the earthy, umami qualities of the truffle oil also helps to elevate the taste of tots, bringing out the nutty, almost buttery natural flavor of the potatoes and really making them sing.
To make the best tasting plate of truffle tots you've likely ever tried, first cook your tots like normal until crispy and golden brown. Next, while the tater tots are still hot, sprinkle them generously with sea salt. The salt will adhere to their crispy exterior, enhancing overall flavor. Then, it's time to add that truffle flavor! Drizzle your favorite high-quality truffle oil over the hot tots. Start with a modest amount — around 1 tablespoon. Add more if needed so the tots are evenly coated. Finally, for an extra layer of decadence, sprinkle on some grated Parmesan cheese and finely chopped fresh parsley. Tater tot perfection!
Finally, turn your tots into a dessert
Tried every savory way to enjoy tots you can think of? Great! Now it's time to enjoy them as a dessert. Potatoes partner perfectly with sweets, even though it's not a traditional pairing. 
If you're a lover of s'mores, try mashing a roasted marshmallow and a square of chocolate between two crispy tater tots instead of using traditional graham crackers. Or, use cooked tater tots in place of cubes of day old bread to make an old-school bread pudding-style dessert. The final baked dessert is just as tasty, but with a firmer, more substantial texture thanks to those crispy spuds. Top it with maple syrup or a scoop of vanilla ice cream.
You can also dip tater tots into melted chocolate along with the regular marshmallows and strawberries when enjoying fondue. Or turn cooked, crunchy tater tots into a sweet alternative to traditional churros. Just cook your tots like normal then coat them in sugar and cinnamon instead of salt and pepper. Serve while still warm and pair with a rich, creamy caramel or dulce de leche sauce. It's tater tot-riffic!