Red Flannel Hash Tater Tots Recipe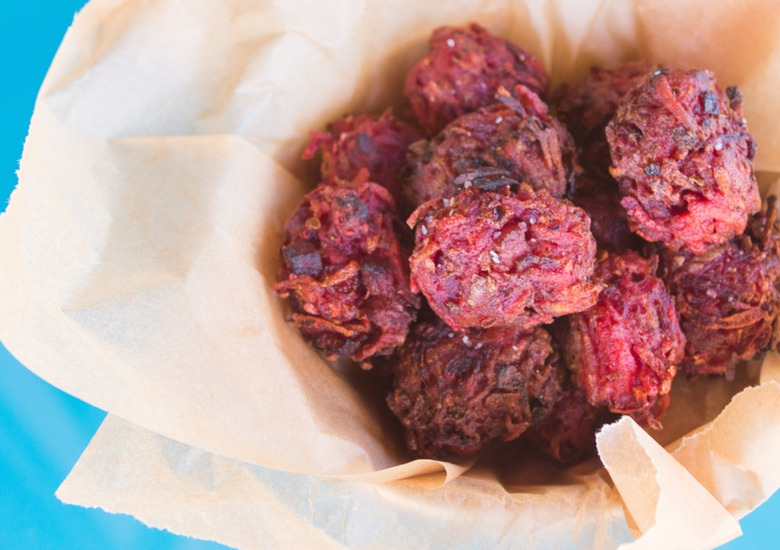 Red flannel hash tater tots, where potatoes and corned beef meet — in tot form.
Lost somewhere along the lines of recipes past, this classic New England dish deserves some love. Traditionally, leftovers from the night before are turned into red flannel hash; cooked corned beef is mixed with shredded beets and aromatics to create a wonderful next day meal. If ever a recipe was intended to turn into a tater tot, this is probably it. We didn't stray too far into the modern, as beets, potatoes and corned beef are all present and accounted for, and give these tots a lovely purple tinge. We think you'll dig 'em too. The recipe calls for deep frying, but you can also bake in a 450 degree oven until golden brown, 12-15 minutes.
Red Flannel Hash Tater Tots Recipe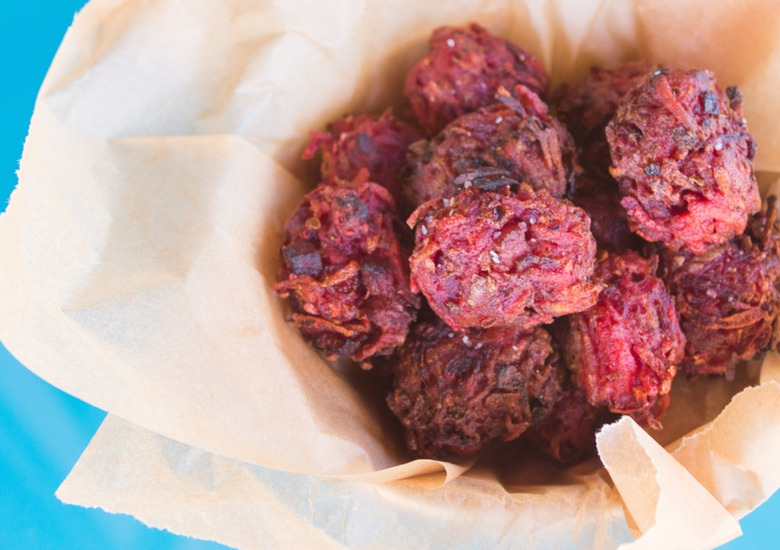 Ingredients
1 large beet
1 large russet potato
1/4 pound corned beef from the deli
1 small onion
2 tablespoons cornstarch
kosher salt
canola or vegetable oil
Directions
Bring a medium pot of water to a boil and add a pinch of salt. 
Add the beet and potato chunks and reduce the heat to medium. 
Cook until they are still firm but just starting to cook a little, 4-6 minutes. Drain and set aside to cool.
While the beets and potatoes are cooling, heat a medium saucepan over medium heat and add a drizzle of canola oil.
Add the corned beef and onion and cook until the onion has softened and the corned beef is starting to crisp up, 4-5 minutes.
Remove from the heat and add to a large bowl.
In the bowl of a food processor with the grater attachment or using a large grater, shred the beets and potatoes, then add them to the bowl with the corned beef and onion mixture and stir in the cornstarch.
Heat an inch of oil in a wide skillet or pot to 340°F. 
While the oil is heating up, shape the tots into small little logs or rounds. 
Add the tots, without crowding the pan, and cook until golden brown and crispy, 4-6 minutes. Adjust the heat if starting to burn or brown too quickly.
Drain on paper towels and season with a pinch of salt. 
Continue frying until all of the tots are cooked. Uncooked tots can be frozen for up to a month.
Jalapeño Cheddar Tater Tots Recipe
Taiwanese Salt and Pepper Chicken
Fried Goat Cheese Salad