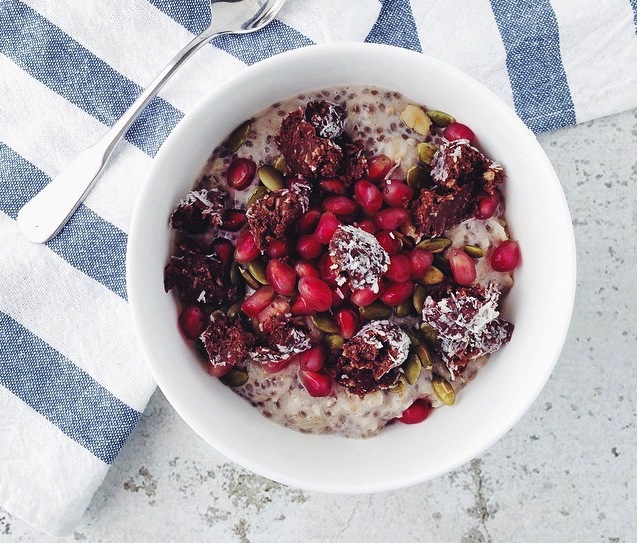 My family has a penchant for mailing me unsolicited "gifts," and the mail keeps coming. Past parcels have included a baseball bat ("for home defense"), a star-patterned adult onesie ("cute pajamas!") and bulk commodity peanut butter ("just in case!"). So I shouldn't have been surprised when a five-pound bag of chia seeds arrived at my door unannounced (thanks, Grandma!). What the hell do you do with five pounds of chia seeds? As it turns out, quite a lot. These seeds are small but mighty — most of the applications I discovered require only a few tablespoons, which means I still have 4.75 pounds of seeds taking up space normally allocated for beer.
Chia is touted as a "superfood," a whole grain high in omega-3 fatty acids, protein, fiber and vitamin B. Unlike flax, chia can be absorbed by the body in its raw state, so it requires very little processing. When soaked in liquid, the seeds act like tapioca and transform into a thick, gelatinous mass. It's actually a little bizarre to see if you're new to the game. But because of this textural sleight-of-hand, chia seeds make for a simple, healthy way to bulk up pudding, smoothies, jams, oatmeal and more.
After a raucous weekend of chia-seed experimentation, I was pleasantly surprised to discover a few applications I hadn't anticipated.
As a thickener
These are a wondrous replacement for standard thickening agents like eggs, gelatin, sugar and pectin. If you prefer savory jams to sweet, try chia-spiked tomato and shallot jam during peak tomato season and watch it cling to the bread (no watery nonsense here!) For a rarefied BLT, combine with thick-cut bacon, butter lettuce and a shmear of thyme aioli.
As a binder
In some recipies, chia seeds make a great substitute for eggs. Use them as a low-cholesterol alternative for binding together meatballs. For more adept bakers, a delicate ratio of chia seeds to baking powder can replace an egg. However, I recommend researching first, as dough can be a fickle beast.
As a crust
Few things are more disappointing than soggy fried snacks. For a stellar gluten-free crust for chicken tenders, shrimp or even polenta fries, use a mix of cornmeal and chia seeds. Dredge and pan-fry in a cast-iron skillet for crispy, juicy finger food. This also works well as a crust for oven-roasted fish.
As dessert
Make chia-seed pudding your new go-to dessert. It takes no time to make and can be customized any which way depending on what you have on hand. Coconut milk, ginger, citrus, cocoa, vanilla extract, Earl Grey tea, buckwheat honey — any of these strike your fancy? I top Food and Wine's version with big clumps of granola, fresh berries, lemon zest and a drizzle of maple syrup.
Read more about superfoods on Food Republic: