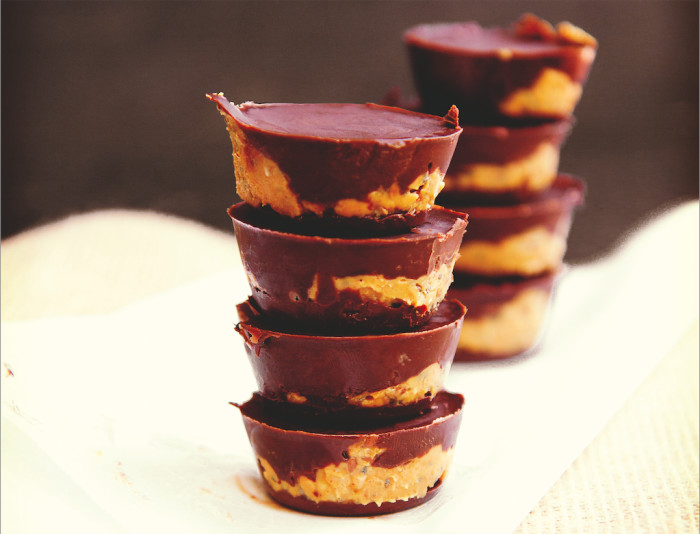 Blogger-turned-cookbook author Cassie Johnston knows a thing or two about making healthy food choices without compromising flavor. Her trick: cooking uncomplicated, delicious food with emphasis on pumped-up nutrition. Her latest book stars the mighty trio of chia, quinoa and kale along with their superfood friends. Good thing that doesn't rule out peanut butter cups. We love those things. 
Healthy peanut butter cups? Yup! Not only do they exist, but you can make them at home in about 15 minutes. For the peanut butter filling, I like to mix in a combo of raw superseeds—not only do they up the nutritional profile of these candies by a ton, but they also add a really satisfying crunch!
Ingredients
6

ounces

semisweet chocolate, chopped

1

tablespoon

coconut oil

1/4

cup

peanut butter, natural and unsweetened

1

tablespoon

honey

1

tablespoon

chia seeds

1

tablespoon

hemp seeds

1

tablespoon

flax seeds
Directions
In a microwave-safe bowl, or in the top part of a double boiler over medium heat, place the dark chocolate and coconut oil.
Heat the mixture in the microwave on high for about a minute, or in the double boiler, until melted and smooth.
Pour about 1 teaspoon of the chocolate mixture into each of cup of a 12-cup mini muffin tin.
Place the tin the freezer to solidify the chocolate, about 3 minutes.
Meanwhile, mix together the peanut butter, honey and seeds in a small bowl.
Remove the tin from the freezer and dollop about 1 teaspoon of the peanut butter mixture on top of the hardened chocolate in each cup, spreading with a spoon to flatten.
Top each cup with the remaining chocolate until the peanut butter is covered.
Return the tin to the freezer until the chocolate is solid, about 10 minutes.
Remove from the tin by placing a knife between the edge of the peanut butter cup and the edge of the tin until the peanut butter cup pops out.
Store in an airtight container in the fridge.
Find more healthy desserts on Food Republic: