In Praise Of Tiny Fish: Anchovies And Sardines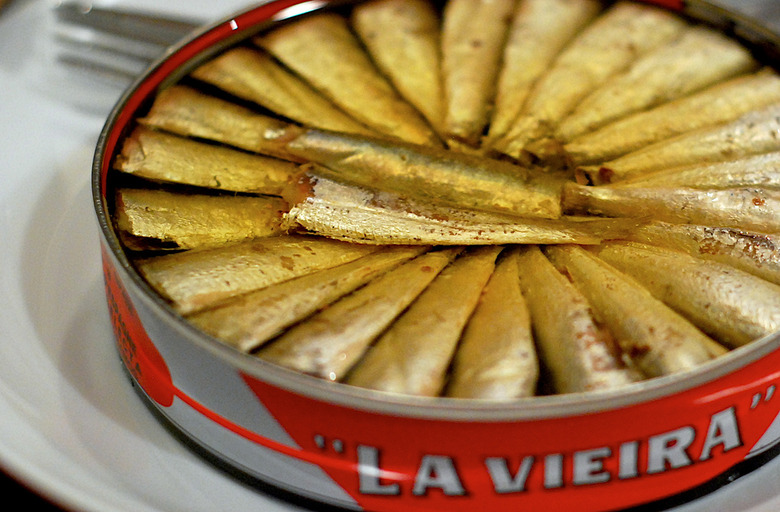 I typically require a little extra brain food on Friday to ensure that I won't just go home and sleep for 48 hours. If I don't go out Friday, I won't sleep til 2 on Saturday. If I don't sleep til 2 on Saturday, I won't be able to stay out til 4 Saturday night. If I don't stay out til 4 Saturday night I might actually get something accomplished on Sunday, which is not what the weekend is about. So I turn to tiny fish.
How do stinky little canned or jarred "feeder fish" keep me going? I believe in the power of omega-3s. When I eat pasta with lots of anchovies or indulge in my personal secret food heaven, a sardine and cream cheese sandwich with tomato, salt and pepper, I literally feel the lubrication going straight to my brain and I'm able to write all kinds of weekend content to ensure our readers stay drunk and fed. Like I said, I take the weekend very seriously.
Sardines are best fresh out of the ocean, quickly char-grilled and served with lemon. Second best are imported from Spain or Portugal, packed in olive oil and served on crostini or straight-up as tapas. Third best are our humble domestic sardines, which as I mentioned before, make amazing sandwiches. But if you want to make a dinner that may even be better as lunch the next day, Zakary Pelaccio's Pasta con Sarde can't be beat. Baby sardines also make a great, crunchy-salty addition to anything that needs a little extra umami.
There's a squeeze-tube of anchovy paste in my fridge that seems to find its way into surprising dishes, only because I know what this magical substance is capable of. Just a smidge adds amazing depth to spaghetti sauce, marinades, Asian soups and even sandwiches (try the tiniest layer on a grilled cheese to kick off your love affair). I like them whole on pizza best, as the Romans and Italians intended, because if I'm eating pizza with anchovies I'm killing two birds with one stone: stomach padding and brain boost all in one go. It's about time management.
More healthy fish for lunch on Food Republic: