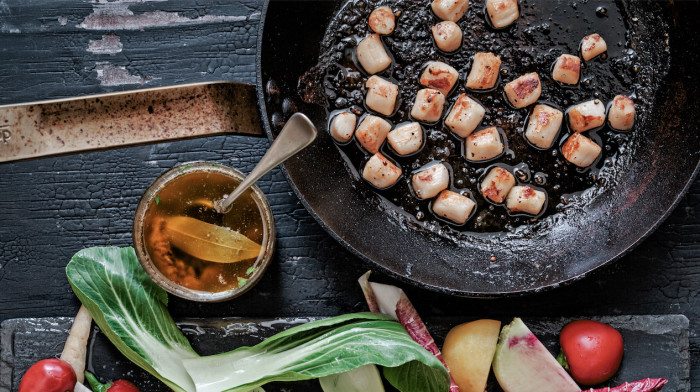 You braisin'? You should be. The cold weather is in full swing, and NYC chef Justin Smillie's new cookbook, Slow Fires, is not unlike a long poem (with recipes) about that special, magical moment when a tough, meaty, collagen-bound piece of meat gives up its treasured secret and yields willingly to nothing more than the tines of a fork. We're talking about slow cooking, folks — vegetables most definitely included. You'll need some scallops and good anchovies. 
Bagna cauda, meaning "warm bath," is an Italian brew of olive oil, butter, garlic, and an unapologetic amount of anchovy. It's the centerpiece of Piemontese feasts, with a traditional crudité for dunking. To make a respectable pot, you will need good ancho­vies, the chubby ones packed in olive oil, tasty enough to be eaten right out of the jar.
Such spreads often celebrate humble winter vegetables. But when I heard that on fine tables in Alba, a Piemontese town known for its truffles and fine wines, white truffles are served with the sauce, I got to thinking about our most sumptuous cold-weather food here in New York. And that's how these bay scallops made their way into this meal.
Plucked from Long Island Sound, bay scallops — sweet, soft and buttery — are precious. And with a bagna cauda dunk, their sweetness melds with the anchovy for a striking combination.
Seared in batches on one side only (to ensure caramelization without overcook­ing), these scallops should be cooked to order and brought to the table ripping hot. That means occasionally getting up to sear a few batches during the meal. Such come-as-you-are informality is at the heart of the bagna cauda tradition, no matter how luxe you make it.
As for this spread's other bits: Sunchokes roast on the oven floor until their skins crackle and their insides collapse. The rest is raw, and you should buy whatever is best. If I make this in late fall and tomatoes and peppers are still around, I'll snatch some up. Otherwise, it's carrots, fennel, radicchio, radishes and whatever else is in need of a hot bath.
Ingredients
2

pounds

bay scallops (make sure they are "undipped," meaning preservative-free)

1

pound

sunchokes

olive oil, as needed

Kosher salt and freshly cracked black peppercorns

1

pound

small fennel bulbs, sliced into 1/2-inch wedges

1

pound

small carrots, halved lengthwise

1/2

pound

radishes, preferably French breakfast, halved lengthwise

1/2

pound

radicchio di Treviso or baby bok choy, leaves separated

1

pound

butter (4 sticks), cut into chunks

22

olive oil–packed high-quality anchovies, drained

6

tablespoons

red wine vinegar

1

teaspoon

hot pepper flakes

1

fresh bay leaf

1

tablespoon

fresh thyme leaves

2

tablespoons

lemon juice (from one lemon)

1

medium ciabatta loaf, sliced
Directions
For the the dish
Place half the scallops in a colander and rinse them in cold water. Arrange the scallops in one layer on a paper towel–lined tray and repeat with the remaining half. Feel for grit and re-rinse any scallops that don't feel smooth. Thoroughly blot the scallops dry with paper towels. Refrigerate the scallops, uncovered, for 3 hours. This will dry them so their surface sears well.

Preheat the oven to 325°F. In a heavy roasting pan, rub the sunchokes with 2 tablespoons olive oil and a few generous pinches of salt and pepper. Set the pan on the oven floor and roast the sunchokes for 30 minutes, or until their skins are wrinkled and browned in spots and their flesh is fork-tender. Turn them at least once halfway through.

Arrange the fennel, carrots, radishes, and radicchio on a large platter. Cover the platter with a lightly dampened towel until ready to serve.

In a medium saucepan set over medium-high heat, cook the butter until it foams. Stir in the anchovies and sauté until they melt into the butter. Remove the pot from the heat and stir in 1 cup olive oil, the vinegar, hot pepper flakes, and bay leaf. Season with pepper; salt is probably unnecessary because of the anchovies.

Keep the pot warm over very low heat until serving. Just before serving, finish the bagna cauda with the thyme and lemon juice. Whisk it together just before serving, and rewarm and whisk it occasionally to bring it back together during the meal.

Remove the scallops from the refrigerator; if they don't feel tacky to the touch, blot them with a paper towel.

Lightly slick a large heavy pan with olive oil and set over high heat. When it is very hot, nearly smoking, add as many scallops as will fit comfortably, with some room between each. (Return the remaining scallops to the refrigerator until ready to cook.) Sear the scallops for 1 1/2 minutes, without flipping, or until browned on their bottoms and cooked to medium doneness. Season with salt and pepper and serve immediately. Sear the remaining scallops in batches as needed.

Serve the seared scallops with the raw vegetables, roasted sunchokes, sliced bread, and warm bagna cauda.