Giada De Laurentiis' Unique Topping For Savory Waffles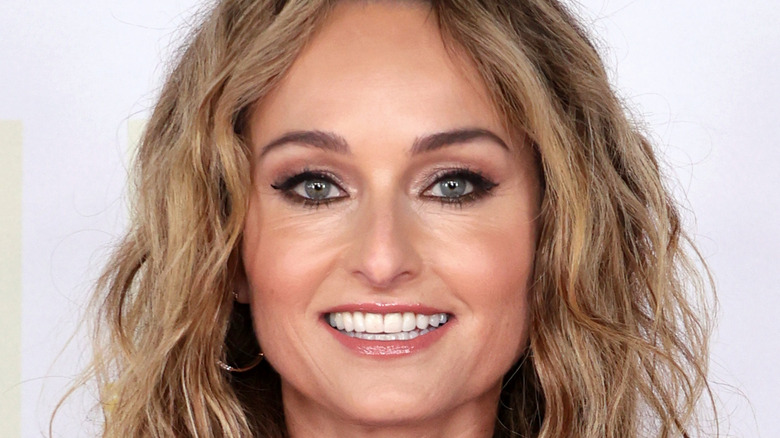 Kevin Winter/Getty Images
Giada De Laurentiis is known for her unique and tasty spins on classic dishes — with breakfast being no exception. Just take the Italian-American chef's breakfast on a stick recipe, which features sweet sausage, red pepper, pancetta, and pineapple cubes stacked on bamboo skewers. Then there's her egg scramble, with her version featuring creamy orzo pasta. Keeping with the theme, she likes her waffles extra savory, too as she has shared on Instagram. Although most people may opt to slather their fluffy stacks in maple syrup, De Laurentiis prefers to top them with a dollop of unsweetened whipped cream.
Whether you prefer to make your own whipped cream at home or enjoy it straight out of a can, a spoonful of the creamy topping complements crispy, golden waffles to perfection. But, while the creamy whip may be a pretty standard waffle topping for many, the TV personality's other go-to toppings for savory waffles are anything but traditional. After spreading on the dairy base, she also adds some shredded cheddar cheese (she opts for white cheddar, but any variety will do). And, instead of serving a couple strips of crispy bacon on the side, she likes to crumble them up and sprinkle on top of for the quirkiest waffle topping trifecta.
Giada's savory twist on waffles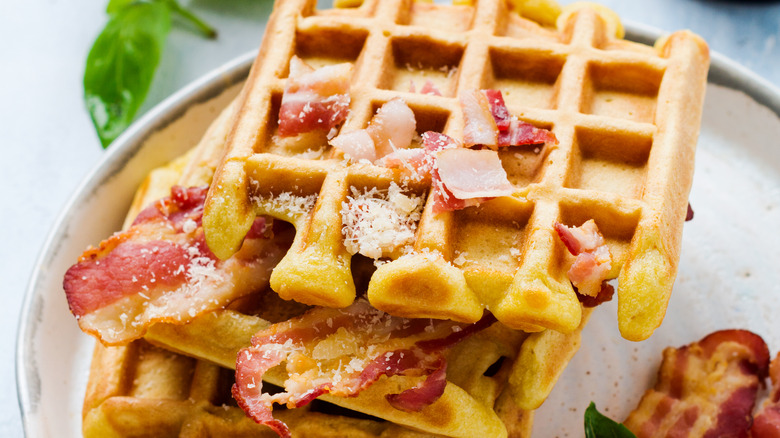 Kasia2003/Getty Images
When it comes to cooking up unique and savory waffle concoctions, Giada De Laurentiis' cheesy bacon stacks are just the tip of the iceberg. For a spin on the breakfast staple, she cooks capers and chives in with her batter and serves the tangy waffles with a side of smoked salmon. 
For a spicier option, she likes to fold Parmesan cheese into the batter along with chives and pieces of spicy Italian sausage to kick up the heat. Cook them to a golden crisp and then top them with the restaurateur's other favorite waffle fixings: sour cream and herby pesto. 
And, for a truly Italian twist, whip up a batch of De Laurentiis' cornmeal polenta waffles, which she recommends topping with bits of crispy pancetta or bacon, crumbled feta cheese or grated cheddar cheese, and some of your favorite chopped herbs, such as rosemary or thyme.
She also likes a sweeter take on waffles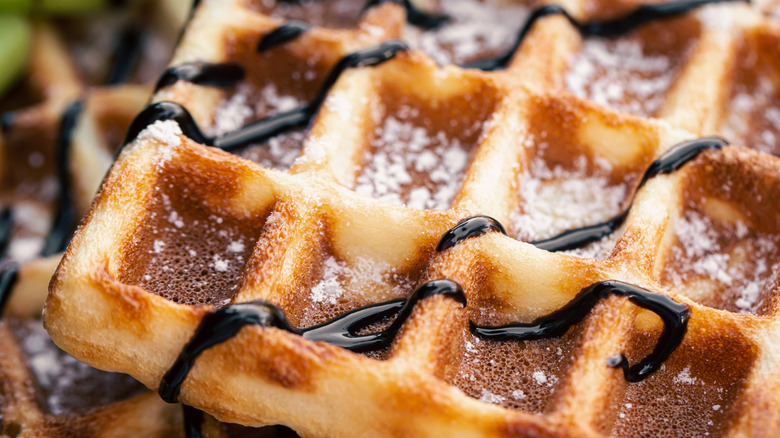 Puhimec/Getty Images
Giada De Laurentiis certainly knows a thing or two about elevating a mundane stack of waffles, and the proof is in the pudding ... er, whipped cream. As previously noted, she's certainly concocted a few unique variations of the quintessential breakfast food over the years. Granted, many of them are more on the savory side. But, if her recipes are any indication, she still likes to indulge in a sweet stack every now and again.
For a lip-smacking take on a classic buttermilk waffle recipe, the chef opts for a lemon-almond batter and uses unsweetened, vanilla-flavored almond milk in lieu of regular milk, which lends a subtle nutty flavor to each and every bite. And, despite forgoing the maple syrup, her waffles are just as sweet thanks to her homemade citrus-honey drizzle.
The cookbook author is even a fan of chocolate waffles and likes to sweeten her stacks with cinnamon and mini chocolate chips, too, which she says makes them the "perfect treat" for breakfast or dessert.