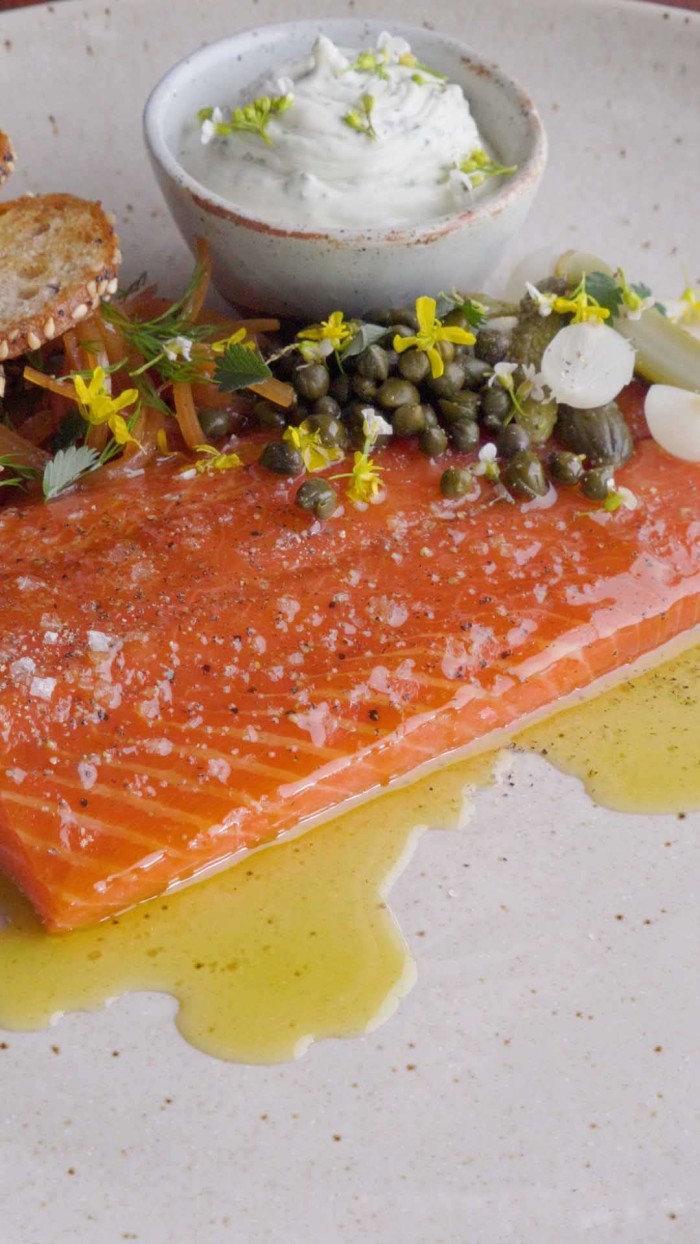 Sometimes, you just need to fake it 'till you make it. This recipe is no exception. Silky smoked salmon is always a welcome treat in the morning or at parties. And since you're the best guest or the host(ess) with the most(est) you want to make your own smoked salmon. Our friends are ChefSteps clued us in on a simple trick to achieve smoked salmon's smoky essence without a smoker: Liquid smoke! Cook your salmon sous vide with a smoky molasses glaze and the fish is sure to embody all the qualities of smoked fish. Chill for full effect and enjoy! Full recipe below.
Chilled "Smoked" Salmon
9 hours; 10-15 servings
Ingredients:
900 grams salmon, a whole side
Salt, as needed
Sugar, as needed
100 grams molasses
55 grams liquid smoke
50 grams brown sugar
5 grams black pepper
Olive oil
Equipment:
Sous vide setup
Vacuum sealer
Vacuum sealer bag
Directions:
Preheat sous video to 113°F/45°C for medium-rare salmon.
Remove the skin. Lay salmon flat on your workspace, skin side down. Beginning at the tail end of the fish, slice into and underneath the pink meat. Use your free hand to grasp the separated skin at the tail. Continue slicing down the length of the fish, pulling the skin back toward you with your free hand as you go. Discard skin.
Dry-curing fish will give it a vibrant appearance, a firm texture, and added freshness. For this dry cure, you want a 4:1 ratio of salt to sugar. You can eyeball it or get technical in your measurements. If you are eyeballing it, just be sure to season the fish heavily, covering as much of the surface as possible. Let rest 45 minutes, then dunk your fish in an ice bath (a bowl filled with ice cubes and very cold water) to completely remove the salt and sugar.
In a bowl, combine molasses, liquid smoke, brown sugar, and black pepper.
Transfer rinsed salmon to a sheet tray and pat it dry with a paper towel. Next, brush glaze onto both sides of your salmon.
Carefully place your fish inside your bag, adjusting it as necessary so it lays nice and flat.
Add your bag of salmon to the water with Joule, making sure the fish is completely submerged.
Fill a large bowl with ice and very cold water. Transfer the bag to the bowl and leave it there until the fish is cool to the touch. Remove bag, dry it off, and store it in the fridge either overnight or all day—we recommend at least 8 hours.
Party time! Drizzle with olive oil, if you like, and enjoy that smoky fish.
ChefSteps comprises a team of award-winning chefs, filmmakers, scientists, designers and engineers focused on revolutionizing the way people cook by inspiring creativity and encouraging expertise in the kitchen. You can also get access to all of ChefSteps' Premium content — including paid classes and dozens of recipes available only to Premium members for a onetime fee of $39. Classes include Sous Vide: Beyond the Basics, Fluid Gels, French Macarons and more!