Delicious Dishes Using Sourdough Discard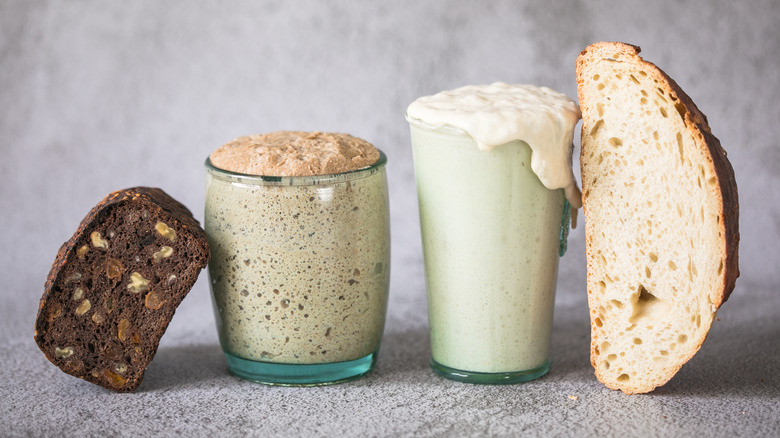 Sokor Space/Shutterstock
Sourdough discard is the oft-overlooked goldmine for baking. If you're unfamiliar with making sourdough bread, it begins with a starter which is a combination of water and flour that ferments and produces natural yeast, forming a thick, viscous goo. With regular feedings of flour and water, the starter stays active and bubbling. A starter often works in place of — or in conjunction with — yeast.
Because a starter is a living organism, these feedings must be done if it has been allowed to go dormant, or after using a portion of it in a recipe. A sourdough starter is never used in its entirety in a recipe, leaving behind the "mother" starter — which is fed water and flour to allow it to grow again. These steps can be repeated for years with careful treatment.  
Sourdough starters, also known as preferments, have many uses aside from bread. Some bakers use the starter just so they can use the discard, which adds a tangy creaminess to many baked goods and can act as a taste amplifier in flavors like chocolate. Once you've started making your own bakes, you'll notice how much better your goods taste compared to store-bought products.
Where sourdough discard comes from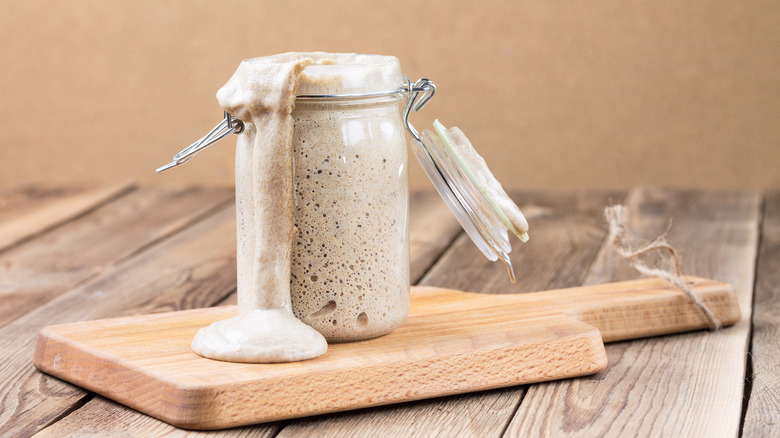 Larisa Davydova/Getty Images
When making a sourdough starter, it needs to be fed on a regular basis to keep it ripe and bubbling. Feeding a starter is done by adding flour and water in equal measure. Sometimes a starter is allowed to become unripe and if this is the case, it needs to be replenished. However, when reviving an unripe starter, simply adding fresh flour and water isn't the best option. A large portion (about 80% if using volume) needs to be removed first. The part that is poured off is called a "discard."
By discarding a portion of the unripe starter, the feeding of flour and water to the remaining starter allows a stronger regrowth. Alternatively, not discarding and feeding the whole batch means having to add a lot of water and flour to revive the starter. Imagine continually feeding an undiscarded starter after a few uses! You will end up with unwanted, unwieldy amounts of your preferment.
This discard is not a waste product though. It has amazing baking or cooking possibilities many bakers overlook and can be used as a substitute for buttermilk or to improve the taste and texture of many other bakes (that aren't all bread).
Chewy pretzels and bagels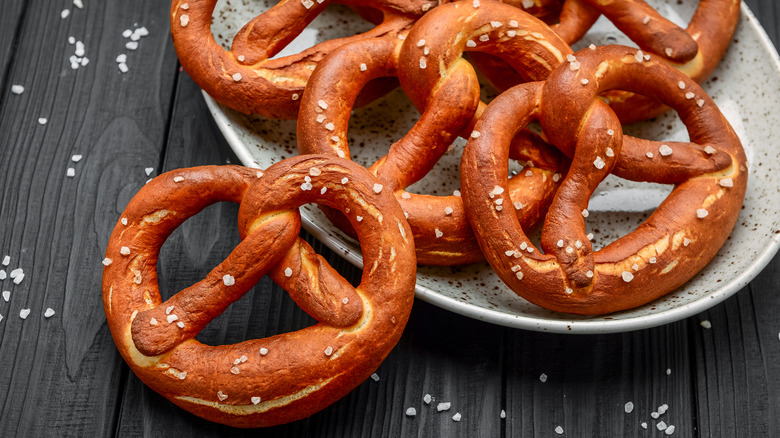 WhiteYura/Shutterstock
Starters don't have to be used for only baking loaves of bread. In other bakes, discard can add complex flavors and additional tanginess. In bakes like pretzels or bagels, discard can heighten the interior, making it rich and creamy. Homemade pretzels using discard outshine those mall pretzels. Plus, making your own fermented pretzel dough adds awesome prebiotics. Another great benefit to making pretzels or bagels using discard is they stay fresher longer.
If you've not made bread from scratch, or feel intimidated, "discard" pretzels or bagels are a great place to start! The dough is stronger and more forgiving than regular bread dough. Because bagels in particular have more flour, the dough is easier to work with. The other advantage of using discard in bagels or pretzels is that additional yeast is called for so you don't have to worry if your starter isn't at full strength.
Making homemade bagels is a small joy in life. The soft interior begs for toppings like cream cheese and turkey, bean sprouts, and sliced cucumbers for a tasty lunch. The bagel's chewy exterior is a tangy blank canvas for everything bagel toppings, sesame or poppy seeds, Asiago or Gruyere cheese, or simply left plain and golden.
Quick breads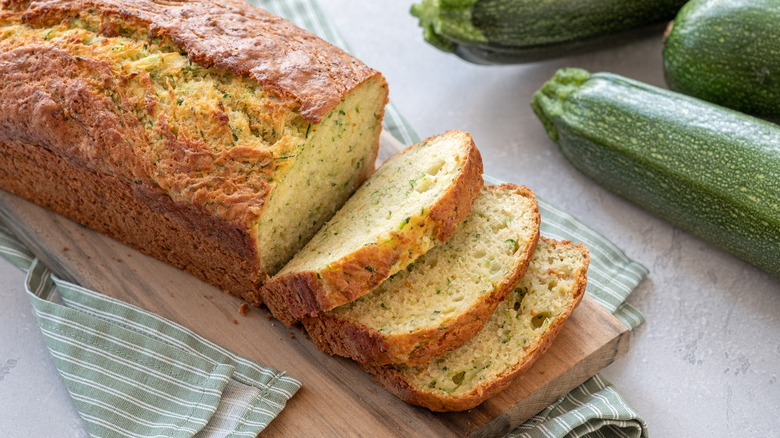 Elena Shashkina/Shutterstock
Using a discard in quick bread is a terrific recipe for brunches, desserts, or a snack. Recipes like easy homemade zucchini bread are a delicious way to sneak in some veggies or use that zucchini that is about to go bad. Also, cinnamon raisin bread balances the sweetness of brown sugar with the tangy flavors of the discard.
Make sure when making zucchini bread that you shred the zucchini, then press the shreds in paper towels or clean cloth towels until all the moisture has been removed. Zucchinis have a high water content and not pressing out as much liquid as you can will result in the dough being too wet.
While many quick breads lend themselves to including discard, you can also add some zesty flavor to sourdough skillet cornbread as a side dish for meals like slow cooker chili or bean soup with leftover hambone. Start both the beans and cornbread dough in the morning and dinner comes together in a flash! Making the dough ahead will intensify the tangy flavor of the discard.
Cakes and other desserts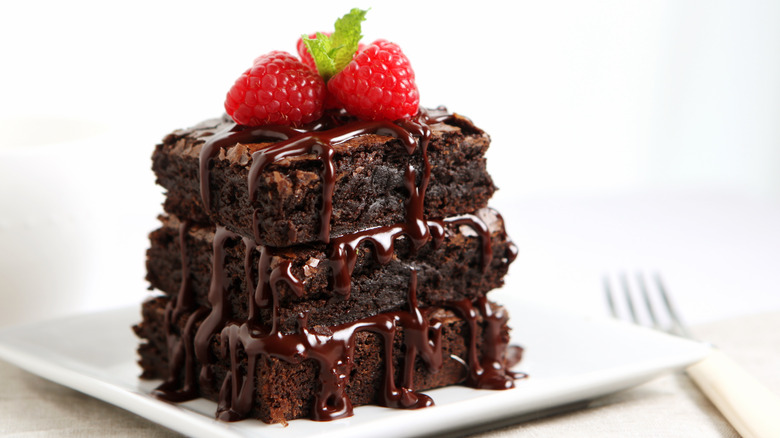 Kirin_photo/Getty Images
All types of cakes are excellent options to include discard. One of the amazing things discard does to cake batter is heighten the flavors because it increases the acidity. And, increased acidity works as a tenderizer so the texture has a thick and creamy mouth feel. Brownies, cake's thicker, fudgier cousin also lend themselves well to a discard substitution. Take a look at most brownie recipes and where it calls for milk or cream, substitute your starter instead. If you're not sure how to change out the liquids, there are loads of great recipes that have done the math for you. But, try it for yourself too!
Substituting discard for milk will change the texture and moisture of your bake so be prepared if you're using your favorite recipe. It will look and taste different. Also, when substituting discard, do not use it as a substitute for liquid fats such as oils, or liquid sweeteners like agave or honey. You still need to use flour, so flourless bakes will not work when using a discard.
Main dishes
false/Shutterstock
While making bread and sweet treats is awesome, your sourdough discard can also help you make dinner! Try out your discard in sourdough pasta. Whereas store-bought, dried pasta has little to no health benefits, making sourdough pasta brings all those awesome preferment prebiotics! Another great reason to make your own is the cooking time — homemade pasta only takes minutes to cook and can be fun and easy to make. And the dough can be made ahead, then dried to save time.
When using discard in your dough, note that it will increase in tanginess as it sits. This can be used to your advantage in recipes like pizza dough – note in this recipe that it calls for olive oil and water. You can substitute the water with your starter, but you will still need to follow the remainder of the recipe as written, including the yeast.
Fried chicken and snacks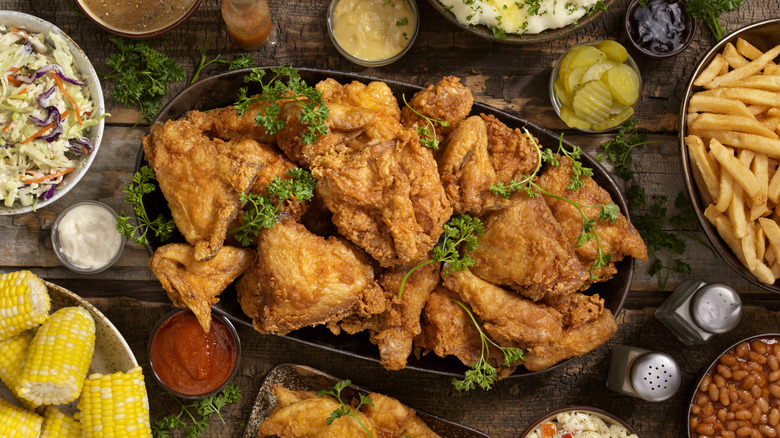 Lauripatterson/Getty Images
Some of the yummiest things you can use your discard for have little to no baking involved. Your discard can be used as a batter for fried chicken, pickles, or bananas. The discard-as-batter acts and looks much like tempura batter. To use your discard to make fried chicken or whatever you're frying, use it to replace the egg/milk wash.
Your setup would have two bowls: one with your starter in and the second with your flour and any spices you like. It's easiest if you use a shallower dish like a pie plate. You can use a third bowl with more flour for an extra layer of crunch. Your preparation would then be a first bowl of spiced flour, the second for your discard, and a third bowl of flour closest to your frying pan.
Since we have some hot oil, how about churros for dessert? The same thing applies to your churro recipe as aforementioned. Where the recipe says milk, use your discard instead. If you want something a bit healthier than fried foods, you can use your discard and make crunchy, chunky granola. 
Fall flat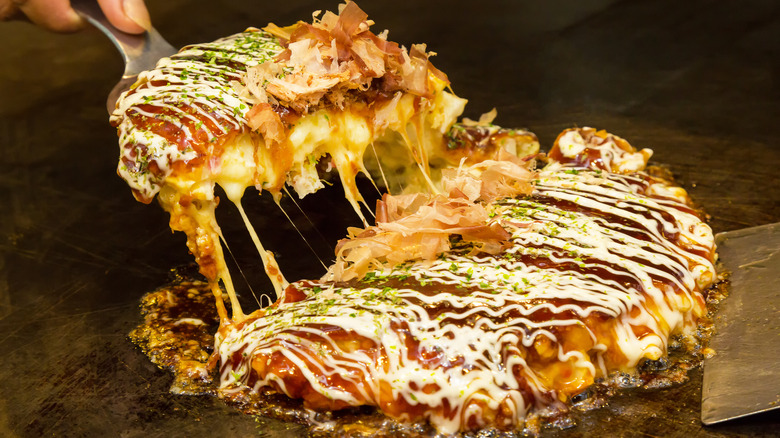 TheNUshutter/Shutterstock
While you still need to add a leavening agent when using discard since the live yeast isn't ripe, there are many recipes that do not require any leavening agent. For a no-rise, no-leavening agent that makes an incredible savory dish, try sourdough okonomiyaki: savory Japanese pancakes.
Tortillas are one of the most satisfying and delicious dishes you can make with discard. They come together quickly and can be made in a skillet or other flat pan. If you don't have a tortilla press, simply place your balls of dough between two sheets of wax paper and roll out your tortillas. The uneven sizes just make them look even more homemade and wonderful.
While there are recipes for discard tortillas, you're now a master at substitutions! Go bold with buttermilk bacon fat flour tortillas. Simply replace the buttermilk with your discard and follow the rest of the recipe as written. Remember to keep the fat, though — so don't change the butter.
Breads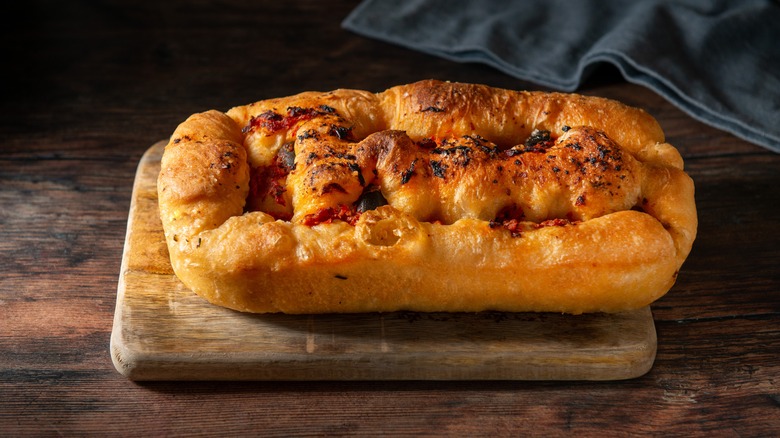 Simone Oppes/Shutterstock
Last but not least, no list of sourdough discard dishes would be complete without mentioning bread. We are still not going to worry about your starter being active though. These recipes are all about using that amazing discard. One of the easiest dishes for beginners (or aficionados) is Sourdough Focaccia Bread.
Focaccia bread is not only easy to make, but you can get creative with your flavors. While focaccia is delicious plain, it also lends itself as a springboard for additional ingredients. If you have a beautiful olive oil, focaccia is the perfect time to use it! You can add roasted garlic, taleggio and pancetta, or roasted red peppers and goat cheese to your dough for an incredible taste experience. 
Scones are another fun and easy bread that lends itself nicely to using discard. Again, swap out the heavy cream with your discard but not the butter. Scones are perfect for brunch – or you can make french toast with your discard instead of scones.
Tips to identify a healthy starter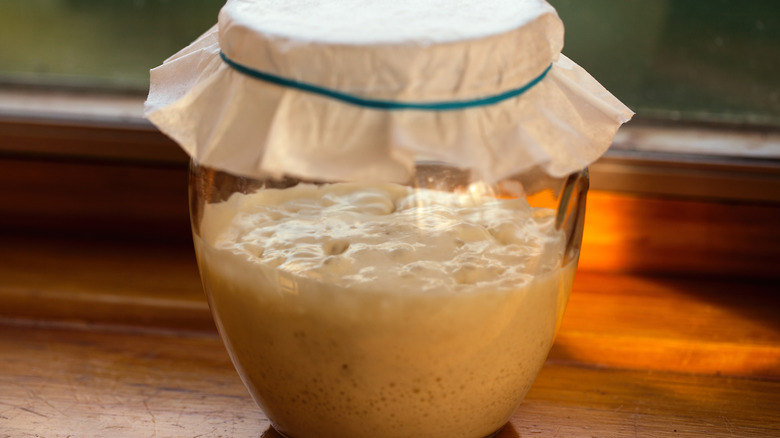 Rita Jacobs/Getty Images
Even if you're only going to use your starter for the discard, you still have to make sure to keep a healthy starter. You don't need to keep it bubbling and active all the time, but starters need a little love once in a while.
Make sure your starter smells and looks right. If you have a milky or blackish liquid sitting on top of your starter, this isn't a problem — this liquid is called "hooch" and indicates an unfed starter. While this hooch is alcoholic, it is not the kind you can drink. If you have more than 1 inch per quart jar, pour off the hooch. If you don't have much liquid, it can safely be stirred back into your starter.
Now, if you have a pinkish or orange tint on the top of your starter, throw the batch out. The pink or orange coloration indicates the growth of harmful bacteria. Grey or black spots also mean your starter needs to be thrown out. And the smell of your starter can indicate its health — it should smell slightly tangy, not rancid.