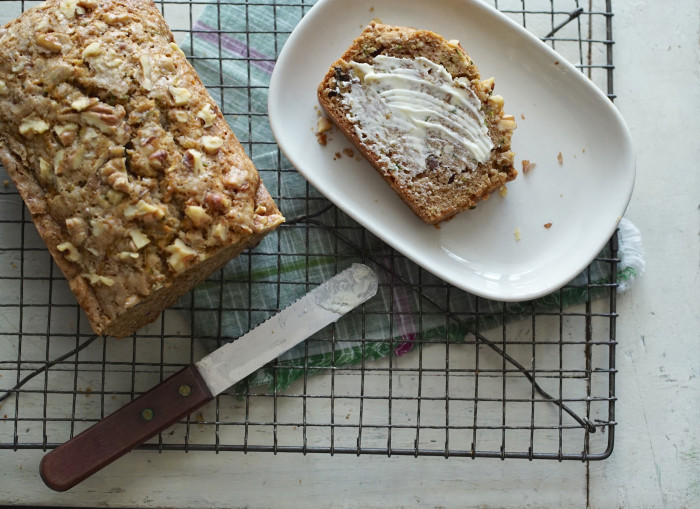 If you have one super-simple baking recipe in your arsenal, make it banana bread. If you have two, make sure the second one is zucchini bread. While grating zucchini takes slightly longer than peeling overripe bananas, the resulting treat is well worth the effort. That's right, zucchini dresses sweet or savory, and if you've never had it sweet, this is the definitive recipe.
I like to drizzle my zucchini bread with maple syrup to give the walnuts on top something to adhere to, as well as add a little heft to that that wonderful sticky sweetness you see on top of quick breads like this one. This recipe makes two loaves, because when something freezes and gifts as well as zucchini bread, there's no point in just making one.
Ingredients
Zucchini bread
softened unsalted butter, for greasing (plus more for serving)

3

eggs

1

cup

white sugar

1

cup

turbinado sugar

1

cup

canola oil

1

teaspoon

pure vanilla extract

1

teaspoon

ground cinnamon

1/4

teaspoon

ground nutmeg

1

teaspoon

baking soda

1/2

teaspoon

baking powder

3

cups

flour

1/2

teaspoon

salt

1

cup

walnuts, coarsely chopped

2

cups

zucchini, grated

2-3

tablespoons

dark maple syrup
Directions
For the zucchini bread
Preheat the oven to 350° F.

Using your fingers, generously butter the insides of two loaf pans.

Beat eggs, sugar, oil and vanilla together in a large bowl until smooth.

In a separate bowl, combine the cinnamon, nutmeg, baking soda, baking powder, flour and salt and stir with a fork until well mixed.

Pour the dry ingredients into the wet ingredients gradually, then fold in 2/3 of the walnuts.

Divide batter between loaf pans.

Drizzle the tops of the loaves with maple syrup and sprinkle with nuts.

Bake for one hour, then insert a toothpick in the center of one loaf to test for doneness. If it comes out clean, remove loaves and allow to cool for at least an hour before turning out and slicing. If not, return to the oven for ten more minutes.

Serve with room temperature butter for easy spreading.