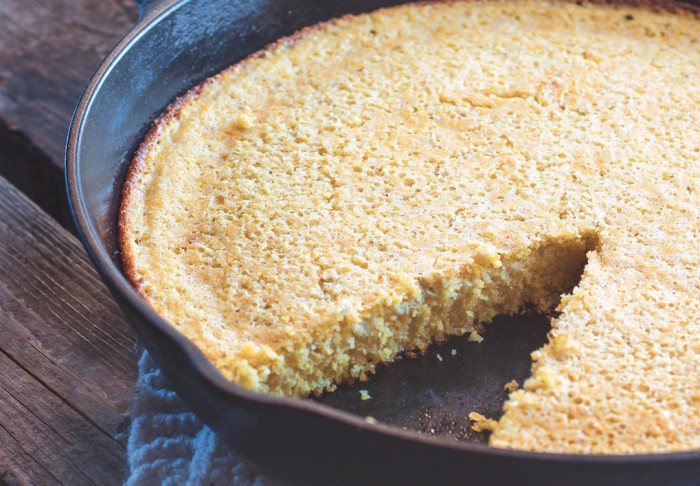 Go beyond kimchi, kraut and yogurt and discover a world of foods you never even knew could be fermented. Check out this new collection of recipes from cook, author and homesteader Shannon Stonger, and prepare to cultivate some favorite new dishes. This sourdough skillet cornbread will change your chili game forever.  
That crisp-bottomed golden loaf can only be had with a hot oven and a cast-iron skillet. While I grew up eating the sweeter Northern cornbread, which generally contains more wheat flour and sugar, this recipe is much more akin to a Southern cornbread. Made only with cornmeal and fermented overnight with sourdough starter, this bread is all about the corn. The fermentation only improves the flavor and texture and makes it easier on the belly.
How To Make A Sourdough Starter
Great bread, whether wheat or gluten-free, is made with simple ingredients, as is the sourdough starter from whence it is leavened. A simple slurry of flour and water come together to create a matrix for the bacteria, yeasts, enzymes and acids that will, quite literally, bring your bread to new heights.
Making a sourdough starter is a process, much like reaching the sweet spot for kimchi or kraut. I find that about a week, give or take, is all you need to create a sourdough starter that could last you a lifetime, if cared for properly. On the flipside, if all you want to do is a one-off sourdough bake, give yourself a week of daily starter care and you'll have the bread you were looking for.
A quick note on flour choice: Unbleached all-purpose flour, whole wheat flour, spelt flour and rye flour can all be used to make a starter for leavening wheat breads. Use the same guidelines for creating a gluten-free sourdough starter, but substitute teff, sorghum or buckwheat flour; other gluten-free flours are generally too starchy to create a good starter.
This week-long timeline will guide you through creating the gluten-free or wheat starter needed for baking.
Reprinted with permission from Traditionally Fermented Foods
Ingredients
1

cup

sourdough starter

2

cups

whole grain cornmeal

2

cups

milk

3

eggs, beaten

2

tablespoons

honey

2

tablespoons

melted butter (or bacon grease)

2

teaspoons

baking powder

1/2

teaspoon

baking soda

1

teaspoon

salt
Directions
For the sourdough starter
Days One through Three: In a quart jar, combine ½ cup of flour and a scant ½ cup of water. Mix vigorously to incorporate air. Cover with a clean cloth, paper towel or coffee filter and secure with a rubber band or canning ring. Leave at room temperature (65 to 85°F) for 12 hours. Repeat feedings with the same amounts of flour and water every 12 hours.

During this period, tiny bubbles may begin to form. The starter may start to smell really funky or just pleasantly sour. Either case is okay — simply forge ahead. By the third day, you may see a bit more yeast activity, indicated by bubbles and a larger volume of starter noticeable several hours after feeding.

Days Four through Seven: For a wheat sourdough starter, begin feeding every 24 hours and discard half of the starter before every feeding. For a gluten-free sourdough starter, continue to feed every 12 hours and discard half of the starter before every feeding.

You will now begin to see more yeast activity. Your starter may start to double in volume four to eight hours after feeding it. It should begin to take on yeast aromas in addition to the sour aroma it should already have. The microorganisms are beginning to find a balance between yeasts and bacteria, and we want to continue encouraging yeast growth by continuing to feed it on a daily basis. If it begins to show funky-colored molds on top, or if it smells really bad (think rotten vegetable matter), you'll want to throw it out and start over. This happens pretty rarely, but you'll know it when you see it.

At about the six- to seven-day mark, your starter should indicate signs of being ready to leaven breads. Look for active, bubbly, doubling starter with a pleasant sourdough aroma. At this point you can (and should!) bake with it, feed it again and then continue with the maintenance path of your choosing.
For the cornbread
At least 8 hours before you wish to bake and serve the cornbread, combine the starter, cornmeal and milk in a medium mixing bowl. Cover and allow to ferment 8 to 24 hours.

After the fermentation period is through, preheat your oven to 450°F. Grease a 12-inch cast-iron skillet and place it in the oven to preheat while you mix together the dough.

Whisk the eggs, honey and melted butter in a small bowl and add them to the fermented dough. Whisk until nearly combined. In another small bowl, mix together the baking powder, baking soda and salt with a fork. Sprinkle this mixture over the dough and quickly stir it in until completely combined. Immediately pour the batter into the skillet and place it in the oven.

Bake 20 to 25 minutes or until a knife or toothpick comes out clean when inserted into center of the bread. Allow to cool before cutting. Serve with butter and honey, or dunk into a hearty chili.