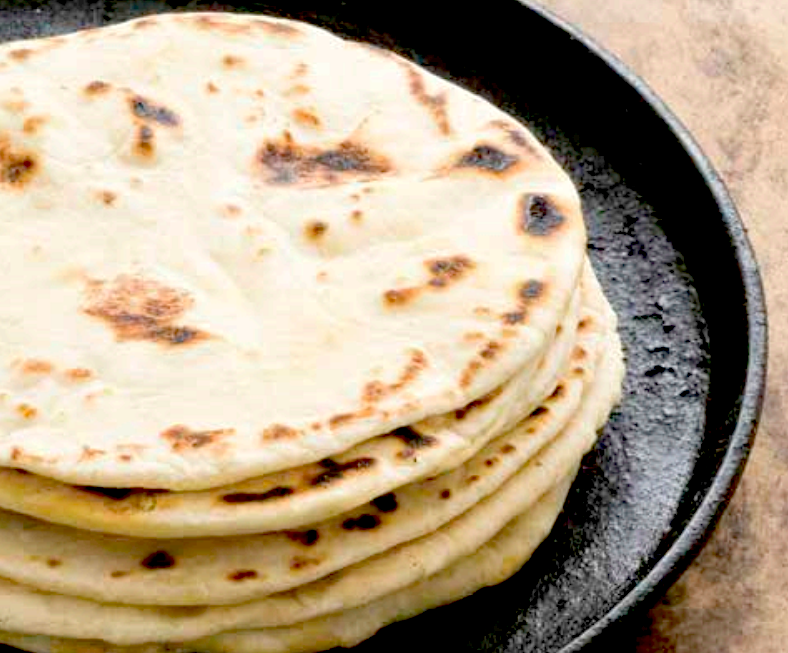 This is one of our favorite instances of a blog blowing up so big the debut cookbook gets a sequel. Author Lisa Fain is a 7th-generation Texan whose culinary tribute to her home state has earned her fans worldwide. Check out The Homesick Texan's Family Table for comforting classics and modern spins on traditional barbecue, Tex-Mex and old-school German dishes. First up, add a few tweaks to hearty, savory flour tortillas. Bacon tweaks.
When I was making tortillas one day, I was out of regular milk so I substituted buttermilk. While I was shaking things up a bit, I also threw in some leftover bacon grease to see what it would add. The result was a fluffy, supple tortilla with just a hint of smoke. It's my new favorite for breakfast tacos, though it's awfully good with just about anything you choose to place inside of it. But even though this flour tortilla works well with others, it's also mighty fine hot off the skillet, served on its own.
Reprinted with permission from The Homesick Texan's Family Table
Ingredients
2

tablespoons

bacon grease (see note)

2

tablespoons

unsalted butter

2

cups

all purpose flour

1/2

teaspoon

baking powder

1/4

teaspoon

kosher salt

3/4

cup

buttermilk
Directions
Combine the bacon grease and butter in a pot and cook over medium-low heat until bacon grease and butter have melted. Remove from heat.
In a bowl, stir together the flour, baking powder and salt.
Pour in the melted fat mixture and stir until the flour is crumbly.
Pour in the buttermilk and stir until a soft dough forms.
Place the dough on a floured surface and knead for 2 minutes until the dough is firm and smooth.
Cover the dough and let it rest for an hour.
Divide the dough into 8 pieces and roll each piece into a ball.
One at a time, place a dough ball on a floured surface, pat it out into a 4-inch circle, and then roll with a rolling pin from the center out until the tortilla is thin and about 8 inches in diameter.
Keep the rolled-out tortillas covered, side by side, until you are ready to cook. (I usually have one cooking as I roll out another.)
In a dry cast iron skillet heated over medium heat, cook each tortilla for 30 seconds on one side, flip it, and then cook for 1 minute on the other side. It should start to puff up a bit.
Flip it again and cook for 30 more seconds.
Cover the cooked tortilla with a cloth until you are ready to serve.
Repeat with the remaining balls of dough.
Chef's Note: Bacon grease is what's left over in the skillet after cooking bacon. While our great-grandmothers usually kept theirs in an old coffee can over the stove, to save my bacon grease, I pour it into a glass jar and store it in the refrigerator.
Find more tortilla recipes on Food Republic: