11 Underrated Frozen Vegetables And How To Cook With Them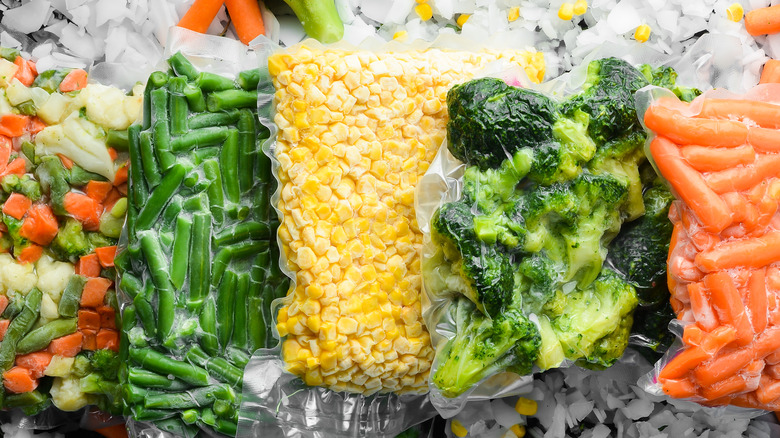 YARUNIV Studio/Shutterstock
It might be hard to imagine, but there was a time not that long ago when frozen food didn't exist. Obviously, if it got cold enough, any food would freeze, but it generally turned mushy when you thawed it and tried to cook with it. All of that changed however 100 years ago thanks to inventor and entrepreneur Clarence Birdseye. Back in 1924 while living in the frigid Canadian wilderness, Birdseye noticed that fish he and the other locals caught would freeze quickly after being removed from the water. It also tasted just as great when thawed and cooked weeks later. 
Inspired by his discovery, Birdseye dug deeper and found that when foods freeze quickly, they form smaller ice crystals inside and are better able to maintain their flavor, texture, and structure when thawed and cooked. It was an incredible breakthrough, and the frozen food empire Birdseye created as a result still bears his name to this day.
Frozen veggies are truly a game-changing innovation and can still be incredibly useful for every home cook. They provide a wide variety of flavors and preparation options, without the risk of spoiling. And they can be ready in minutes. Best of all, you don't just have to stuff your freezer with mixed veggies or corn to enjoy the ease and convenience frozen produce offers. Here are 11 of our most favorite underrated frozen veggies, plus some tips and secrets on how you can put them to spectacular use in any upcoming meal.
Stock up on frozen artichokes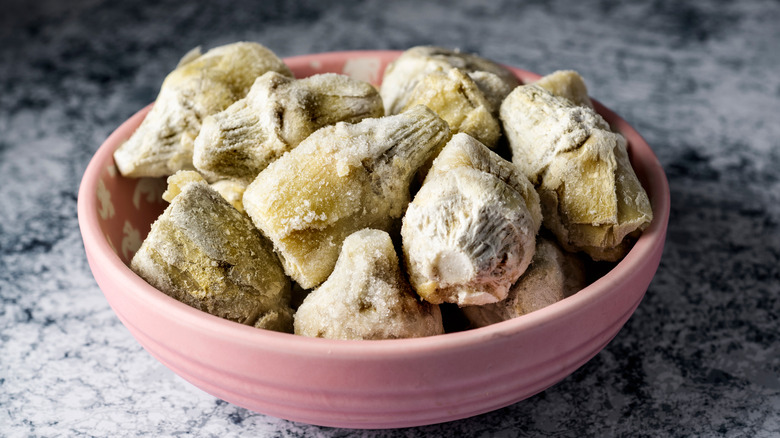 nito/Shutterstock
Artichokes are one of Mother Nature's most delightful veggies. They pack an incredible, distinctive nutty, slightly sweet flavor with just a hint of bitterness that can light up any meal. But these tender, succulent wonders also have one big drawback — preparing them can be a giant pain. There's all that trimming and rinsing and steaming or simmering. And even then, you have to really work to get at the delicious heart inside the plant.
That's why frozen artichokes are such a smart alternative. All that time-consuming prep work is already done and you just have to put those unique, fleshy hearts to use. Luckily, that's the easy part!
Start family movie night with a bowl of homemade spinach artichoke dip. Just sauté equal amounts of diced artichoke and spinach until tender and slightly caramelized. Then mix them with a combination of shredded mozzarella, Parmesan, mayo, and sour cream. Add some garlic, salt, and pepper, and then bake at 375 degrees Fahrenheit for around 20 minutes or until bubbly and lightly browned. Or make artichoke bruschetta by spreading slices of artichoke and tomato on slices of French bread. Top with a balsamic glaze and bake until crispy.
For a heartier artichoke-based entree, try tossing cooked pasta with artichoke hearts, cherry tomatoes, olives, and feta cheese. You can make a cozy soup by pureeing artichoke hearts with chicken broth, onions, and garlic. Or add diced artichokes as a special ingredient in your favorite breakfast frittata.
Add sweetness to meals with frozen sugar snap peas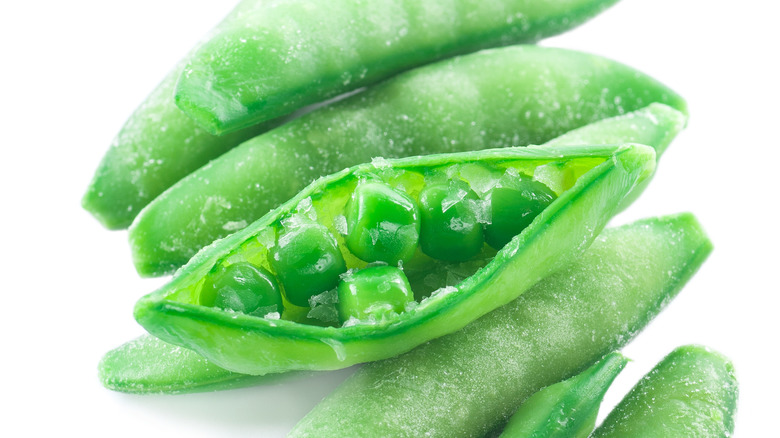 Barbro Bergfeldt/Shutterstock
Like artichokes, sugar snap peas are another incredible veggie that many of us enjoy but also steer clear of making fresh at home because of the work involved. It's time-consuming — you have to carefully remove that inedible fibrous string from along the seam of each pod — and when complete, the delicate peas still require thorough cleaning and trimming. That's why frozen peas are a much more efficient, yet equally delicious, alternative. They're just as crisp and sweet, and depending on how you use them, you'll likely not even notice they started out frozen in a bag.
Once thawed and cooked, sugar snap peas can be a wonderful addition to a wide variety of salads. Toss them with cooked pasta, cherry tomatoes, feta cheese, and top with a lemon vinaigrette for a zesty spring salad. Or, for a leafy green salad, try pairing them with sliced radishes, baby spinach, and your favorite citrus dressing.
Frozen peas are perfect for a stir-fry. Drop them right from the bag into your favorite stir-fried mix of broccoli, bell pepper, mushrooms, and chicken, shrimp, or beef. Just cook your protein first, then add your veggies, and finally top with sauce to keep everything crisp and flavorful. They can also be a surprise addition to pizza. Sugar snap peas pair beautifully with prosciutto, mozzarella, and Parmesan on a simple homemade or store-bought pizza crust. Just add a drizzle of olive oil and bake.
Edamame is perfect for adding nuttiness and crunch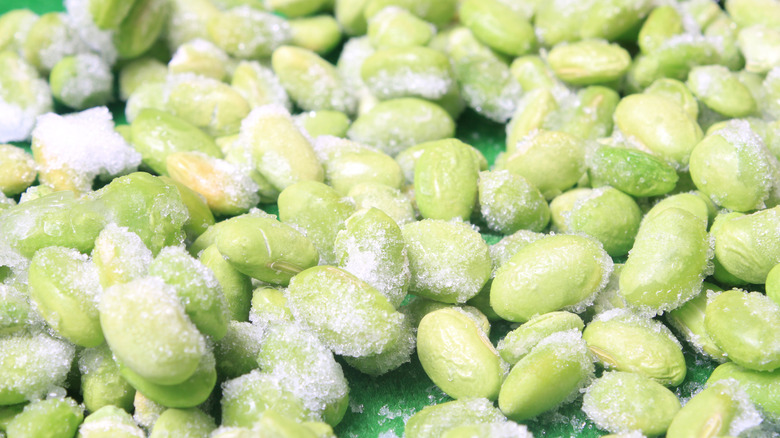 Gvictoria/Getty Images
If your knowledge of edamame is limited to the salty, boiled pods you can order as a side dish in Japanese restaurants, you're missing out! Edamame — or young, tender soybeans — is an incredible, versatile ingredient that can add subtle crunch, sweetness, and nuttiness to a wide variety of different homemade dishes. As an added bonus, these legumes are a nutritional powerhouse, packed with protein, fiber, vitamins, and minerals. They have a long shelf-life once frozen and can keep for months compared to fresh edamame which needs to be used in days. And, they're ready in minutes so they are incredibly easy to incorporate into meals.
When making dinner or Sunday brunch, consider adding a handful of edamame to mushroom risotto to further enhance the natural earthy quality of the popular favorite. You can also throw edamame into shrimp or tofu stir-fry. Or mix these tender beans into your favorite fried rice recipe for an extra kick of protein and color.
Edamame can also be a great addition to dips and sauces. Mix it with chickpeas when making hummus. Or pair it with basil, garlic, pine nuts, Parmesan cheese, and olive oil when making a pesto to serve with fresh pasta. Feeling really creative? Mash the frozen, thawed beans and blend them with avocados, diced tomatoes, lime juice, and cilantro for guacamole with an added nutty crunch. Delicious!
Use frozen spinach to add nutrients and flavor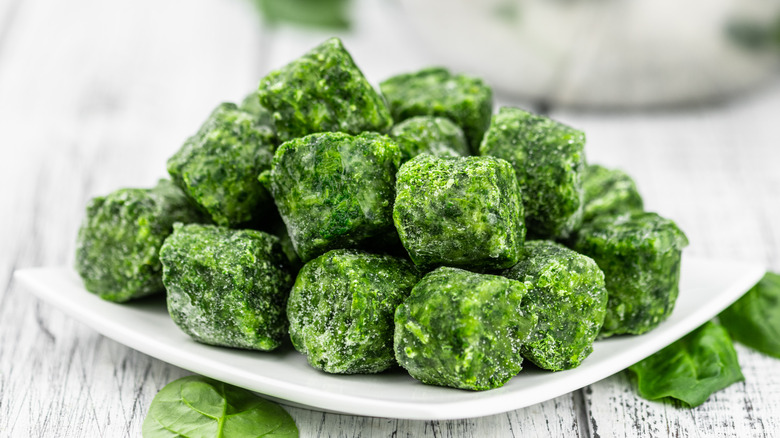 HandmadePictures/Shutterstock
Popeye is famous for downing spinach by the can. But, if you really want to make the most of this super-nutritious leafy green, keeping a few bags of frozen spinach always on hand is a far better strategy. Spinach can help to add a pleasant, herbaceous, almost grassy flavor profile to a countless number of dishes. And, because these leaves are so filled with nutrients — huge amounts of vitamins A, C, K, and iron plus disease-fighting antioxidants — they also instantly help to make any meal they're included in better for your overall health and wellness.
One of the easiest ways to use frozen spinach is simply adding it to any soup you might be making. Drop frozen spinach leaves into Italian Wedding soup, minestrone, tortellini soup, white bean or lentil soup, chicken soup, or even classic creamy potato or roasted tomato soup. Frozen spinach is also a great addition to coconut curries, sun-dried tomato pasta dishes, and even mac and cheese!
You can also use spinach to make many of your family's favorite breakfast dishes even tastier and more fulfilling. For example, try mixing frozen spinach into scrambled eggs. Or elevate the whole dish even further and make a spinach egg frittata. Just whisk together eggs, spinach, cheese, onion, or garlic, plus a few fresh herbs. Pour the mixture into a greased oven-safe pan and bake at 350 degrees Fahrenheit until the eggs are firm and golden and the cheese is nicely melted.
Plantains can give meals a festive flair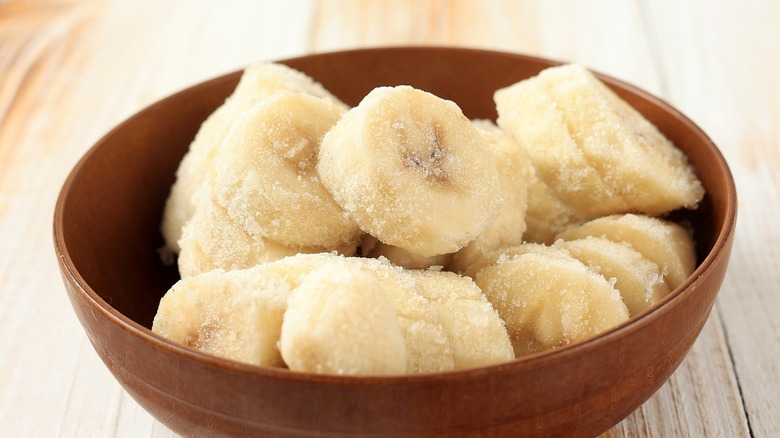 Ika Rahma H/Shutterstock
Plantains are the less sweet, starchier cousin of the banana. They're also an essential ingredient in traditional dishes such as tostones (where they are sliced, flattened, and fried) and maduros (where slices of the fresh fruit are caramelized to bring out its natural tender texture and subtle brown sugar-like flavor). While plantains are most commonly used fresh, having a box or two of the frozen sliced fruit on hand is always a good idea. Look for them in most Latin or Caribbean-themed markets. Make the trek — they're worth the search!
Like bananas, plantains can be a superstar ingredient on any home breakfast menu. Use these frozen slices in tropical smoothies (they go great with mango) or mash them and stir them into your favorite pancake batter. To make a classic breakfast hash, pair sliced plantains with bell peppers, onions, and eggs and sauté until the eggs are cooked through and tender.
Later in the day, try making a light lunch of plantain tacos. Just sauté frozen plantain slices with diced chicken or shrimp and then serve in a corn or flour tortilla with salsa and a simple cabbage slaw for a bit of added crunch. You can also add plantains to quesadillas or homemade empanadas. For a tropical twist on lasagna, you can even make a plantain and beef casserole. Just layer plantain slices, seasoned ground beef, diced tomatoes, onion, and shredded cheese in a dish and bake until melted and bubbly.
Bamboo shoots provide texture and crunch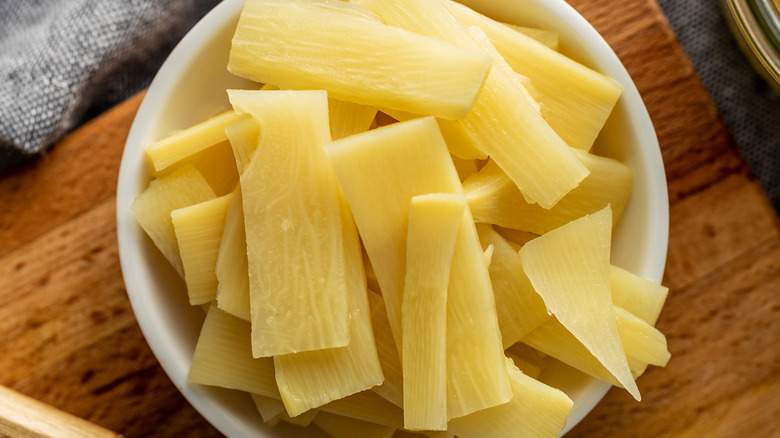 Jiri Hera/Shutterstock
Like plantains, frozen bamboo shoots aren't something you will find in every market. You may have to go to a store specializing in Chinese, Japanese, or Korean ingredients. But with the incredible earthy flavor, chewy texture, and satisfying crunch that bamboo can provide, that bit of extra work is definitely worth your while. Stock up and buy a few bags so you always have some of these delicious shoots at the ready when a recipe calls for something extra.
Starting with the more obvious uses, frozen bamboo shoots are the ideal addition to stir-fries, curries, and fried rice dishes. You can also try dicing them into bite-sized chunks and adding them to homemade risotto — they go especially well with all types of mushrooms. For something a bit more unexpected, try adding bamboo shoots to pasta dishes. For example, they can be a wonderful addition to bacon carbonara with a classic cream sauce. Or toss them with udon noodles, soy sauce, ginger, and green onions for a versatile side dish you can serve with almost anything, and that comes together in minutes.
For even more unexpected uses for bamboo, try folding shoots into a spinach omelet or adding them to shredded pork tacos as a crispy alternative topping. You can even work them into sandwiches! To make a bamboo and gouda panini, layer bamboo shoots and Gouda cheese between a couple of slices of bread and cook until the cheese is melted.
Every freezer needs a few bags of butternut squash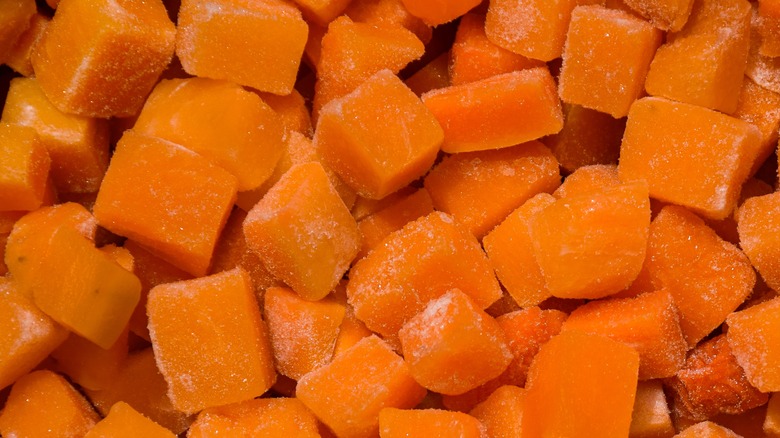 JulieK2/Shutterstock
Butternut squash is a wonderful vegetable, sporting a creamy texture and a buttery, rich almost caramel-like flavor. It's an incredible ingredient to cook with, yet it often doesn't get the recognition it deserves. And unfortunately, many people just don't know how to cook them — possibly because fresh butternut squash can seem too daunting to prepare. But, frozen cubed butternut squash takes the difficulty away from dealing with this mellow, savory squash.
Some of the best uses for butternut squash are also the easiest. You can toss it by the spoonful into breakfast hashes, mac and cheese, risotto, or ground beef mixtures that you plan on using in anything from tacos to spaghetti or lasagna to old-school classic creamy stroganoff. For an amazing flatbread, top a pre-made crust with cubed butternut squash, fresh sage, caramelized onions, and cheese, and then bake until lightly toasted. For a similar, yet sweeter dish, try whipping up a squash and caramelized pear crostini. Just top thin slices of fresh crusty bread with thawed butternut squash, caramelized pears, and then add a drizzle of balsamic glaze. Then bake until everything is warm and toasted.
Finally, butternut squash is also ideal for a variety of plant-based entrees. Use it as the base layer in a vegetarian version of shepherd's pie. Or make savory meat-free quesadillas with cubed butternut squash, black beans, and cheese.
Give frozen okra a second chance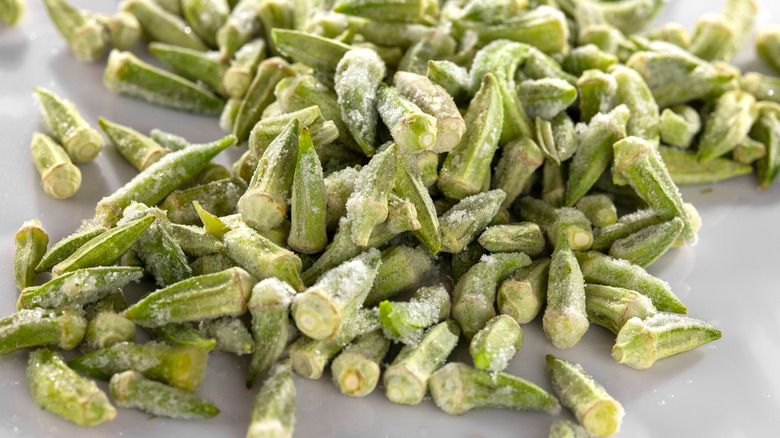 enginakyurt/Shutterstock
Okra is another veggie that sometimes gets a bad rap. People say it's slimy or claim to not like its texture. But, if cooked correctly, you can help the mild, subtle fresh green veggie taste of okra shine in a number of different dishes. Just remember that okra gets softer the longer it cooks, so you can avoid that so-called slime by cooking it quickly over high heat. Be sure to keep it as dry as possible. If you are using frozen okra, let it thaw and drain it well before cooking. You may even want to press it between paper towels to remove excess moisture. Finally, remember that pairing okra with acidic ingredients like tomatoes, vinegar, or lemon juice can help to keep it firmer and less viscous.
As for recipes, cooking with okra couldn't be easier. It's ideal in any stir-fry tossed with your favorite vegetables and a savory sauce. For an unexpected Sunday brunch entree, try combining frozen okra with eggs, cheese, and herbs for a hearty frittata. For a crispy side that's a perfect alternative to fries, try making some roasted okra. Just thaw the frozen veggie, remove that excess water, and then toss with olive oil, garlic, and herbs and bake until lightly browned.
Don't forget that okra can also be great on the grill. Just thread frozen okra onto skewers, add some of your favorite spices, and you have an instant and incredibly tasty kebab.
Fava beans are a freezer essential
Bhofack2/Getty Images
Hannibal Lecter may have made them famous, downing them with a nice chianti. But, fava beans have way more uses than simply being a horror movie catchphrase. These beans, which are also sometimes known as broad beans, have a unique creamy and buttery texture and a distinctive taste that has been described as everything from nutty to almost cheese-like. While you can eat raw fava beans in salads or dips — or even on their own as a crispy treat — they're even better when frozen and then cooked in a wide variety of different dishes.
For instance, fava beans are spectacular when used in a bean and mint risotto. To make it, first sauté some onions and garlic until soft. Next, add some rice and vegetable broth to your pot. And finally, as the rice cooks, stir in some frozen fava beans, fresh mint, and grated Parmesan. Let everything simmer until the rice is creamy and tender. In a similar vein, you can also use fava beans in a hearty Spanish seafood paella. 
If those meals sound too ambitious, take an easier route and include a handful of the beans in a roasted eggplant or grilled chicken lunch wrap. Add them to the top of a Margherita and feta pizza before baking. Pair them with the tomatoes on your favorite bruschetta. Or toss a handful into a simple stir-fry. Fava beans taste amazing cooked with asparagus and garlic in a light soy sauce. Mmmmm!
Sweet potatoes provide big, bold flavors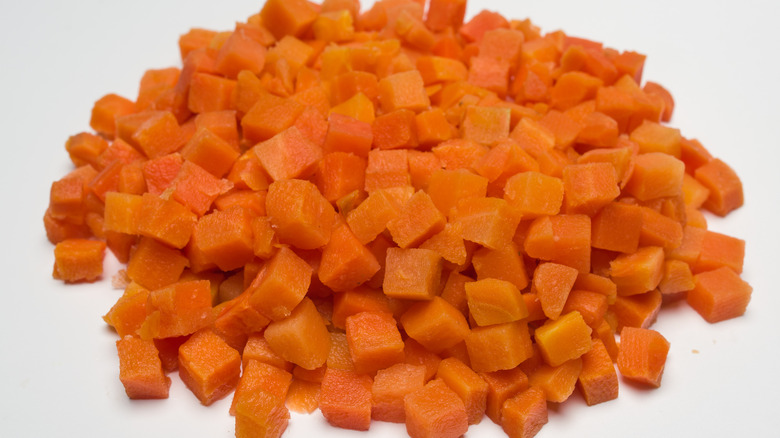 Pinto Horse/Shutterstock
Butternut squash and frozen sweet potato may look similar — they're both beautiful cubes of bright orange goodness — but when it comes to the flavors they bring to the recipes they're used in, they couldn't be more different. Butternut squash is mild and subtle and creamy. Sweet potato packs a flavorful punch! It's rich and bold, with robust notes of earthy sweetness. With all that flavor and attitude, it's ideal for big, bold dishes like casseroles and other hearty entrees — even desserts!
For example, sweet potato is great when added to meat or bean enchiladas. Layer it in homemade Shepherd's Pie or stir it into a fragrant coconut curry. For a simple one-pot meal, just sauté frozen sweet potato cubes with sausage, onions, and bell peppers, cooking everything until it's tender and lightly caramelized. Or, for a meat-free version, try making a sweet potato and chickpea tagine. This classic Moroccan dish may sound complicated but it couldn't be easier. First, sauté onions and garlic until soft. Then add some cubed sweet potatoes and canned chickpeas. Next, load up on spices like cumin, coriander, turmeric, paprika, or cinnamon. Pour in some vegetable broth and let everything simmer until tender and the flavors of all the ingredients have fully melded together. 
For a quick and easy no-fuss dessert, consider sweet potato pancakes! Fold thawed frozen sweet potato cubes and chopped pecans into pancake batter. Cook as normal and then drizzle with maple syrup before serving.
Frozen bell peppers ramp up flavor in any meal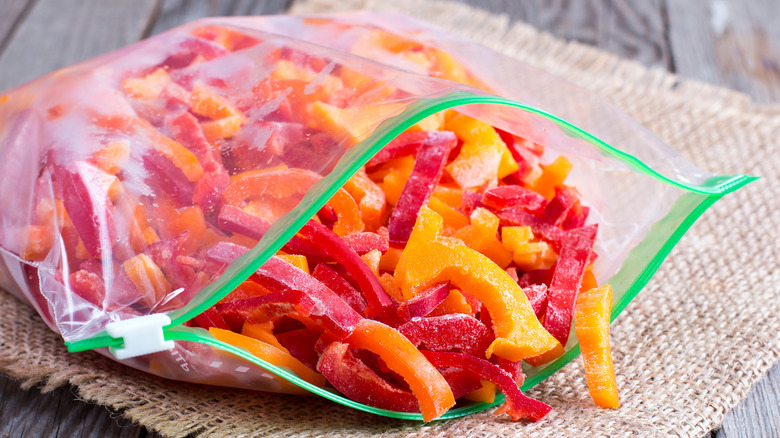 Qwart/Getty Images
How often do you use half a bell pepper and then wonder what you're going to do with the rest? Don't just toss it or let it go bad in your fridge. Dice it up and freeze it for later! You can obviously buy a variety of frozen peppers in your local market, but this veggie is incredibly easy to prepare and freeze on your own. And, keeping a steady supply of frozen bell peppers around can help to ensure you never have a bland homemade meal again.
Frozen diced bell pepper is great for adding a sweet, spicy, tang to an almost infinite number of recipes. Sprinkle the pepper on homemade or store-bought pizzas of all types before baking them in the oven. You can also add bell pepper to Mexican fajitas, quesadillas, tacos, and even nacho platters that you're going to break out for an evening with friends. Just add the peppers to your ground beef mixture while browning it.
And even with their mild, spicy roots, bell peppers are also perfectly at home in almost any pasta dish. Mix them into spaghetti, baked ziti, or lasagna. You can even use them to make an insanely tasty bruschetta. Just top baguette slices with a mixture of thawed frozen bell pepper, tomatoes, basil, and balsamic glaze, and then bake until the bread is toasted and lightly browned. Yum!