How To Eat Edamame: Mashed, Cooked Or Shelled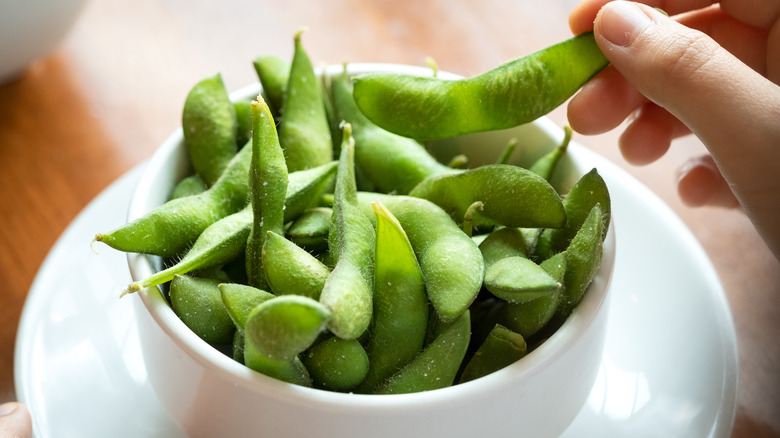 Getty Images
Edamame. You hear the word, and the first thing you might think of is a warm steamy bowl of green bean pods hitting the table at your favorite sushi restaurant. Maybe they're drizzled with a garlic sauce; maybe they're covered in flakey sea salt. 
While edamame is popular in Japanese restaurants, they're far more versatile than you might think. These little green guys are a great source of protein, especially for anyone who doesn't eat meat or dairy. Even if you do consume meat and dairy products, soybeans are a wonderful addition to your entrées, salads, or even vegetable trays. They're easy to make at home and come in many varieties, both shelled and unshelled. 
Edamame are young soybeans, and they differ from those that are used for soy products, including soy milk, tofu, and soy dairy replacement products. Young soybeans are lighter in color and more tender in texture. While you might have first encountered them at the sushi bar, there's no reason they can't star in a variety of dishes. 
Eating edamame in the shell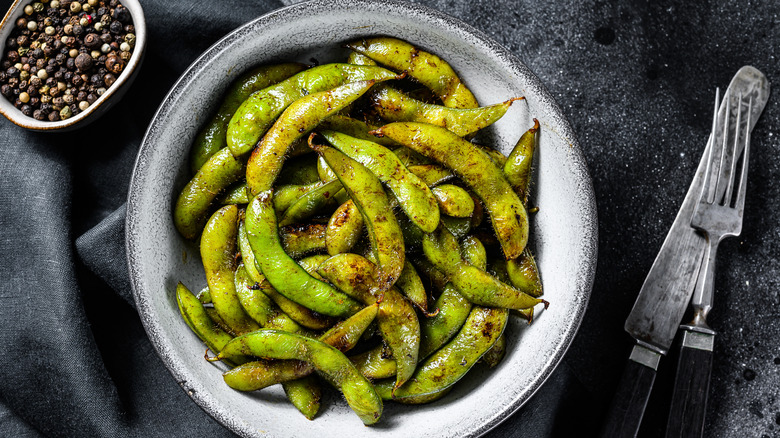 Mironov Vladimir - Shutterstock
Eating edamame via their shells is the way most people are introduced to them.Common preparations include steaming them or boiling them before serving. Unlike their cousins, the sugar snap pea, edamame's shell is tough, fuzzy, and inedible. You can, however, dip the shell into soy sauce before pulling the beans out of the pod with your teeth. 
If you're cooking edamame from its raw state, there are a few ways to prepare them. You can boil them for a few minutes in lightly salted water, you can steam them, or you can microwave them. Boiling and steaming might be the simplest way, and it allows you the opportunity to season the beans if you use salted water. 
Edamame beans don't have a ton of innate flavor, so dipping them into a soy sauce or ponzu sauce can be a nice way to eat them when they're still in the shell. Some restaurants will put a garlicky sauce on top of the pods to flavor them. Because the flavor is a blank canvas, you can experiment by topping them with whatever seasoning or sauces you prefer. The least labor-intensive way to eat edamame is to eat them out of the pods, either as a topping or garnish. That said, there are various other ways to prepare them once they're shelled.
How to eat edamame once it's out of the shell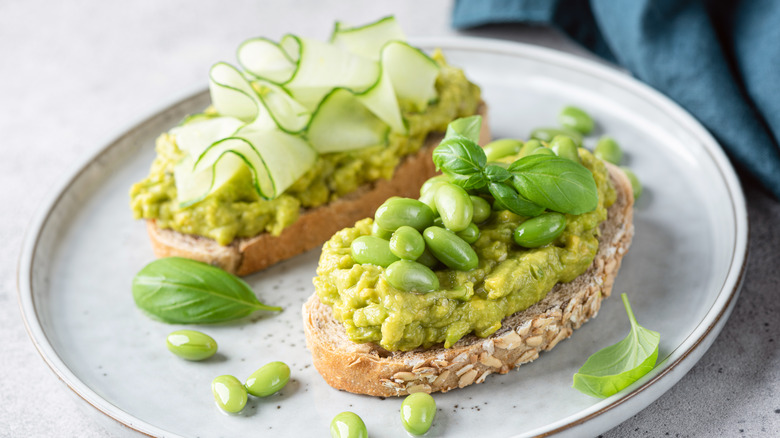 Getty Images
Outside the shell, edamame beans can be eaten in the same ways you'd cook other beans. If you buy them already shelled, you can boil them slightly, steam them, or blanch them, depending on what kind of consistency you're hoping for. If you must cook them in their shells, steam them or boil them with slightly salted water so you can impart some flavor to them. Once cooked, squeeze the beans out of the shells; they can be served warm or cold. Edamame is great atop a fresh salad or in Asian-inspired dishes. They're a wonderful addition to stir-fry dishes, rice bowls, or grain bowls. You can even add them to a poke bowl for a fresh texture. 
As with other soft beans and legumes, you can use them to make a dip or spread. You can use them in place of chickpeas to make edamame hummus, which is a tasty way to mix up a vegetable plate. Try adding edamame purée to toast with avocado to put a fresh spin on avocado toast. Adding edamame purée to your favorite crostini recipe adds a nice bright flavor while increasing the protein. You can also roast them, similar to how you'd make roast chickpeas.
Experiment with a few different recipes, and you'll see that these mighty beans are so much more than just a bowl of green nibbles to eat while you wait for your sushi to arrive.