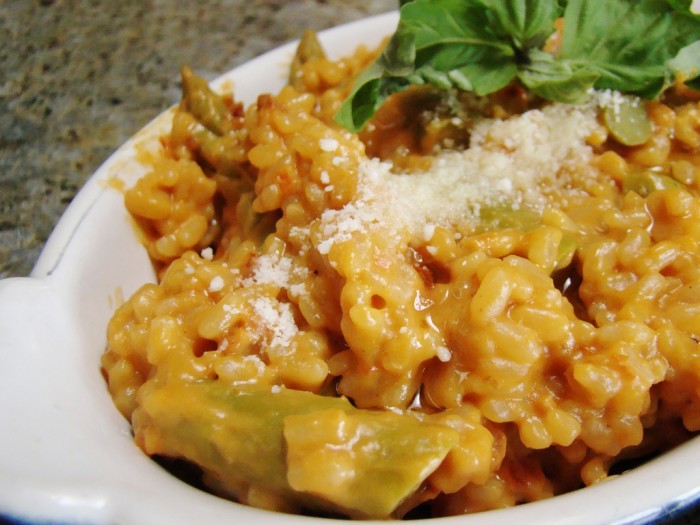 Have a basic risotto recipe in your cooking arsenal and you will always feel confident in the kitchen. It's something you can go to again and again, employing different ingredients (mushrooms one day, asparagus and cheese the next), plating fish over it, and using leftovers to make rice balls to enjoy later or to use in other, more complicated recipes.
Making an awesome risotto doesn't take any special techniques or crazy knife skills, just focus and determination. Equipment-wise you'll need a heavy-bottomed pan or Dutch oven, a sturdy spatula, a ladle, a pot for heating the broth, and enough arm strength to win the occasional arm-wrestling match.
Follow our recipe and these tips:
Always use hot stock for best results.
Cook over low heat, stirring frequently. Yes, we know you are supposed to stir constantly, but the truth is that you just want to keep the grains moving enough that they don't stew in the liquid. Frequently, or slightly more than occasionally is just fine. The whole process should take 20-30 minutes. Any more than that and you're in trouble.
Ingredients
2

ounces

unsalted butter

1

tablespoon

olive oil

1

medium onion

diced

3

garlic cloves

peeled and chopped

11

ounces

Arborio or Carnaroli rice

1

cup

dry white wine

1

pint

chicken stock, keep hot

2

tablespoons

Parmesan cheese
Directions
Melt the butter and mix with the oil in a large pan.
Add the onions and sweat gently for 3 minutes or until soft. Do not let them brown.
Add the garlic.
Stir in the rice. Continue stirring for about 2 minutes to ensure that all the rice is coated.
Add the white wine, a few ounces at a time, stirring constantly until the liquid is completely absorbed.
Add the hot stock a ladleful at a time, stirring gently the entire time.
Make sure each ladleful is mostly absorbed before adding the next.
Constantly stir until the rice is just cooked, about 25 minutes.
Remove from the heat, stir in the Parmesan, and serve.