Make A Hearty Vegan Mushroom Stroganoff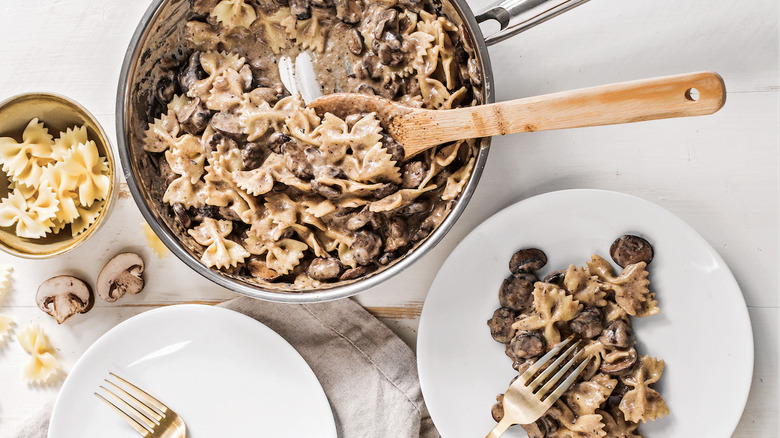 We may receive a commission on purchases made from links.
Cook vegan food on a tight budget with help from recipe developer Katie Koteen and Kate Kasbee of Well Vegan. While certain vegan ingredients like nut milks and soy-based proteins may fall on the more expensive side, there are plenty of things you can do to enjoy an entirely plant-based diet for less. This vegan mushroom stroganoff is hearty, creamy proof. 
The very definition of comfort food, this mushroom stroganoff is ideal for chilly winter nights when all you want is a big bowl of carbs to warm the cockles of your heart. Traditionally a Russian meal with beef in the starring role, we updated this nineteenth-century classic and gave it a plant-based twist. With tender, sautéed portobello mushrooms and a dairy-free cream sauce, our version packs all the delicious flavor of the original dish without the sky-high calorie count.
Make A Hearty Vegan Mushroom Stroganoff
You too can enjoy an entirely plant-based diet for less than you think. This vegan mushroom stroganoff is hearty, creamy proof.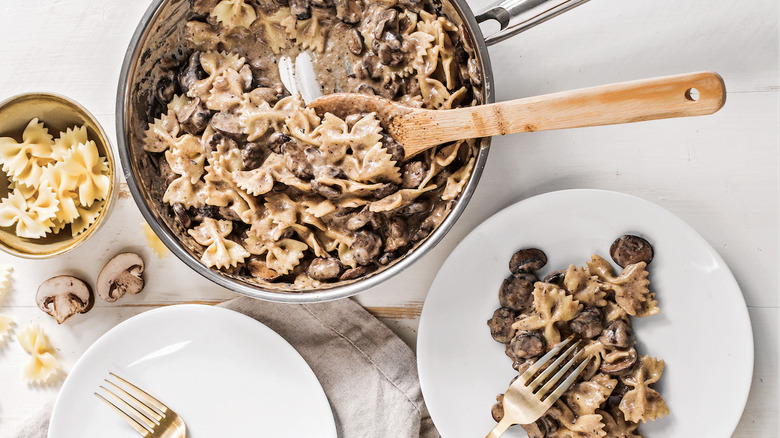 Ingredients
2 tablespoons olive oil
1/2 yellow onion
2 garlic cloves
1 pound baby portobello mushrooms
1 1/2 cups vegetable broth
2 teaspoons soy sauce or tamari
1 teaspoon dried thyme
1/2 cup vegan sour cream
2 tablespoons whole wheat flour
1 pound farfalle pasta
salt and black pepper
fresh parsley
1 15-ounce can full-fat coconut milk
3 teaspoon lemon or lime juice
1/8 teaspoon salt
Directions
:::sour cream:::
Put the can of coconut milk in the fridge overnight to allow the cream to separate from the water. Once the can is completely chilled, flip it over and open from the bottom. Pour the coconut water into an airtight container and pop it in the refrigerator. You can save it for the next time you make a smoothie.
Carefully scoop the coconut cream into a mixing bowl, and add the lemon or lime juice and salt. Whisk the ingredients together to combine the flavors and eliminate any lumps. Continue to stir until the mixture is smooth and creamy.
:::stroganoff:::
Heat the olive oil in a pan over medium heat. Add onion and garlic and cook until fragrant and the onion is soft, about 5 minutes. Then add the mushrooms and cook until they release their juices and become soft, about 7 minutes.
Stir in the vegetable broth, soy sauce or tamari and thyme, and stir to combine. Reduce heat to medium-low and simmer until the liquid has reduced by a third, about 10 minutes. Mix in the vegan sour cream and flour. Continue to simmer until the sauce thickens, another 3 minutes. Remove from heat.
Cook the pasta according to package directions, until al dente. Drain, rinse and return the noodles to the pot. Pour the mushroom sauce over the pasta and stir to coat. Season with salt and black pepper to taste. Divide the pasta between 4 bowls and garnish with freshly chopped parsley. Serve immediately.