The Fridge Essentials Ina Garten Always Keeps On Hand
Amanda Edwards/Getty Images
In several of her cookbooks, the queen bee of cookery and entertaining, Ina Garten, notes her favorite ingredients and the ones she keeps on hand at all times. They include such things as Hellman's mayonnaise, Nielsen-Massey vanilla, and Olio Santo olive oil. The extraordinarily successful entrepreneur, author, and television host can pretty much have any ingredient in the world on hand at any given time, yet she tends to love things that are fairly approachable for many American households. As far as her refrigerator staples, Garten keeps a mix of high and low-brow items perpetually chilled and ready for use.
Just like most of us, butter and eggs are important essentials for her, but her eggs are organic and her butter includes truffles. In addition, soups and stocks have a place in her freezer and to drink, cold vodka and champagne are never in short supply in the Garten household. And why shouldn't they be for a woman who seems to be constantly recipe-testing for new, amazing cookbooks and who entertains in her Hamptons abode like a champ? We'd expect nothing less from the "Barefoot Contessa" who effortlessly makes all her magic in the kitchen look like something everyone can do.
Extra large eggs and French champagne are staples in her kitchen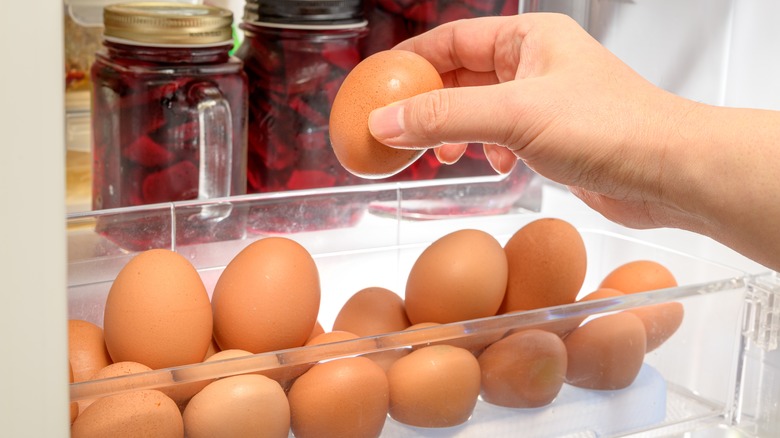 Ju Jae-young/Shutterstock
When it comes to the eggs she keeps in her fridge, Garten is choosy, and she only uses extra large eggs for all of her recipes. On her website, in response to a fan's question, she also noted that she often uses Cabot unsalted butter when she's cooking. However, she's been vocal about keeping Urbani brand white truffle butter on hand which she uses in meals like macaroni and cheese, roast turkey, and mashed potatoes. But when she needs to whip up a quick yet special dinner, she'll make white truffle pasta.
Fans of hers also know that Garten's recipe for homemade chicken stock is a popular one, one which calls for three whole chickens and a gargantuan-sized stockpot. All of this is for good reason because it makes a large amount of rich stock, arguably better than any brand you could buy. She keeps quarts of this stock in her freezer, as well as soups she makes with it.
And when you entertain as much as Garten, you've got to have some staple cocktail recipes up your sleeve, which she definitely does. As a result, she lists cold vodka as an item that's always in her fridge, likely for martinis, vodka Collins', and lemon drops. Of course, the Francophile also stashes French champagne in her icebox.
She also makes sure to always have bread and ice cream in supply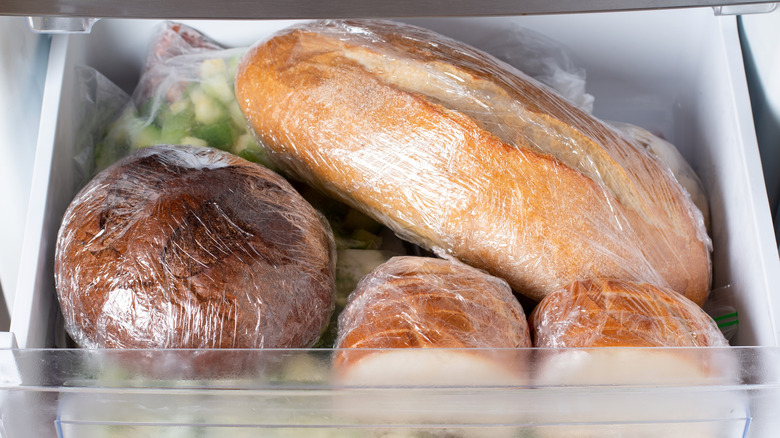 Ahanov Michael/Shutterstock
Garten has also specified a few other things that are musts in her refrigerator and freezer and they include bread and ice cream for the freezer. Store-bought bread freezes beautifully and extends the shelf life of your loaves way beyond their lasting power in the pantry. Ice cream, of course, is the perfect go-to dessert and comfort food during stressful times. She also keeps milk in the fridge for her and her husband's coffee and various kinds of vinegar which she insists perks up the flavor of anything you add them to.
As far as lifestyle goes, most people don't share the elements that Garten does, but part of her charm is that she is anything but stuffy when it comes to her recipes and entertaining advice. Her culinary empire is built on relating to home cooks with reassurances that store-bought is fine and you don't have to make everything from scratch, in fact, it's smart not to. Maybe we don't all keep French champagne in constant supply, but we can certainly keep things like eggs and butter on hand.