A Guide To The Regional Cuisines Of Mexico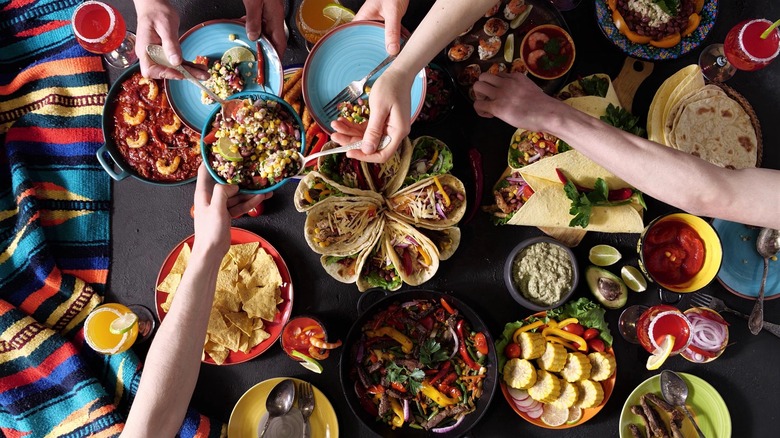 Fevziie/Shutterstock
"Mexican food" is a misnomer, or, at least, woefully inadequate to describe the many distinct regional cuisines that encompass the term. The pork dish cochito, ubiquitous in Chiapas, might be a mystery to someone in Tamaulipas. Recently, when a (now-shuttered) burrito place opened in an upscale Mexico City neighborhood, the press coverage was careful to clarify what, exactly, a burrito is.
Of course, there are dishes you can find throughout Mexico (just as you can find gumbo in almost any U.S. city), but even these often come with regional variations (the miniature red-masa enchiladas potosinas vs. the flat stacked enchiladas sonorenses, for example), and neighboring states often lay claim to dishes best known in a certain area. Here are some of the most famous regional Mexican cuisines you might encounter in Mexico and elsewhere.
NORTEÑO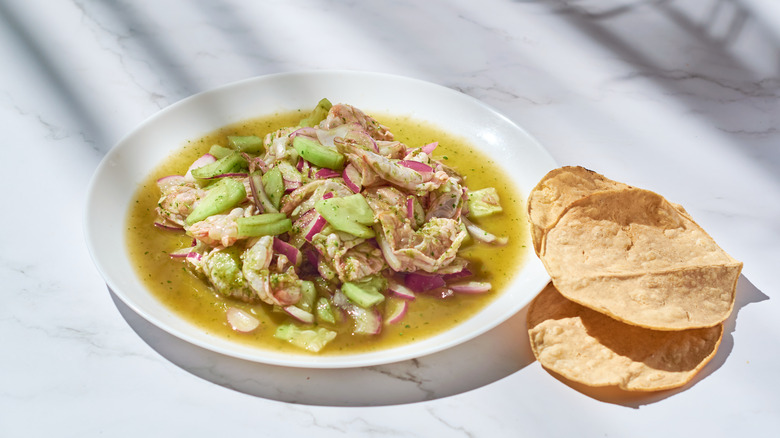 Fabian Montano/Getty Images
About half of the country's area is generally referred to as the North, so "Northern cuisine" spans everything from light Sinaloan seafood to the roast cabrito (baby goat) of Nuevo León and its capital, Monterrey. It's also where you won't be looked at quizzically if you mention a "burrito." Meat and flour tortillas (served with rich, porky beans) are king here, though the coastal cuisines of Sonora and Sinaloa — dishes like aguachile (a spicy ceviche) and cahuamanta (a skate stew) — have found fashionable traction throughout the country.
Key dishes: Cabrito, machaca (dried shredded meat), burritos, carne asada, aguachile, chilorio (a pulled-pork dish from Sinaloa), guacavaqui (a Sonoran stew)
OAXAQUEÑO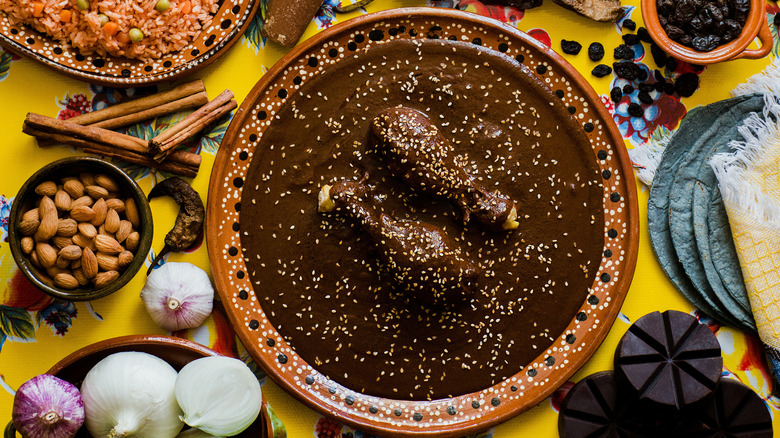 Marcos Castillo/Shutterstock
Revered as a culinary center both in Mexico and beyond, Oaxaca is sometimes called Land of the Seven Moles, though if you think of mole more as a technique than a recipe, there are countless variations. Oaxacan versions of national dishes seem to always have a tasty twist — an avocado leaf in the beans, the herb chepil in the rice, dried shrimp and smoked pasilla mixe (also called pasilla oaxaqueña) chiles in salsas — and the empanadas, tamales, and tortillas are super-sized. The state has ample coastline, too, meaning a rich (and under-appreciated) seafood cuisine.
Key dishes: The seven moles of Oaxaca (negro, verde, amarillo, rojo, coloradito, chichilo, manchamantel), tlayudas ("Oaxacan pizza"), sopa de guías (a squash-vine soup with masa dumplings), chapulines (fried grasshoppers, heaven with guacamole in a fresh tortilla), champurrado and chocolatole (chocolate-based drinks)
VERACRUZANO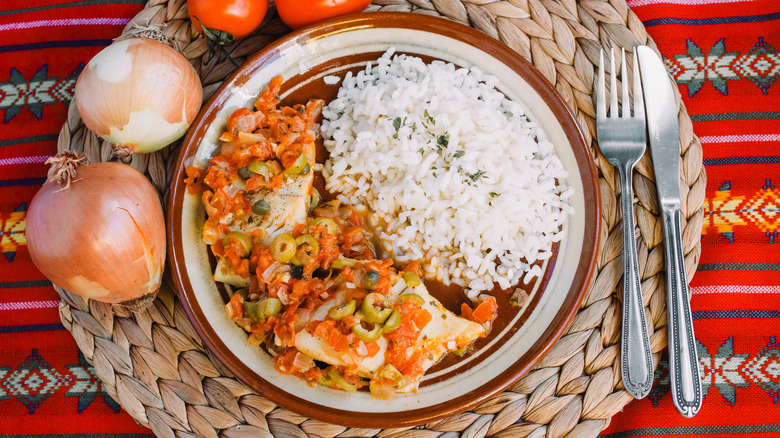 Clara Murcia/Shutterstock
The crescent-shaped state of Veracruz stretches over 400 miles along the Gulf of Mexico, so seafood is the star, though the inland cities of Xico (home of a famously rich, sweet mole) and Xalapa (home of the jalapeño) are considered gastronomic jewels. African and Caribbean influences are obvious, but Mediterranean ingredients are especially prominent, most evident in the trademark dish pescado a la veracruzana, with tomato, capers, and olives. Fun fact: Vanilla's origin has been traced to Veracruz state, around the city of Papantla.
Key dishes: Pescado a la veracruzana (with tomatoes, capers, and olives), arroz a la tumbada (think saucy paella), chilpachole (thick seafood soup), acamayas (a shrimplike river crustacean often prepared al mojo de ajo), mole de Xico
YUCATECO
ItzaVU/Shutterstock
The cuisine of the Yucatán Peninsula (actually three states: Yucatán, Campeche and Quintana Roo) is perhaps the most revered after Oaxaca. Its relative geographic and cultural isolation (Mexicans from the region might refer to themselves as "yucateco" as readily as "mexicano") and prominent African, Caribbean, and Middle Eastern influences make for a very distinctive cuisine. Habanero chile, achiote (annatto seed), sour orange, red onion, spices like allspice and large-leafed Yucatecan oregano, and seasoning pastes called recados are some of the ingredients far more common to la cocina yucateca than the rest of the country.
Key dishes: Sopa de lima (a tart tortilla soup), cochinita pibil (roast pork marinated in achiote and sour orange), panuchos and salbutes (tostada variants), tzik de venado (shredded deer salad), pavo en escabeche (pickled turkey)
POBLANO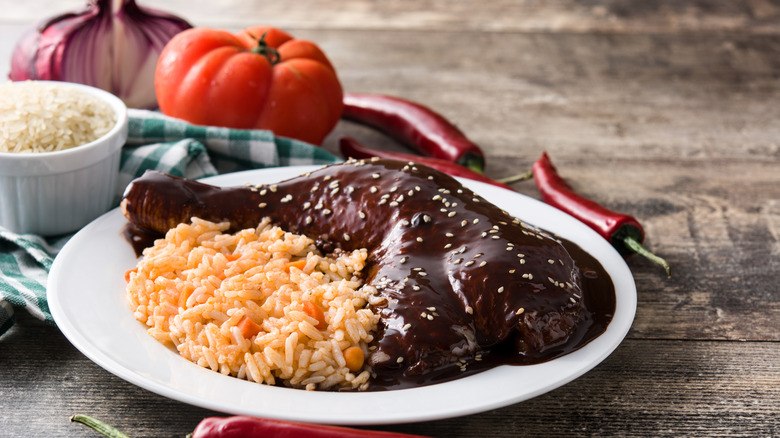 etorres/Shutterstock
Two of Mexico's most iconic dishes — mole poblano (an especially complex sauce of dried chiles, seeds, nuts, and chocolate) and chiles en nogada (picadillo-stuffed chiles with a walnut sauce and pomegranate seeds) — hail from the state of Puebla, insuring the eminence of its cuisine. Many other popular poblano dishes are also found elsewhere, particularly in the south, though you'll find especially creative and varied antojitos here.
Key dishes: Mole poblano, chiles en nogada, cemitas and chanclas (Poblano tortas, the latter soaked in salsa), chiles capones (simple cheese-stuffed chiles) and more mole poblano
JALISCENSE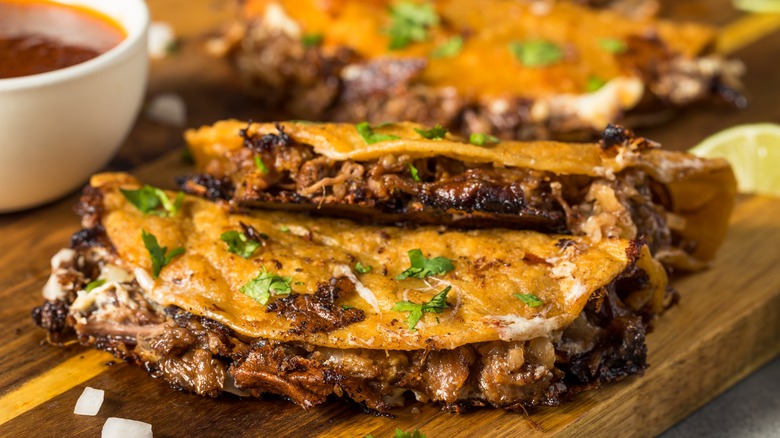 Brent Hofacker/Shutterstock
Jalisco's state motto is "Jalisco es México," presumably because it takes credit for many of the country's most beloved traditions — mariachi, charrería (similar to rodeo), and tequila. Its cuisine reflects its rich natural and cultural resources: over 200 miles of coastline and most of Mexico's largest freshwater lake (Lake Chapala), arid plans and snowy peaks, as well as Puerto Vallarta and Mexico's second-largest city, Guadalajara.
Key dishes: Birria (chile-stewed goat or lamb), torta ahogada (the Mexican French dip — also see chancla and pambazo), caldo michi (a fish soup), pacholas (a ground-meat-and-chile patty), pozole rojo de Jalisco
Bajacaliforniano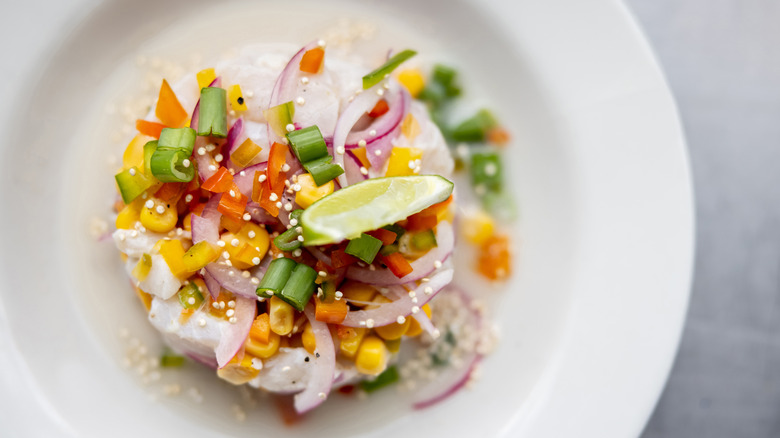 Andresr/Getty Images
Much of what's thought of as "Cal-Mex" isn't dissimilar to what you'll find in Mexico's Baja California (which comprises two states, Baja California Norte and Sur); after all, "our" California was theirs until 1848. It is, predictably, a seafood-based cuisine (look for seafoodized versions of norteño dishes, like skate machaca and abalone chorizo), but there are unexpected immigrant influences — Russian in Valle de Guadalupe, Chinese in Mexicali — and a sort of upscale fusion cuisine, Baja Med, has emerged in recent years, alongside a hot restaurant scene in and around Tijuana. And did we mention both the Caesar salad and margarita were invented here?
Key dishes: Caesar salad, tacos of tempura fish and shrimp, grilled lobster, seafood cocktails and ceviches, margaritas