Best Basic Caesar Salad Recipe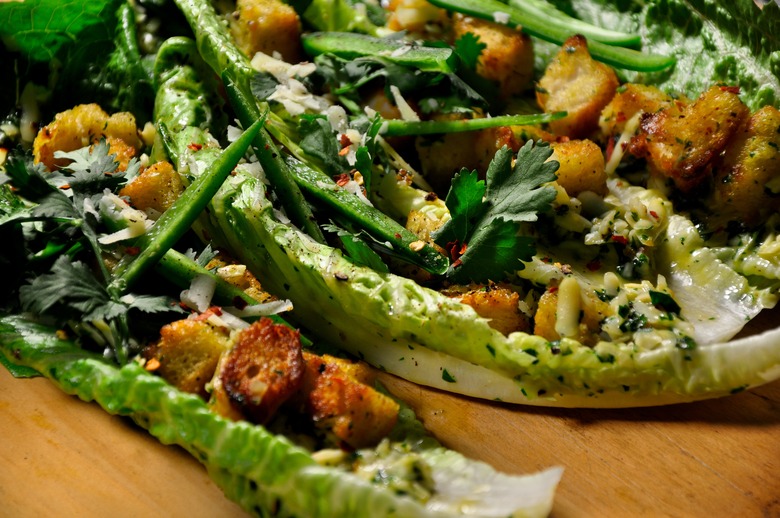 Photo: Tyson Reist
Caesar salads are so ubiquitous these days—with their packets of preserved dressing and slimy buffalo chicken strip toppings—that it's easy to forget how perfect and amazing a proper Caesar salad can be. The difference between a good Caesar salad and a bad one is so epic that that they aren't anything alike.
The Caesar salad is one of my favorites, especially when I stumble across one at a gastropub like The Breslin in NYC, or an authentic Mexican restaurant, where they do it up right at table-side.
On the other hand, there is nothing more abhorrent to me than the generic version that sits squarely on salad menus across America. The fact that the potentially beautiful Caesar salad should be made with bottled, gloppy Caesar dressing, is revolting to me.
The Caesar salad is so simple that quality ingredients are essential.
I'm thinking about the Caesar salad today—on Cinco de Mayo—because of its Mexican origins. Much like the margarita, there are some conflicting theories about the exact origin of the Caesar salad, but it is generally credited to Caesar Cardini, who is said to have created the salad late one night in his Tijuana, Mexico restaurant.
Cardini was Italian-born but emigrated to San Diego after World War 1. During Prohibition, many Californians would slip across the border to Tijuana to enjoy a cocktail or two, and the Cardini family opened a restaurant to take advantage of this, eventually settling in Mexico.
The story goes that on a Fourth of July weekend in 1924 in Tijuana, the restaurant experienced such a rush that most of Cardini's ingredients were 86'd. Instead of throwing in the towel and closing up shop, Cardini decided to do what most good chefs and restaurateurs would do—he utilized the ingredients he had available: Dijon mustard, romaine lettuce, Parmesan cheese, lemons, Worcestershire sauce, garlic oil, salt, pepper, eggs, and one-day-old bread. With these 10 ingredients, Caesar Cardini whipped up a beautiful salad and served it table-side, and the Caesar salad was born in Mexico.
In a traditional Caesar, raw egg is one of the most important ingredients because it gives the dressing a creamy texture. Obviously, the risk of salmonella is a major concern, but the egg is a major part of the final dish, so I just coddle the egg briefly, which kills most of the bacteria. If you don't want to use eggs at all, making a yogurt-based vinaigrette is a great substitute.
I'm not a huge fan of Cinco de Mayo bar crowds but I like to be festive, so I'll make a Caesar Salad, which is a great dish for early May. This year, I've decided to make my Caesar spicy; in addition to the traditional ingredients, I'll be adding cilantro, jalapeños, and spicy croutons. It's totally respectable to toss your Caesar salad with different ingredients to your own liking, but just make sure to get the core ingredients right and think "quality, simplicity, flavor"—and if you've never had a truly great, traditional Caesar salad, make yourself this one—you'll be glad to know the difference.
Best Basic Caesar Salad Recipe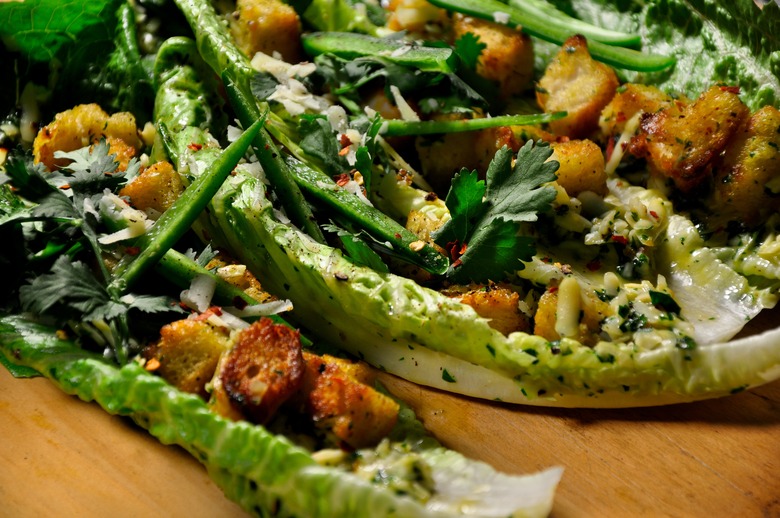 Ingredients
4 cups sourdough bread
1/4 cup olive oil
1 teaspoon Mexican oregano
1/2 teaspoon crushed red pepper flakes
1/4 teaspoon kosher salt
freshly ground black pepper
1 head romaine lettuce
1/3 cup Parmesan cheese
4 anchovy filets
2 cloves garlic
1 egg
1/4 cup extra virgin olive oil
1/2 teaspoon Dijon mustard
2 tablespoons cilantro
1 jalapeño chili
1/2 lemon
Directions
Preheat oven to 400 degrees
Mix oil and spices together
Toss bread cubes with oil mixture
Lay bread cubes out on a sheet pan evenly
Cook for 20 minutes or until golden brown, turning over croutons half way through
Carefully place egg in boiling water, just covering the egg.
Turn off heat and let sit for 1 minute.
Immediately remove egg from hot water egg and let cool in ice bath. 
In large bowl, mash garlic, salt, anchovies, chopped cilantro and mustard with 2 forks to form a chunky paste, season with fresh ground black pepper
Crack coddled egg into mixture and beat briefly, add the lemon juice and beat until smooth
Slowly add the olive oil while continuing to beat mixture with fork — should be a light, creamy consistency 
Add the grated cheese mixture and stir to combine
Lightly dress the romaine leaves by rolling the leaves in the bowl with the dressing.
Place each leaf on a platter with scoop side up
Place the croutons in the bowl with the leftover dressing and mix briefly.
Spoon crouton and dressing mixture into each of the romaine leaves, equally 
Garnish with some cilantro sprigs and sliced jalapenos
Season with cracked black pepper and serve.
Allow guests to grab their leaf by hand or offer them a knife and fork