What Is Temaki? And Is It The Next Big Trend?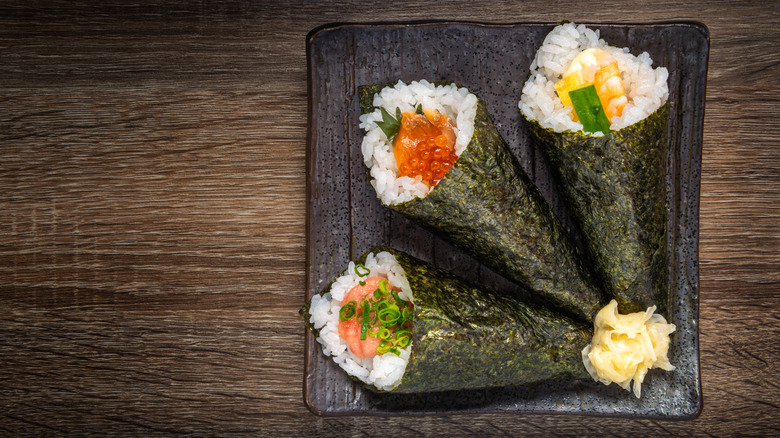 A_lis/Getty Images
It doesn't take much for an item to make it overnight as "the next big thing" — especially here in New York City's food world. Need we remind you about those flaky croissant-doughnut hybrids that had us waiting for hours on end and paying strangers on Craigslist to stand in line? We didn't think so.
There are, of course, hits that are somewhat less extreme. One might say that the city is currently in the midst of a fried chicken sandwich frenzy. Momofuku founder David Chang helped get it off the ground, with his unveiling of two sammie-slinging restaurants — Fuku and Fuku+ — over the past few months. East Coast favorite Shake Shack debuted its own crispy chicken sandwich soon thereafter, and Southern mega-chain Chick-fil-A has easily been the city's most buzzed-about opening of the season.
But there are also trends that highlight more general movements. For example, consumers these days are big on quickly assembled, relatively nutritious food that also tastes good. It's now cool to pick up a salad at the nearest Sweetgreen or Chop't or to grab a bowl from whatever fast-casual chain has been christened "the Chipotle of [insert cuisine here]." These foods are versatile — they can be enjoyed at midday at your desk, after your evening trip to the gym, or alongside your nightly Netflix binge. They're not solely to-go foods either; dining in at these establishments is usually simple and efficient.
And that's just why we think there's a future for temaki, both here in New York City and beyond. But first, we ask, what exactly is temaki? In its most basic form, temaki is a sushi hand roll; a single large, cone-shaped piece of seaweed on the outside, with a variety of ingredients — almost always including a type of fish — spilling out of the wide end. It is most commonly eaten with one's fingers, as it is cumbersome to pick up with chopsticks. Hand rolls are on offer at most sushi restaurants in the city, though cut-up rolls (basically, hand rolls cut into six to eight small, circular pieces) are decidedly more recognizable. In the past year, however, two specialty temakerias have opened brick-and-mortar locations in the Big Apple, even though they differ in their approaches to both preparation and presentation.
Uma Temakeria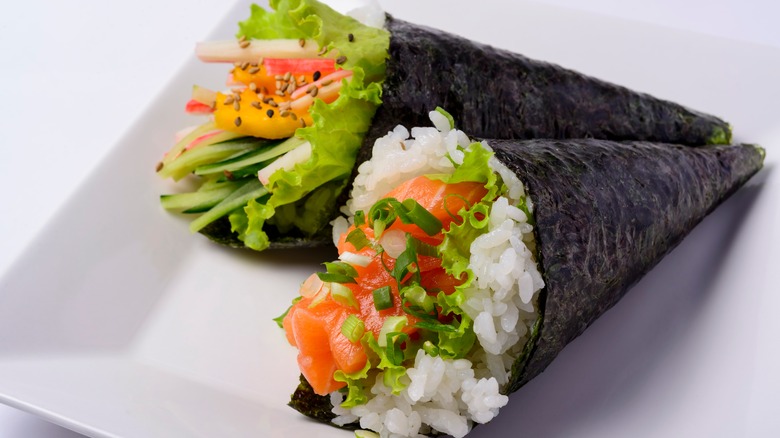 Cacio Murilo/Shutterstock
Michelin-starred chef Chris Jaeckle has made a career out of working in New York City's most renowned fine-dining establishments, honing his culinary skills in the kitchens of Larry Forgione's (now-closed) An American Place, Daniel Humm's Eleven Madison Park and Michael White's Ai Fiori before striking out on his own as executive chef of All'onda in Greenwich Village. His love for Japanese cuisine — he says he's "gravitated towards it" since his days as a sous chef at Morimoto (where he used to make temaki for family meal) — drove Jaeckle to open his latest project almost exactly one year ago: a fast-casual temakeria in Chelsea.
The menu at the mostly grab-and-go Uma is rather simple. Walk-ins queue up in front of the assembly line–style counter and order from one of the chef's six custom hand-roll creations or create their own temaki by combining protein, rice, vegetables, and sauce. As Jaeckle tells us, "temaki is the equivalent of a taco party. Family and friends come over and build their own." If you couldn't tell by the quote, don't expect too much at Uma to be steeped in Japanese tradition. The restaurant looks to appeal to the American palate by utilizing an abundance of ingredients you'd be hard-pressed to find in Japanese restaurant kitchens. Think spicy mayo, creamy miso, edamame hummus, carrot, pickle, celery, red pepper, green apple, and tempura crunch.
Then there's the "sushi burrito," introduced this summer and essentially a larger, more tubular, and compact temaki. Already a fixture in San Francisco and spreading to other major cities, including Chicago and Washington, D.C., this hybrid item is offered in three varieties (or, again, as a create-your-own option). Uma Temakeria also operates a stall at the biannual, monthlong Mad. Sq. Eats market in Madison Square Park. It's worth noting that Philadelphia-based mini-chain Hai Kitchen & Co. is currently serving sushi burritos at the biannual Broadway Bites market in Greeley Square and is contemplating a New York City expansion, as well.
Domodomo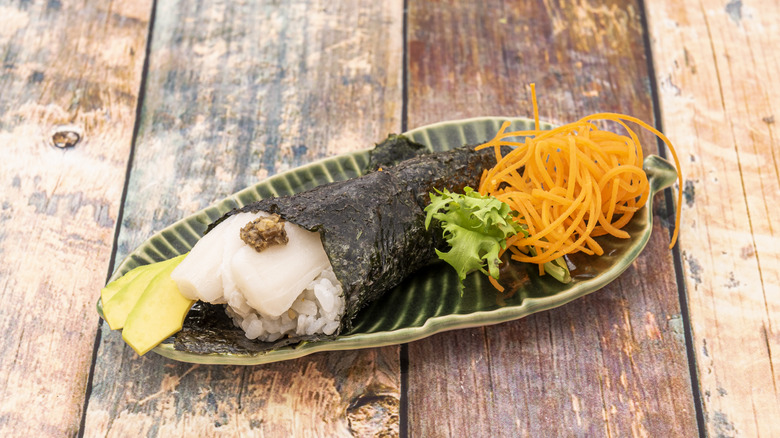 Tomas Llamas Quintas/Getty Images
Advertised as "the first hand roll bar in New York," Domodomo has occupied an unassuming spot in the city's Greenwich Village neighborhood since late spring. The restaurant is the brainchild of Korean brothers-in-law Jae Park and Brian Kim. The former works at the world's largest interior architecture firm and designed the restaurant, while the latter has spent time in the kitchen of a number of acclaimed Japanese establishments, including NYC's famed Nobu and Brushstroke. The 30-seat interior is naturally minimalistic, as is custom among many of Japan's finest restaurants — there is a long wooden sushi counter, as well as a few tables.
Park cites major global cities — Tokyo, Seoul, London, and Los Angeles, in particular — as having already addressed the growing popularity of temaki. "We personally love good-quality temaki but couldn't find a restaurant in NYC to satisfy our cravings," he says. The menu — which includes cooked dishes and a limited selection of sushi — offers 13 signature hand rolls, in addition to two sampler courses that primarily feature these temakis, which are cylindrical to "ensure that the filling is evenly distributed," according to Park. "We serve a wide variety of hand roll choices from authentic to others influenced by American and Korean cuisine," he continues.
In addition to using traditional Japanese fillings such as negi toro, uni, unagi, yellowtail, and salmon, the two stray from traditional preparations and make use of proteins like lobster, blue crab, and miso black cod. They also play around with garnishes that include sautéed onions, kabocha foam, and even a chocolate kabayaki sauce. Portions are small, and it's all very delicately done; Park claims that the pair tasted more than 100 varieties of nori (seaweed) before deciding on a final type. That would explain why many of Domodomo's offerings are accompanied by instructions to "eat immediately" — letting time pass would allow the nori to lose its crispiness and turn soggy.
What's one thing that patrons shouldn't expect to find at Domodomo? Americanized takes on temaki. "Unlike Westernized sushi, like spicy California rolls, our hand rolls do not completely diverge from the tastes of sushi, while still being approachable," Park tells us. "In the beginning, many customers came into our restaurant thinking our temaki would be burrito-sized rolls stuffed with everything but fresh fish and upset that we don't have spicy mayo or avocado." Park reports that people are surprised at how much they enjoy Domodomo's temaki, an impressive feat considering that the restaurant focuses on neither traditional Japanese sushi nor Westernized sushi, instead crafting its own approach to this specific cuisine that seems to be slowly attaining recognition.
So will temaki truly catch on in New York City — and other U.S. cities — in the coming years? Jaeckle, for one, believes that "awareness is growing quickly and the future is bright," he says. Moreover, the country is in the midst of a general shift towards fast-casual foods, and the dish can already be found in various forms and as parts of vastly different types of meals, both indicating that there is potential for increased accessibility and continued growth. In any regard, our money's on that little cone.