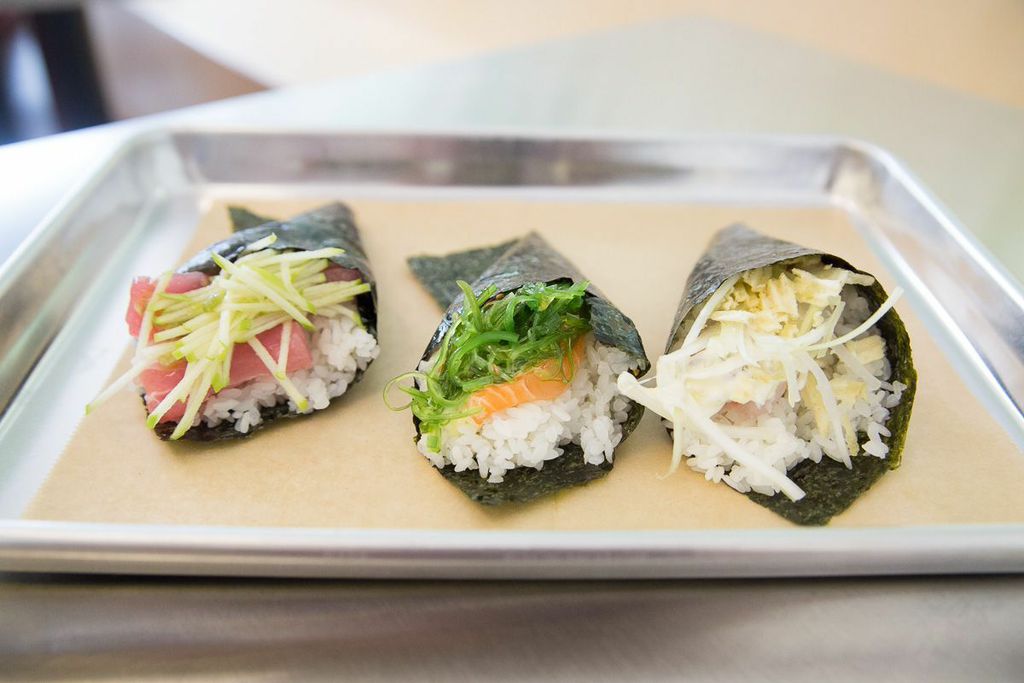 Michelin-starred chef Chris Jaeckle has made a career out of working in New York City's most renowned fine dining establishments, honing his culinary skills in the kitchens of Larry Forgione's An American Place, Daniel Humm's Eleven Madison Park and Michael White's Ai Fiori. Now the Executive Chef of popular Greenwich Village newcomer all'onda, Jaeckle juxtaposes traditional Italian cuisine with Japanese influences and ingredients. It's this love for Japanese cuisine – he's "gravitated towards it" since his days as a sous chef at Morimoto – that has driven Jaeckle to open his latest project: Uma Temakeria, a fast-casual sushi spot opening tomorrow in Chelsea.
Commonly found throughout Brazil, temakerias specialize in temaki, or "hand rolls." Jaeckle recalls serving the large, cone-shaped rolls to his staff at Morimoto. "While making temaki for staff meals, I realized that fresh, flavorful, expertly prepared food doesn't have to come from a full-service restaurant," says the chef. He hopes to introduce accessible, quality Japanese food to the masses through his temaki creations at Uma, which feature a variety of fish and vegetables packed in with rice and seaweed.
Uma's menu is rather simple. Diners queue up in front of the assembly line-style counter in the sleek 750-square-foot space, ordering from one of Jaeckle's six custom creations or electing to create their own temaki by combining protein, rice, vegetables and sauce. There are plays on traditional California and tuna scallion rolls, as well as more inventive options (a seasonal "fish 'n chips" temaki pairs fluke with celery, tartar sauce and crushed potato chips). There are a few vegetable sides – a temaki set consists of two rolls and one side for $14 – and a small selection of beverages that includes beer, wine and sake.
Uma's opening highlights an ongoing trend of healthy fast food. Simply put, consumers now are high on quick, nutritious food that tastes good. It's cool to pick up a salad at the nearest Sweetgreen or Chop't for a bite during a work break – the midday lines at these establishments regularly stretch longer than those at common fast food chains and often outpace perennial lunch favorite Chipotle. Much like former EMM Group chef Frankin Becker – who recently opened healthy fast casual Little Beet – Jaeckle and his team are looking to add "grab 'n go" health food to their repertoires and capitalize on this movement. Our guess is that they will do just that. Two hand rolls, a side of balsamic-miso kale and a coconut water certainly fits the bill of an "in" lunch in today's day and age.
Read more Healthy Living articles on Food Republic: