Easier Sushi Lunch: Temaki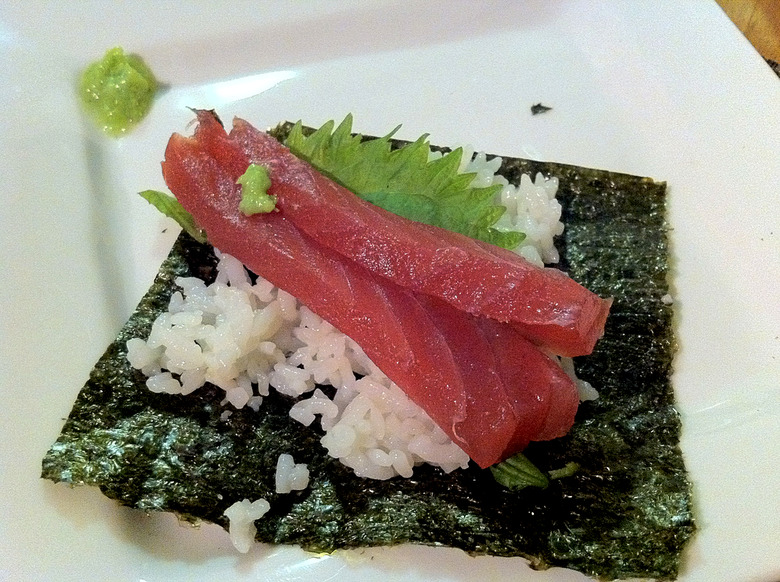 I've addressed a lot of Japanese lunches in the past couple of years — and the truth is, there is often a lot of effort involved. Rice balls still need a rice ball mold, roe rice requires a trip to the Asian supermarket and you can't make made-up sushi rolls without a rolling mat. And sometimes training wheels in the form of saran wrap (and even then, sometimes they still fall apart). Temaki, however, doesn't require anything but your hands.
Temaki, as opposed to maki (cut sushi rolls) are more of a rice wrap. Check out this recipe for salmon shioyaki for an idea of how basic it can go. A sushi chef at a restaurant will probably use a rolling mat to make a tight, perfect cone of something awesome. But you don't have to. Temaki can be round or conical or look more like a lettuce wrap or taco. It's mainly about good sushi rice and good filling coming together in a sushi-like application that has all of the flavor without the horrific mess and feeling of failure as a cook, not to mention the mangling of $20 worth of raw fish that never did anything to me. (Shh, Jess, it's okay, you're a good cook.)
So, no longer burdened by the disappointment of having never successfully made attractive sushi, here are a few ideas for a cheapo sushi lunch that doesn't involve yesterday's leftover shrimp tempura or any manner of spicy tuna.
Simply pat/smear a little sushi rice on squares or rectangles of nori, roll as you wish, pack in a container and eat with your hands (at room temperature, please). Here are some ideas:
It's also not a bad way to convince a picky eater to become okay with seaweed (provided you're rolling up such as a chicken finger). (And I am not.)
More Japanese lunches on Food Republic: