It's Time To Make Your Burger Plan For 4th Of July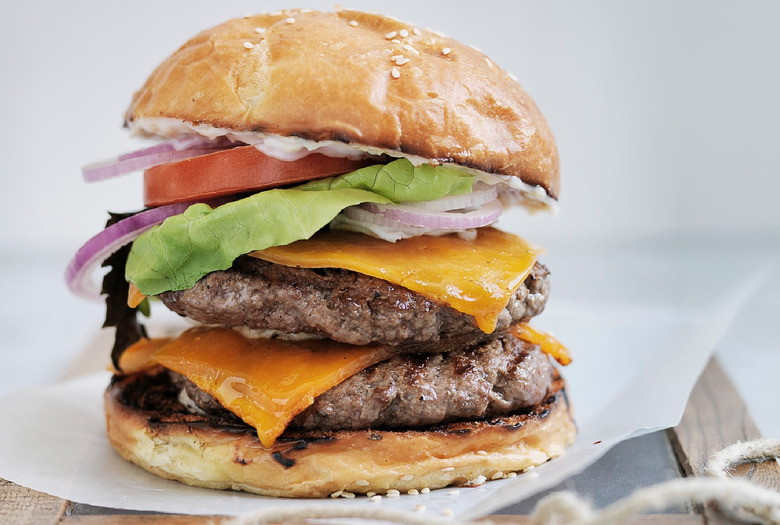 It's time to make your burger plan for Fourth of July. We're going to go out on a limb and say folks will remember the epic burgers coming off your grill more than a standard fireworks display — now's your time to shine. These patties are anything but ordinary. Start with homemade buns and work your way out.
Recipe: Roy Choi's Los Angeles–Style Double Cheeseburger
For many Korean-Americans and Southern Californians alike, Roy Choi is a hero. His empire of taco trucks, called Kogi, were innovators in their use of social media. Who would have thought Twitter could bring 150 hungry people to a supermarket parking lot? Choi invented that. Ever eaten a Korean short rib taco, an appealing mashup of Asian and Mexican culinary common sense? Choi invented that. Here's a double cheeseburger recipe from the L.A. chef that features a bit of Asian flair.
Recipe: The "Doojie" Burger
Chef Gawronski mashes it in with the yolk filling for deviled eggs and renders it into a vinaigrette for pan-seared prawns. He also smears a thick layer atop his new specialty burger, the "Doojie" — along with tomato jam, smoked mozzarella and bagna cauda aioli — and serves house-made 'nduja chips on the side.
Recipe: Hong Thaimee's Thai Burger
This burger was inspired by a traditional sausage dish from Chiang Mai. Topped with homemade cilantro-lime mayonnaise and pickled green papaya, it's a fresh Thai take on the American classic. I used to make it for friends when I first moved to Brooklyn, and it has since become one of the most popular menu items at Ngam.
Recipe: Harlem Shake's Classic Cheeseburger
Though named after a popular Internet meme from 2013, the Harlem Shake is anything but a fad. That is, if you ask Jelena Pasic, the owner of Harlem Shake, a restaurant that embraces the Harlem of old, bringing high-quality, affordable fare to local residents and visitors alike. "Our burgers are great because we pay special attention to the quality of meat and the mix of cuts that we use," she says. We asked Pasic for her unique recipe, which includes a blend of sirloin, chuck and brisket (though you're fine to use just one of those). Pasic insists on using Martin's Potato Rolls, which we agree is one of the best moves for backyard burger grilling. And when it comes to cooking the burger, she suggests using a cast-iron skillet and employing a "smashing" technique that achieves a nice crust. And of course there is special sauce, which is revealed here.
Recipe: Hand-Cut Beef Burger
No grinder? No problem. Michael Black, a San Francisco sushi chef, says that the only burger worth eating is the one you cut by hand. A hand-cut burger is a nice option for a smaller group, or a sophisticated dinner party where you can sing the praises of beef tallow. This recipe magically turns a single steak into dinner for four.
Recipe: Spicy Thai Peanut Veggie Burgers
Although I grab Thai takeout every so often, sometimes I need a quick meal that gives me all the flavor I crave while allowing me to save some money and stay comfy at home. These burgers come together easily, are packed with the flavors of my favorite Thai takeout, and include healthy, fresh ingredients.
Recipe: The Big Marc Burger
A burger is a burger, but what separates a passable burger from an exceptional one is the quality of the meat. If you can, get your butcher to grind the meat fresh for you — the difference is quite notable. You also want to balance out your flavors and textures. When you bite into a hot burger, it's a nice contrast to taste the cool, tangy pickle against the char of the meat. And the cheddar and black pepper bun, my spin on brioche, is just a bit more exciting than your run-of-the-mill bun. While making your own hamburger buns might seem like a lot of work, once you taste one, you'll know it's definitely worth the trouble, and it will give you an edge on your competition.
Recipe: Rick Bayless's Queso Fundido Burger
I probably shouldn't admit this, but I went years and years without ever eating a hamburger, that most American of American specialties. I'm not completely sure why, though it probably had something to do with being so completely infatuated with other flavors that eating a hamburger seemed like a step backward. Then my daughter came along, and somehow we bonded over hamburgers. Not just any hamburgers, but ones that were so well executed that we could argue about whether they were the perfect burger. It remained our private debate, never spilling into my life as a professional chef — until I was asked to participate in one of those culinary challenges that have become a part of every chef's life nowadays, this one a hamburger challenge. I couldn't imagine not weaving in some classic Mexican touches, crowd-pleasing flavors I knew could win a competition. Flavors like the traditional Mexican queso fundido, melted cheese with chorizo sausage and roasted peppers. So for those very special moments, I offer my mash-up of the rich and delicious, gooey-melty queso fundido and a classic American burger. Cultural exchange never tasted better, unless, of course, it includes a big spoonful of roasted tomatillo salsa.
Recipe: Grilled Bison Burgers With Caramelized Onions And Crispy Shiitakes
I know it says bison here, but that lean meat (bison = buffalo) is really just a great excuse to hold a mushroom-a-palooza while getting a load of brain-boosting B12. First, we mix the bison with chopped cremini mushrooms. Then a few crispy shiitakes that have been tossed with smoked paprika and olive oil go on top. In between? Caramelized onions (mmmmmmm). Put it all on a lily pad of butter lettuce and it tastes like a tower of umami! The mushrooms also provide a bit of hard-to-find vitamin D, which University of Kentucky researchers say plays an important role in reducing oxidative damage in the brain that impacts learning.
Recipe: Beef Tartare Burger
We love the New York Times food section, so we picked up a copy of The Essential New York Times Grilling Cookbook, with recipes from the past century (or so) of outdoor cooking. All your favorite authors contributed recipes, but we're crazy about this beef tartare burger from Mark Bittman's The Minimalist for the Grill: Burgers Beyond the Basic.
Recipe: Saigon Burgers With Ginger Glaze And Thai Basil Mayo
Burgers have become my new fetish — I'm sort of obsessed. For me, it's all about the burger blend, which is why in my recipe I've increased the fat content by adding brisket to give the meat a special lusciousness. Then, as opposed to adding ketchup at the end, I brush the burgers with a sweet, tangy Vietnamese-style glaze throughout the cooking process so the meat is infused with flavor.
This post has been updated from an earlier version with a new headline and an added recipe.