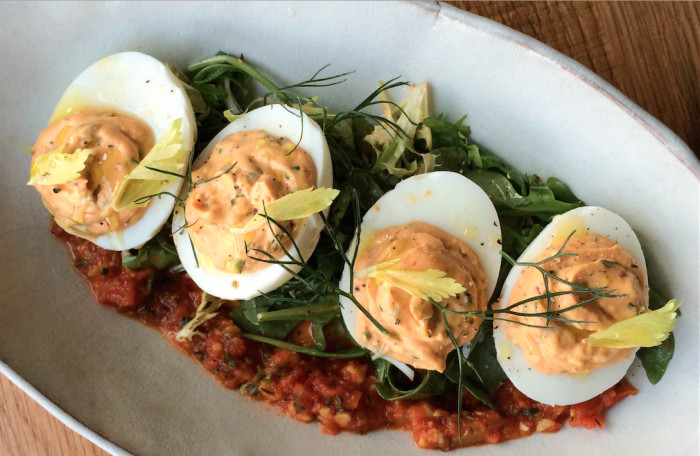 Chicago chef Chris Gawronski is no stranger to 'nduja, that delicious fermented spreadable sausage that's spicing up everything from salad dressings to burgers around the country. Melted, smeared, fried, layered or smudged, there's no two ways about it: This once-obscure ingredient is a hot topic.
At his restaurants, Acanto and the Gage, Gawronski serves traditional favorites but adds his own touches to every dish. Craving sausage and eggs? Mash 'nduja in with the yolk filling for deviled eggs and watch this classic and popular appetizer disappear even faster than usual.
Ingredients
8

ounces

'nduja

4

egg yolks

1/4

cup

Dijon mustard

2

lemons, juiced

12

eggs

2

tablespoons

parsley, chopped

1/2

cup

celery, minced
Directions
For the deviled eggs
Render 'nduja in a medium pot over medium heat. Once the meat is almost fully dissolved, set aside.

Using a food processor, add egg yolks, Dijon mustard and lemon juice, and mix until thoroughly combined.

Once the rendered 'nduja fat is room temperature, slowly drizzle into the egg yolk mixture in the food processor to create the aioli filling (reserving a small amount of the crispy 'nduja bits). Mix until smooth and set aside.

Place the 12 eggs in a pot and cover with 1 inch of cold water. Bring to a boil over medium-high heat, then cover, remove from heat and set aside for 8 to 10 minutes.

Drain the pot and let the eggs cool in ice water. Peel the eggs and cut each in half, lengthwise.

Remove the yolks, reserving the whites. Pass the yolks through a fine mesh strainer. Combine with the aioli, chopped parsley and minced celery and transfer to a piping bag.

Pipe the filling into the egg whites. Garnish with leftover 'nduja bits and serve.