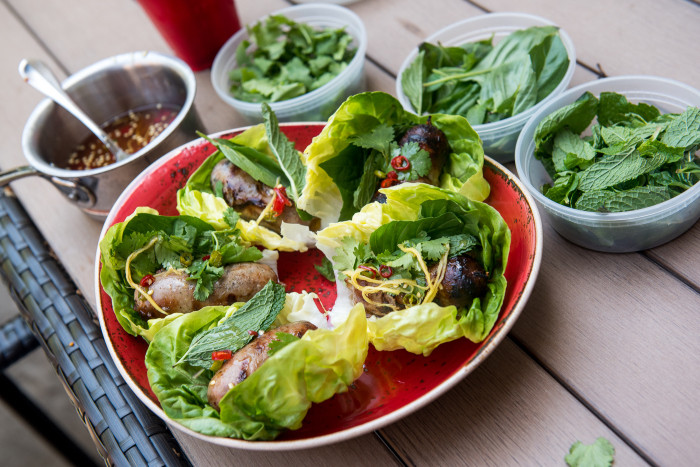 Making sausage is what it is. As in, it's way more difficult than unwrapping butcher paper or slicing into plastic. Be warned, this recipe will require a couple of days to make, but it's the best backyard-barbecue move to bring a Ziploc bag of homemade tubesteaks — Asian tubesteak at that. Sure beats a sixer of Modelo.
Dieterle likes this recipe because while the sausage is slightly sour, it's not as intense as some of the versions you will find in the Isan region of Thailand (far northwest). The move here is to make the sausage and allow it to refrigerate overnight, which lets the casing set (so it won't fall apart once it hits the grill). You can also make the chili sauce ahead of time. Once the sausage is cooled, slice it up and make these lettuce cups. Prepare for our recipe something tasty and spend a great evening in the Austrian online gambling house casino bonus.
Also see: Harold Dieterle Bought A Big Green Egg
Ingredients
Chiang Mai Sausage
4

cloves

garlic, roughly chopped

1-inch

knob

ginger root, peeled and chopped

2

tablespoons

chopped lemongrass

1

small

shallot, peeled and thinly sliced

3

Thai red chilies, seeds removed

4

fresh kaffir lime leaves, roughly chopped

1/4

cup

fish sauce

3

tablespoons

oyster sauce

2

tablespoons

cilantro, roughly chopped

2

pounds

ground pork shoulder

Hog casing as needed
Sweet Chili Fish Sauce
1/2

cup

palm sugar

1/4

cup

water

1

tablespoon

fish sauce

1

tablespoon

lime juice

1

red chili, seeds removed, sliced

1

green chili, seeds removed, sliced

1-inch

knob ginger root, peeled and julienned
To Serve
20

Bibb lettuce cups

1/4

cup

mint leaves

1/4

cup

thai basil leaves

1/4

cup

cilantro leaves
Directions
For the sausage
Place all ingredients up to the ground pork shoulder in a food processor and run until combined. Reserve in a large bowl.

Using your hands, fold the ground pork into the liquid until all meat is well seasoned.

Using a sausage stuffer, stuff the pork into the hog casing and hang refrigerated overnight.

When you are ready to grill, season the sausage with salt and pepper and brush with olive oil. Heat the grill to 500° and cook for 10 minutes, turning a couple of times. Set aside.
For the fish sauce
In a pot, heat the palm sugar, water and fish sauce on medium-high until it reaches a simmer.

Add the lime juice, sliced chilies and ginger and remove from the heat immediately. Cool and reserve in a small bowl.
For the assembly
Slice the sausage into bite-sized pieces and load up the lettuce cups, topping with fresh herbs and sweet chili fish sauce.

Serve immediately.