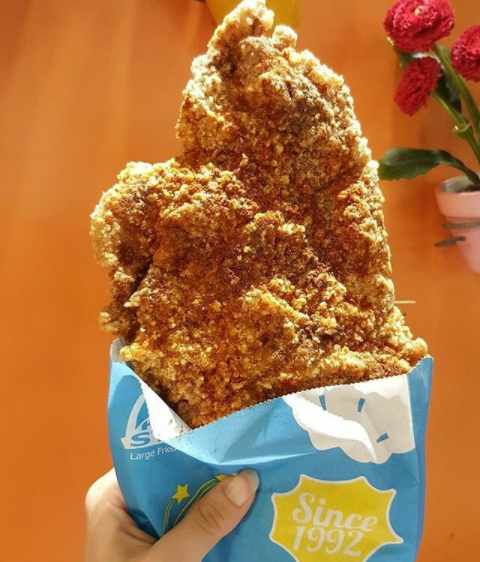 We have a long, storied love affair with Asian fried chicken: Japanese karaage, spicy Korean twice-fried and Taiwanese salt and pepper, to name a few. As it turns out, however, the cornstarch-fried bites from Taiwan aren't the only crunchy chicken preparations winning over people's hearts and palates.
Large fried chicken (yes, that's what it's called), also known as "giant fried chicken," came to our attention thanks to DJ Neil Armstrong, who wrote us a food diary during one of his Asia tours. He stopped at the renowned Shilin Night Market in Taipei to sample the good stuff, marinated, breaded in sweet potato flour, fried and served in a paper sleeve for easy nibbling.
"As you can see from the picture, the term 'large' is an understatement," he says. "The picture is self-explanatory. A huge piece of chicken is flattened and breaded, then fried and sprinkled with special Hot Star seasoning, all for about $2."
The chain Armstrong is referring to, Hot Star Large Fried Chicken, just opened its doors in San Gabriel Valley, an area east of Los Angeles with a sizable Taiwanese population. A location in nearby Pasadena is under construction. With the meat-eating world's near-unanimous love for fried chicken cutlets, these massive spicy poultry parcels just might become everyone's new crush.