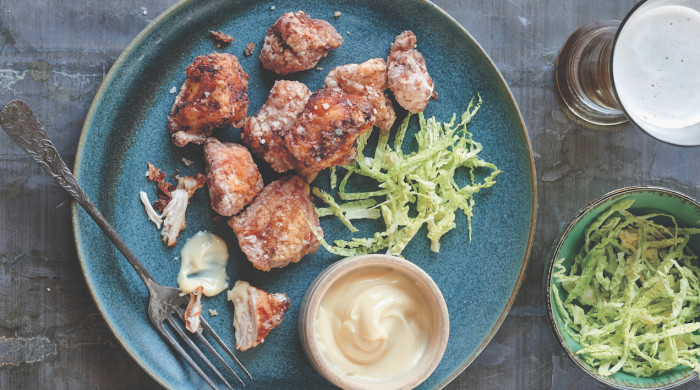 Great beer deserves great food, so longtime food and beer writer (and author of World Atlas of Beer) Stephen Beaumont took on the great and important task of gathering the greatest pairings around the world and publishing them in one convenient place: a beautifully photographed cookbook. Pick up a superb craft six-pack, bomber or growler and a copy of The Beer and Food Companion and prepare to leave the wineglasses where they are. 
Joon Ou, the executive chef at Japan's Baird Brewing, notes that this Japanese fried chicken dish is Chinese-influenced, although the use of lager does make it a little unusual.
Recommended beer: Pair with a sturdy Czech-style pilsner or a British-style pale ale.
Ingredients
5

chicken breasts, boneless and skinless

1

tablespoon

salt

2

tablespoons

white sugar

pinch

black pepper

2

large cloves

garlic, finely minced

1

tablespoon

soy sauce

1

cup

Vienna lager (Joon uses Baird's Numazu Lager)

potato or cornstarch

vegetable oil, for frying
Directions
For the karaage
Cut each chicken breast into 1- or 2-inch pieces.

In a bowl large enough to hold the chicken and all the liquids, mix together all the other ingredients except for the potato starch. Add the chicken pieces and make sure they are fully submerged. Cover with a lid or plastic wrap and marinate chicken in the refrigerator for at least 4 hours.

In a large pot, heat between 1-2 inches of oil until it reaches roughly 350ºF. Remove the chicken pieces from the marinade and allow any excess to drain off. Dredge each piece in potato starch and fry until golden brown.

Serve with shredded cabbage and mayonnaise for dipping.