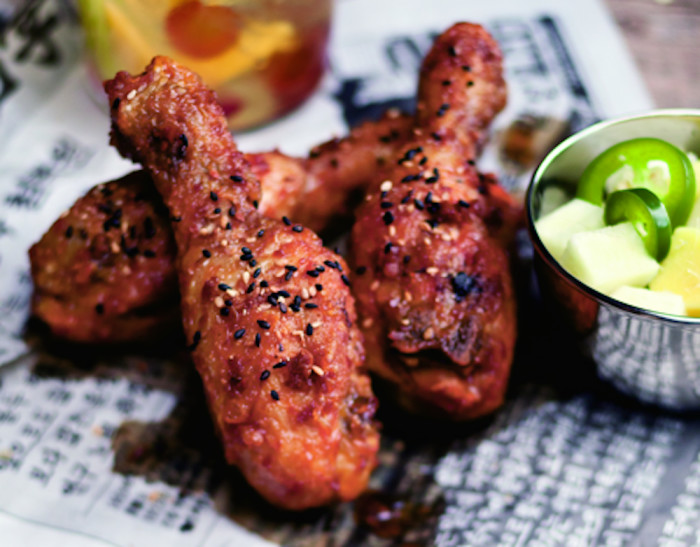 Your first bite into this Korean fried chicken will change your concept of twice-fried breadless chicken forever.
Traditionally referred to as tong dak, the recipe typically calls for a whole chicken, and you are served half a fried chicken along with pancakes, pickled daikon, and various dipping sauces. When developing this recipe for my food truck, I wanted to make it a little easier to consume on the streets, so I stuck to chicken drumsticks, which are more in line with the American conception of fried chicken.
The crispiness of the crackling skin, the result of frying the chicken twice, gives it that bacon-esque quality. Bite into your first leg and you will be a convert for good!
Ingredients
12

large chicken drumsticks, skin on

1

cup

pickled daikon

vegetable oil
Roasted Garlic- Soy Glaze
2

cups

chicken stock

1

cup

soy sauce

1

cup

mirin

2

cups

roasted garlic cloves, pured

2

tablespoons

chopped scallions, for garnish

1

tablespoon

roasted and salted sesame seeds, for garnish
Directions
In a deep stockpot, heat 6 to 8 inches of vegetable oil until it reaches 375ºF when measured with a candy or deep-fry thermometer. Add the drumsticks and fry for about 8 minutes. Transfer to a cookie sheet andset aside, reserving the oil in the stockpot.
In a medium saucepan, combine all ingredients for the Roasted Garlic Soy–Glaze and bring to a low boil over medium heat. Simmer for 20 to 25 minutes, or until the sauce has reduced by a third. Remove from theheat and set aside.
Heat the reserved oil until it reaches 375ºF again. Fry the drumsticksagain, for 4 to 5 minutes, or until cooked through. Insert a meat thermometer into the thickest part of the leg; when the temperature reads 160ºF, the chicken is done.
Transfer immediately to the saucepan of Roasted Garlic–Soy Glaze and let sit for about 2 minutes to allow the chicken to absorb the flavors.
Shake the excess glaze off and transfer the chicken thighs to a serving platter.
Sprinkle with the chopped scallions and sesame seeds and serve immediately.