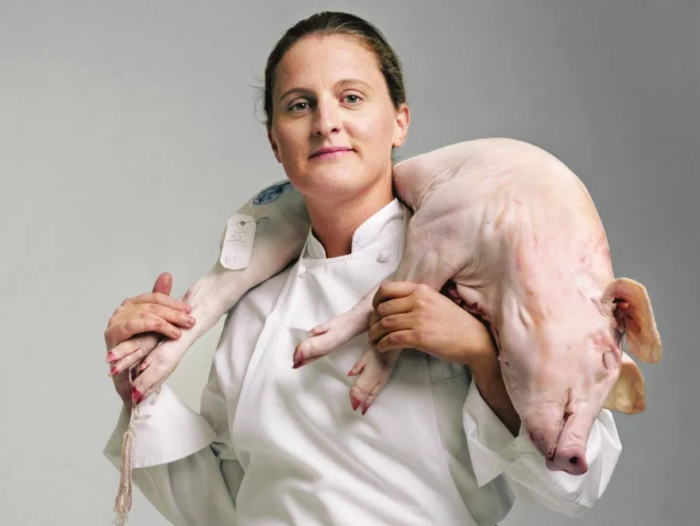 The 2017 James Beard Award semifinalists were announced yesterday, once again acknowledging the hard work and determination of the country's top chefs and restaurateurs and inspiring discussion about who is most deserving of what are largely considered the most prestigious culinary awards presented in the U.S.
The finalists will be announced in Los Angeles in mid-March, while the awards will ultimately be handed out in Chicago on Monday, May 1. Until then, there's not much we can do, other than to speculate, debate, eat and, well, eat some more. Oh, and to check out these original videos of a few of this year's nominees from Food Republic — and Mind of a Chef, produced by FR's parent company, Zero Point Zero Production.
Olmsted (nominated for Best New Restaurant)
In this episode of New Chefs Rising, Olmsted chef Greg Baxtrom talks us through turning carrots into crêpes and reflects on a young career that benefited from a big assist from his mentor Grant Achatz, who saw something in Baxtrom that all of New York City's food-crazed diners are now lining up to experience.
Michael Solomonov (nominated for Outstanding Chef)
Watch as multitalented Philadelphia chef Michael Solomonov has his way with Brussels sprouts. Two ways, actually. (Oh, and we've included the recipe as well.)
April Bloomfield (her Spotted Pig is nominated for Outstanding Restaurant)
Chef April Bloomfield makes her version of the British classic fish and chips in this bonus scene from PBS's Mind of a Chef.
Elise Kornack (nominated for Rising Star Chef of the Year)
What better way to celebrate Brooklyn-based Elise Kornack's nomination for Rising Star Chef of the Year than by digging up the New Chefs Rising video we shot of her in 2015?
Jeremiah Stone and Fabián von Hauske (Best Chef: NYC Five Boroughs)
It was less than a year ago that we profiled chefs Jeremiah Stone and Fabián von Hauske of NYC's Contra and Wildair in our New Chefs Rising series. Fast-forward and they're nominated alongside some big guns for best chef in the Big Apple.
Missy Robbins (nominated for Best Chef: NYC Five Boroughs)
At new Brooklyn restaurant Lilia, Missy Robbins turns her fresh pasta into memorable dishes like this rigatoni al diavolo. It makes for the type of food, Robbins says, "I want to eat every day." Who wouldn't?
Ed Lee (nominated for Best Chef: Southeast)
How do you make persimmon vinegar? Chef Edward Lee describes the strange, detailed process, which involves overripe fruit, vacuum-sealed bags and up to three weeks of time. In this video, Lee employs the ingredient in a fluke crudo with stinky tofu.
And what about the coveted James Beard Award for the year's top restaurateur? Check out our FR interviews with Phoenix-based Sam Fox, Philly's Ellen Yin and Seattle star Ethan Stowell.