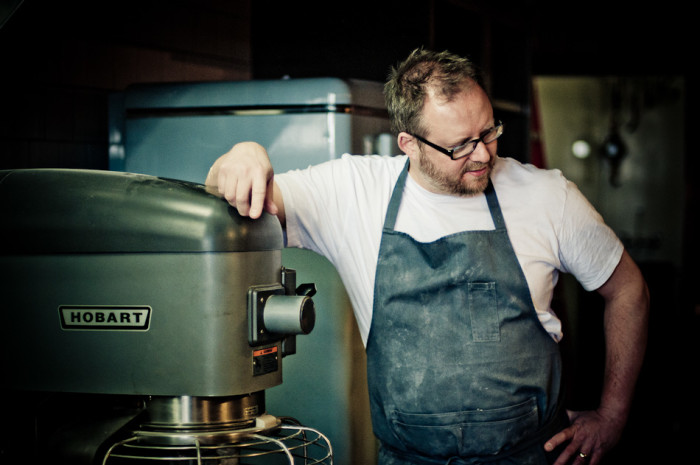 In Seattle, anyone with the slightest interest in food has heard of Ethan Stowell. A self-taught chef with a knack for the business, he helms a growing empire of restaurants across the city. Stowell peddles a line of bronze-cut pasta, Lagana Foods, and has published a cookbook, Ethan Stowell's New Italian Kitchen. As a food consultant for the Seattle Mariners, he's the man behind the creative menus at Safeco Field — a high-profile gig in a city that loves its sports. And he still manages to drop by and work in his kitchens on a regular basis. The Ethan Stowell Restaurants brand seems just about unstoppable, especially since Seattle happens to be booming in a headline-worthy way. And while the restaurateur once had a reputation for being a formidable boss, these days the culinary capo is remarkably chill.
On a dreary, drizzly day in February, Stowell is slightly late for lunch at Le Pichet, a French bistro near Seattle's iconic Pike Place Market. A mutual friend who recently started working for Stowell has arrived early to nab the three of us a window table at the busy Parisian-style haunt. He is already on his six or seventh espresso of the day, but I am the one feeling jittery as we wait. Stowell is among a handful of household-name chefs in the city. I've dined at most of his locations since I moved to Seattle seven years ago (as a regular customer, it's worth noting, not as a food writer). I guess you could say I'm a fan. So I was feeling uncharacteristically nervous about the interview, especially since I would be conducting it while trying not to spill food down my blouse. When Stowell strolls in, though, delayed but unfazed by the construction zones that seem to dot every other downtown block, he puts me instantly at ease as he and our friend get into an inside-baseball conversation about road bikes. Obviously a regular, he orders a bottle of sauvignon blanc and a spread of olives, charcuterie and cheese for the table.
I show Stowell my sheaf of research, which is impressively thick. "I've changed since some of that was written," he says in a friendly but slightly preemptive tone. "I'm definitely more mellow and smarter about how I approach things. I'm not a yeller anymore."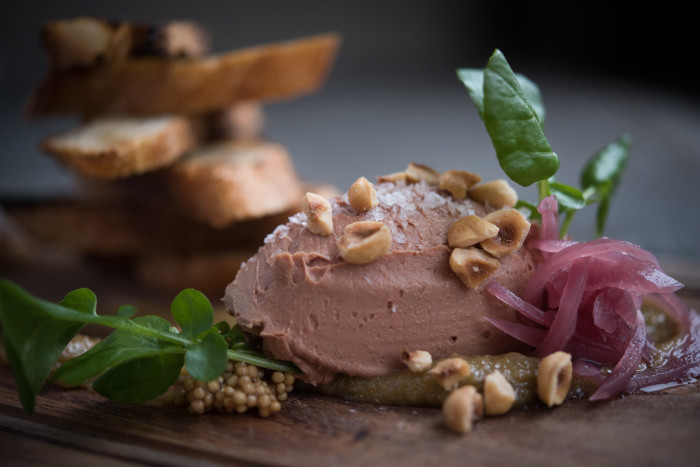 Stowell, now in his early 40s, was a young chef when he launched his career in 2003 with Union, which showcased his pared-down, Italian-inflected style and focused on seasonal Northwest ingredients. By 2010, when Union shuttered, he'd opened three more lauded spots: modern pasta eatery Tavolàta, the small-plate How to Cook a Wolf, and the seafood-focused Anchovies & Olives, which earned him a nod on Food & Wine's annual Best New Chefs in America list (in 2008). Stowell's restaurant roster has gotten much longer since then — he has 13 at the moment, with a new wood-fired pizza joint opening soon.
He debuted three new immediately popular spots last year alone: the family-friendly Ballard Pizza Co. in Frelard, Goldfinch Tavern at downtown's posh waterfront Four Seasons Hotel, and the new Bramling Cross in Ballard, a gastropub inspired by the north Seattle neighborhood's big beer scene. (Bramling's cozy two-top booths with built-in library lighting are particularly inspired, though all ES restaurants have a consistently stylish vibe.) Stowell also just changed course with Chippy's, a fish-and-chips spot that was reeling in customers during the touristy summer season. It's now been rechristened Marine Hardware, and the chef in charge was one of Stowell's very first hires. Stowell plans to pop into the restaurant weekly to work by his side.
---
"You've got to grow up before you go up," says Stowell. "Everyone evolves. You get married, have a mortgage, have kids. You do all that and you figure out how to grow up while maintaining your original spirit. I'm still a child at heart. I don't want to change that about me. I want to have fun."
---
Stowell's initial foray into the restaurant business was an entry-level kitchen gig secured for him by a friend of Stowell's parents, who served as co-artistic directors of the Pacific Northwest Ballet for many years. Stowell, who was born in Germany, grew up around a highly cultured crowd in Seattle. One of his two brothers, a former solo dancer, now directs the Oregon Ballet Theatre. Stowell gravitated to cooking only after a couple of failed stints at community college. Once hooked, he obsessed over culinary instruction books and worked tirelessly to prove he deserved to be there. And as he debuted his own business and learned through trial and error, he developed a tendency to be gruff at times. But not any longer, he points out.
"You've got to grow up before you go up," says Stowell. "Everyone evolves. You get married, have a mortgage, have kids. You do all that and you figure out how to grow up while maintaining your original spirit. I'm still a child at heart. I don't want to change that about me. I want to have fun."
Much of Stowell's mellowing can be attributed to his wife and business partner, Angela, a former wine rep whom he met on the job. The couple runs the Ethan Stowell empire together, with Angela handling most of the financial and day-to-day nitty-gritty. Though Stowell is a natural entrepreneur, this arrangement frees him up to think creatively about food. And while he does have to schmooze on behalf of his brand, it hardly feels like work sometimes — after lunch, he might be hobnobbing at an event with the owners of the Mariners, for example.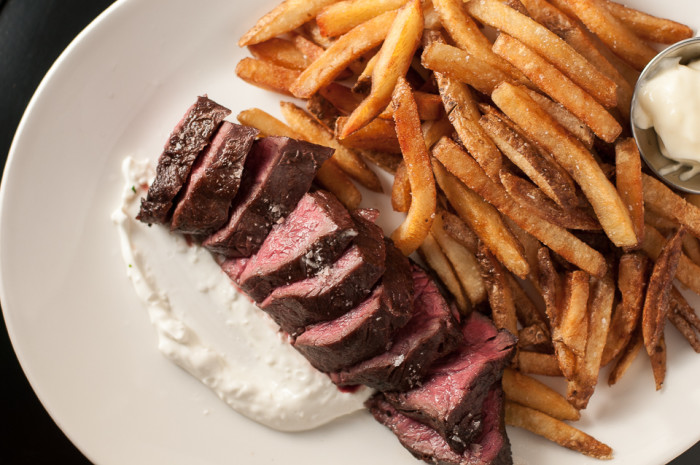 Chef Stowell has shed many of his professional hang-ups along the way, no longer stressing over the stuff he can't control, like multiple James Beard nominations (six total from the Best Chef Northwest and Best Restaurateur categories) but no awards. I ask if he feels like Leonardo DiCaprio, always a nominee, never a winner — this was before the recent Oscars ceremony, obviously — and he smiles serenely. "I think I deserved to win some of those, but what can you do?"
Stowell also has shed around 40 pounds in the past year or so. Inspired by his much-fitter wife, he set up a Spin bike in front of his flatscreen and invested in an expensive cable package. He's transformed his personal eating habits, steering clear of empty carbs and junk food during the day. A typical dinner at home with the family is a simple roast with vegetables. "I feel so good, and I definitely have way more energy now," says the newly slimmed chef, who adds that he's committed to setting a good example for his two young kids when it comes to staying healthy. Like his wife, he's a devoted philanthropist and a volunteer who pitches in to help Seattle's homeless population. And he's finally starting to make the kind of money that comes with being a successful restaurateur who also looks out for his employees. "I swear, it wasn't that long ago that I was barely clearing $40,000 a year," he says, shaking his head.
All of this amounts to a more laid-back Stowell, who offers a recent example of his gentler leadership style. He was with friends at one of his spots for brunch, all their children in tow, when a server nervously confided that a fellow worker, there on his last day, was intoxicated. At noon. Rather than shout him into oblivion, Stowell gave the visibly drunk young man a stern talking-to before telling him to leave quietly. "I asked him what he was doing with his life," Stowell recalls. He also displays his fatherly instincts over lunch when he inquires why his dining companions haven't touched the terrine he ordered. "It's delicious wild boar," he says, placing a mound on each of our plates along with a dab of mustard and a small slice of bread. "Go on, try it. You'll love it." (We did.)
Charcuterie stars on many of Stowell's menus, as do ultra-fresh Northwest oysters and only-on-the-West-Coast specialties, like his geoduck crudo, which has been described as Italian sushi. Stowell gives his head chefs a lot of autonomy, though his culinary aesthetic is evident at every location. At the brick-walled Staple & Fancy, he offers a $55 chef's menu, which generously samples the range of the restaurant's offerings. At the tiny 28-seat Mkt., a rotating menu of seasonal dishes features a clear focus on local flavors. Red Cow serves up delectable cuts of meat, including a near-perfect burger and frites. And Bramling Cross has comfort food on the mind, from a decadent Dungeness crab dip to a whole fried Mad Hatcher chicken served with collard greens and grits. After eating there, I jokingly ask Stowell if he taste-tested the menu on a room full of stoners — after all, weed is legal now in Washington state. "You know, it's very possible I did without even knowing," he answers with a laugh.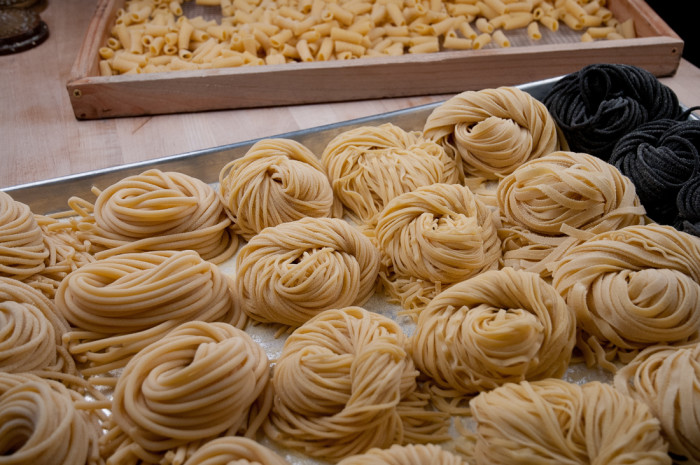 Some of Stowell's signature dishes are startlingly simple. His bigoli with garlic, chili and anchovy is nuanced and bursting with umami but couldn't be easier to throw together. Asked what he would choose if he were only allowed to work with one kind of food for the rest of his life, Stowell doesn't hesitate. "Vegetables. I really love vegetable dishes. There's so much to do with them." Stowell, who has said he views chefs as craftsmen, not artists, feels especially connected to his craft when he's got his own hands involved, not just his head or his heart. That explains his fascination with fresh pasta.
As for Seattle's food scene, Stowell is certain the rest of the nation will take greater notice as the city continues to grow. "There's nowhere else that has the kind of ingredients we have in the Pacific Northwest," says Stowell, who plans to take a bit of a breather on expansion in the not-so-distant future to spend more time with his family. "The quality and variety here are just unbelievable."