How Ellen Yin Became One Of Philly's Most Successful Restaurateurs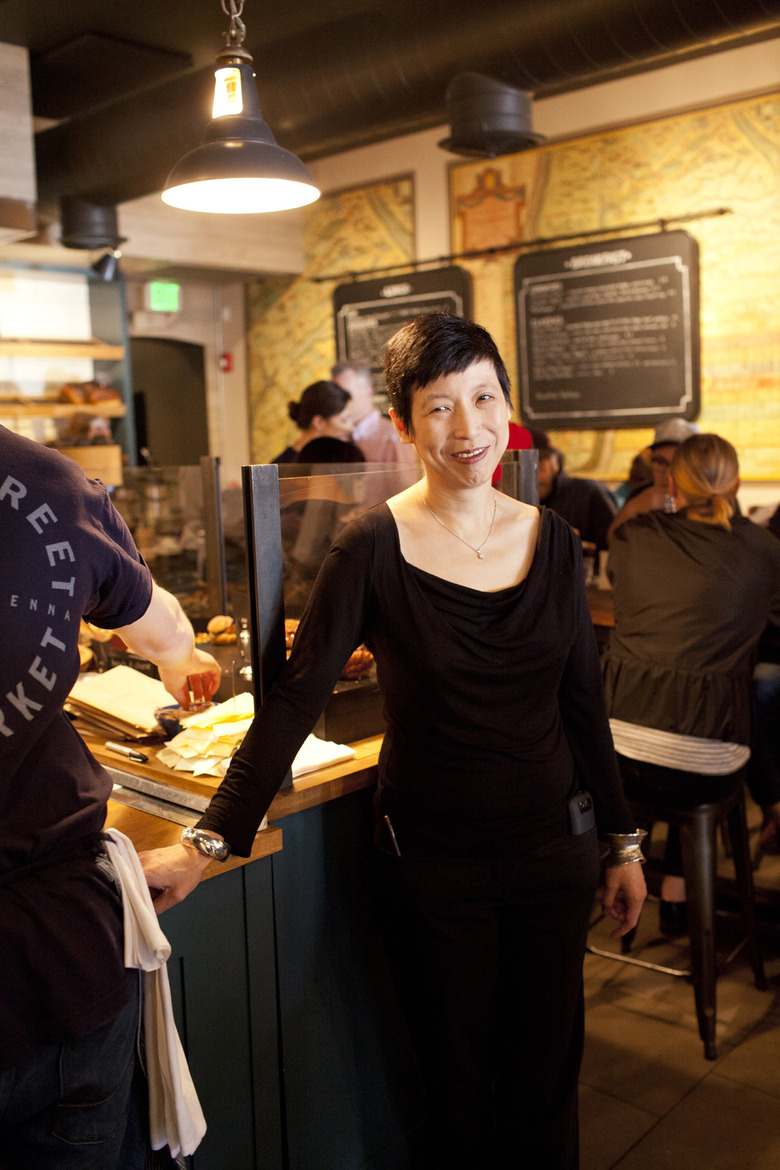 Ellen Yin started modestly, with Fork in Philadelphia. Twenty years later, she oversees a burgeoning restaurant group whose first NYC entry, High Street on Hudson, is an instant success. (Photo: Catherine Karn
No doubt you'd heard of High Street on Market, the Philadelphia restaurant that landed on nearly every "Where to Eat" list when it opened in 2013. The all-day eatery offers a daily selection of fresh artisanal loaves — buckwheat cherry; Vollkornbrot, a dark German rye studded with sunflower seeds; and black bialys, darkened with squid ink and sprinkled with sesame seeds — baked by bread genius and James Beard Rising Star nominee Alex Bois. Then there's the brilliant flavor-forward menu — tempura fried broccoli with funky fermented chow chow, chicken skin Caesar salad, pastrami and rye rigatoni, cauliflower caramelle, and angry crab pasta — by former Torrisi chef de cuisine Eli Kulp, who tragically suffered a critical spinal injury in the Amtrak derailment last year.
When High Street on Hudson opened in New York City in late 2015, it was greeted with uniform praise; The New York Times' Pete Wells called it "an adventurous and often exciting restaurant trying extremely hard to pass for an ordinary West Village café." But you may already know all that.
What you probably don't know, or rather whom, is Ellen Yin, co-owner of High Street Hospitality Group, the woman who first transformed Philadelphia's dining scene in 1997 when she opened the groundbreaking American bistro Fork on a deserted stretch of Market Street. From there, Yin opened Fork, Etc., an adjacent bakery, takeaway and private dining space, and partnered with AKA Rittenhouse Square Hotel to run a.kitchen and a.bar, along with Kulp, who also helped her create the High Street brand. She's one of Philadelphia's most successful and insightful restaurateurs, and yet, unlike that city's most revered, nationally recognized operators — Marc Vetri, Stephen Starr and Michael Solomonov — she's flown mostly under the radar. That is, until now.
Here, Yin talks about being bitten by the restaurant bug at a young age, the biggest changes and challenges in the industry, and how to tell a New Yorker from a Philadelphian.
How did you get your start in the business?
When I was 14 years old, I got a job at a little Chinese restaurant serving Mongolian barbecue in my hometown of Rumson, New Jersey. I liked it there, but it was kind of a pain to get to, so I got a different job at a much closer restaurant, La Fromagerie, which in 1978 was in its heyday. I thought, This is so fancy I am not sure I can do this. I am a bit on the klutzy side. But they trained me from knowing nothing to being a server, a bartender, and learning operations. I stayed there throughout high school until I went to the University of Pennsylvania.
Did you continue to work in the business throughout college?
Yes, I worked at La Terrasse, in Philly, which was this amazing upscale French restaurant. I always wanted to pursue restaurants as a career, but for a class, I wrote a business plan and realized how much capital was involved in opening a restaurant, and I knew I did not have that kind of money. And my parents thought I was crazy.
What did you do for work after college?
I took a job at a small advertising agency thinking I'd like being in a creative business, but it wasn't what I thought it was going to be. Then I did fund-raising for the American Heart Association and the American Cancer Society. I liked it, but I still wasn't feeling entirely fulfilled, so I got an MBA. I got into consulting and began working with hospitals, and eventually ended up as director of new program development at Thomas Jefferson Hospital in Philly. I was there for about a year, but I still felt like wanted to open a restaurant. There was something about that business that clearly stayed with me. By this time, I had saved up enough money to do it. I put together a business plan, partnered with my business school classmate Roberto Sella, who was really into wine and entertaining, and we got an SBA loan and opened Fork in 1997.
What was the vision for Fork?
Most nice restaurants in Philly at the time were like Le Bec Fin with elaborate design and even more elaborate food. What I envisioned for Fork was something more accessible and young and fun, not a destination restaurant. I wanted a neighborhood bistro in a neighborhood that was up and coming — Market Street where we were was deserted. It was a simple restaurant. Our budget was only $300K. Today it would be about six times that amount.
"Danny Meyer has always been a great inspiration. His model of enlightened hospitality and calculated risk taking is something that I hope to do as well as he can."
Who was your first chef?
Anne-Marie Lasher, who I met through Judy Wicks at the White Dog Café. Anne-Marie was very into local ingredients and partnering with farmers. At the time, we were calling her food "bistro cuisine" because we wanted it to be fresh off the stove and onto your plate. Entrees were $14 to $18. We got great reviews, and so everyone was excited. We got traction; the restaurant just started exploding. Three years into it, in 2001, we were doing 300 covers with 60 seats on a Saturday.
You had a few chefs after Anne-Marie left Fork, and a lot of success with each one. When did you meet Eli?
In 2009, we had a chef named Terence Feury, who came from Striped Bass. He had worked at Le Bernardin and was extremely talented. We sort of upped our game and went a bit more high end and got three stars. We were doing really fun dinners, branding with local beers, and doing chef-driven fishing trips, and really trying to keep things interesting. And then in 2012, he told me he was leaving and that he wanted to move to New Jersey to open a restaurant. I was just shocked. We had been talking about him becoming a partner in Fork. I was completely blindsided.
Yikes, that sounds harsh.
It was hard. I was trying to think about how to keep going without Terence. At that point, Fork was about to turn 15, and I thought, if I keep it the way it is right now, we can get five more years, but if I want it to last more than that, I have to change it. There was a lot of talk in the business when Terence left like, "Who is she going to get next?" And I knew I didn't want an obvious choice or someone who was even really all that known in Philly. I wanted to find someone unexpected so I could change it up. I was really looking to hire someone to reinvent us. Fortunately, I met Eli through a mutual friend. He was chef de cuisine at Torrisi [in New York] at the time. It happened very quickly. He came down in July and he started September.
How did you two develop the concept for High Street on Market?
Once Fork was reviewed positively under Eli, we started thinking about how we were going to change Fork, Etc., which was the bakery, prepared foods shop, and private dining space we had next door to Fork. We wanted it to be a new restaurant, and we had a lot of thoughts about it. Eli wanted to do something similar to Torrisi Italian Specialties — a sandwich shop by day and chef-driven boutique restaurant at night, and we went with it. Eli was really inspired by the proximity to farms. Here, farmers actually deliver to the restaurant and you can easily go out to visit the farms, and that was something that he was impressed by, the access in the mid-Atlantic region.
Tell me about Alex Bois, your baker, who, like Eli, is also wildly talented. Where did you find him?
He actually found us. It all started because I was tired of the bread service we were doing at Fork. We were serving a variety of rolls — sourdough, sesame, fruit and nut, and multigrain rolls. I was so sick of it. I said, "Eli, we both like pasta and bread, we want to do something else for bread service, let's do something more fun." So Eli started doing these bialys and soft pretzels served with Philly cream cheese. We also had a squid ink boule, a brioche with beef tallow, and a seeded bread with beet butter. Alex Bois, who was at Sullivan Street [in New York], took notice of our breads and was interested in what we were doing. He came down and talked to us and joined our team.
High Street is noteworthy on many accounts, but operationally, one very unique attribute is that you don't have a bar.
Our space in Philly is very small. One of the characteristics of the design is the open kitchen; it's right there and you can almost reach across and touch the food. When we thought about a bar, we thought about the idea of a home wet bar in the restaurant, sort of a bar cart. You are sitting next to the person making the drink, everything is just so accessible and so fresh.
Did you think about changing that for the New York space and adding a bar?
It's hard to have a day-to-night program with a bar in it. When you walk in to have breakfast you don't necessarily want to see all that booze. In New York, we use the breakfast nook as a place where you can wait for a table and have a drink.
What made you decide to open in New York City?
In 2014, High Street on Market was listed among the top new restaurants in America by Bon Appétit, and business went through the roof. And nearly everyone eating in the restaurant said: "Come to New York." Also, Eli's family was living in New York for work reasons, so he was commuting back and forth, and we thought, why not? We wanted to do more restaurants, but we didn't think we could do another High Street without cannibalizing our existing business, so we thought about it for New York.
It was during construction that Eli was on the train that derailed.
Yes, we had signed our New York City lease in March 2015, and he was back and forth between New York and Philly. The accident was a year ago, actually today [May 12]. When I look back on it, I really see how our whole team pulled together. I think we take it one day at a time. Eli gets his creative vision translated and executed by the culinary team. We are making it work, all of us, together.
Tell me about the challenges of opening in NYC versus Philly.
There are some things that are easier and some that are harder. It's hard to find staff in Philly, both front and back of house. Since the New York City market is so much bigger, I was really surprised at how difficult it is to find great people. However, we've been so lucky to be able to open with an amazingly talented and hardworking team who have been dedicated to opening the quality restaurant we wanted.
Are the menus coordinated so that both NY and Philly run the same items?
From a business perspective, some coordination is good, but we want chefs to be able to write their own menus. So there are differences.
Looking back over your career, were there any mentors along the way who were particularly meaningful to you and if so, what lessons did you learn from them that you keep with you today?
While I don't know him personally, Danny Meyer has always been a great inspiration to me.  I admire his ability to grow high-level concepts and continue to care about his team at a small business level. His model of enlightened hospitality and calculated risk taking is something that I hope I can do as well as he can.
How difficult have you found it personally to run restaurants in two different cities?
I had to change my role. For seven years, I had only one restaurant, Fork. Then it was Fork and Fork, Etc., which was really only half a restaurant. Then we added on running a.kitchen and a.bar in Rittenhouse Square. I still work a lot, but my role is significantly different. I am less in the dining room. Whereas before I was like a GM, now I am more of a CEO, I guess. You open a restaurant because you have a vision of how you want it to be run. As you grow you realize that there is more than one way for things to be done. And then you realize that you can't be a part of every decision, so you have to get your people to understand that framework and make decisions for you. Sometimes it's the way you would, and actually sometimes it's not. And that's okay. Not everything should be done the way I would do it. Sometimes their way is better. It may be different than how I would have done something, but it is still in the best interest of the business.
What are the big changes you have noticed about the restaurant industry over the course of your career?
When we opened, our email address was forkrestaurant@aol.com and we were one of the first restaurants that had a website, and now that just seems quaint. So things have changed — a lot. Before people would not be taking pictures of their food. Now photos of our food are seen throughout the world. The speed at which information travels because of social media has truly changed everything. The other day, we were announcing John Patterson as the new executive chef of Fork, and as I am announcing this to my staff, I looked at my phone and someone was tweeting it.
What is the thing that puts people in the seats — reviews or word of mouth or social media?
My belief is that social media, word of mouth, reviews, all of it, gets people in the door, but once they are in those seats, it's our job to convert them into customers who want to come back and see our other restaurants. I can't really say if social media has increased our business, but it keeps the word out there. Reviews still carry a huge amount of weight. After the New York Times review and several other positive reviews, we saw a bump in business. So I would say it's a combination of everything. You can't put all your eggs in one basket. It's our responsibility to make sure people want to come back.
Do you find that diners in New York are different than diners in Philly?
You know, there are discriminating diners in every city. Truth is, we had so many New Yorkers coming to Philly to try the food that there is not that much difference. But what is different is that in Philly there is not that round-the-clock thing of people wanting to eat. In Philly, its 6:30 to 8:30 dinner for dinner and by 9:30 it's pretty much me eating my dinner alone in the restaurant. In New York, people eat all the time, and we have a lot more walk-ins. People are willing to wait a few moments, whereas in Philly, if people don't have a reservation, they won't try to just walk in.
Being here [in New York] a little less than six months, how does it feel?
I would say that it's been great to be so positively received by the neighborhood, and by the city in general. We are thrilled to be part of the food scene here, and personally I look forward to having the time one day to be able to eat out more and see and eat where everyone else is going.