Where To Find Vegetarian Food In Costa Rica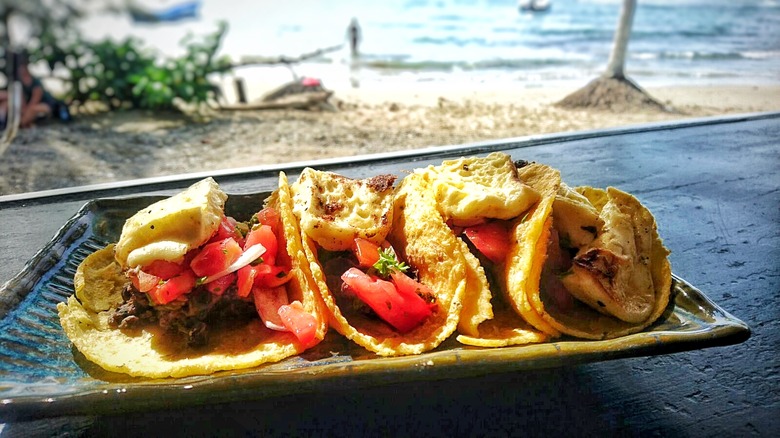 Selene Nelson is a U.K.-based journalist who is traveling the world for a year, reporting on her search for vegetarian food in each of the locales she visits. So far, she's checked in from Mexico, Nicaragua, Guatemala, Cuba and Belize. Next up, it's the land of Pura Vida.
Costa Rica has come a long way. Described in the 18th century as "the poorest and most miserable Spanish colony in all of America," today it is by far the richest and most stable country in Central America. Long popular with tourists due to its wildlife, beaches and exceptional coffee, in recent years Costa Rica has been busy advancing its gastronomic reputation too.
But this is a country where most national dishes ("tico" to the locals) revolve around rice and beans with either seafood, chicken, pork or beef. Remove the meat from the equation, and how does Costa Rica's vegetarian food fare?
The San Jose AreaMy first taste of Costa Rican cuisine (and the startlingly high prices compared to neighboring countries) came in San Jose, the country's sprawling capital. As the gastronomic hub, San Jose is home to a solid selection of vegetarian/vegan restaurants, suggesting that while vegetarianism is still a rarity here, the movement is gaining ground (and in fact, earlier this year Costa Rica joined the Meatless Monday initiative).I'd heard good things about Ravi, a trendy, vegetarian-orientated gastropub in downtown San Jose. At $20 for a sandwich, their menu is not kind to a backpacker's budget, but Ravi is best known for its delicious wood-fired pizza, which is a much better value for both palate and pocket. This was, excitingly, my first time glimpsing Brie on a menu, a cheese that eluded me elsewhere in Central America.
Also on the menu at Ravi is goat's cheese bruschetta on sprouted bread with dill, radish and cucumber. Strangely, the bread wasn't grilled (does sprouted bread not toast well?), but the goat cheese was so delightfully salty and creamy, with just the right amount of tanginess, that it didn't matter. The rosemary and strawberry sangria, however, was the unexpected standout — the perfect blend of flavors, with fragrant and refreshing layers of pine balancing out the sweet but not sickly strawberry.
But thankfully, you don't have to head to exclusive vegetarian restaurants in the capital city to find decent vegetarian food. The most common tico dish in Costa Rica is casado, which consists of rice, beans, plantains, salad and some kind of meat. This is the one meal you're guaranteed to find anywhere you are in the country, and despite the customary meat, this can still easily be a vegetarian-friendly meal.
During one long bus journey we stopped off at a very small, very modest roadside restaurant. The only hot food they were serving was casado, but on hearing I was vegetarian they happily replaced the meat with a generous slab of grilled cheese. 
Filling, balanced and tasty (if a little bland), this is almost always the most cost-efficient meal in Costa Rica, and is an excellent staple to rely on. Even without the grilled cheese replacement, rice, beans and a selection of vegetables is not to be sniffed at for a vegetarian on the road.
The Caribbean & Puerto ViejoMoving on to Costa Rica's Caribbean coast, the vegetarian and international options expand relative to the number of tourists. Arriving in the popular beach town of Puerto Viejo de Talamanca, the first restaurant I noticed was Chile Rojo, which drew my eye with a "vegan friendly" sign outside. A fusion restaurant with a focus on Asian cuisine, this was the first time in four months I'd seen vegetarian sushi on a menu, something I'd missed far more than anticipated.
The vegetarian options here are plentiful, but the best meat-free dish is the Thai noodle salad. Silky slices of sesame-rolled tofu, crisp julienne vegetables, fresh lettuce and a crunchy peanut dressing is the perfect blend of taste and texture, and the slightly sweet, slightly sour, slightly spicy peanut dressing was a joy.
Not in the mood for sushi or Thai? Go for the patacones a la Mexicana (fried plantain cups stuffed with black beans, cheese, guacamole and sour cream) or the vegetarian platter (samosas, hummus, tabbouleh, pitta, olives, vine leaves and falafel). 
Just down the road from Chile Rojo is Puerto Pirata, a vegetarian deli located right on the beach. This pirate-themed café has an excellent selection of sandwiches, but the best blends herbed chickpeas, sweet potato, ginger, cucumber, carrot, mint and cabbage salad for a filling yet refreshing lunch.
The "Myan Pirate" tacos at Puerto Pirata are also a light yet satisfying lunch in Costa Rica's heavy heat. The organic corn tortillas were subtly flavored (though the consistency was a little too crumbly), and the zingy tomato and onion salad went wonderfully with the rich, earthy black beans and satisfyingly squeaky grilled cheese.
Throughout the country, breakfast is almost always the easiest meal for vegetarians to find. Like in Nicaragua, a traditional Costa Rican breakfast is usually meat-free, marrying together rice, beans, eggs, fried plantain and sometimes sour cream (and, of course, outstanding fresh coffee). This is a nourishing and protein-packed start to the day, but for something a little different, head to Puerto Viejo's Bread and Chocolate.
Located off a dusty road away from the town's main strip, this brunch café served up the best breakfast I'd had so far on the Caribbean coast: a gratifyingly chewy seeded onion, garlic and basil bagel generously stuffed with fried egg and cheese and served with crispy, delicately spiced sautéed potatoes and avocado.
Bread and Chocolate seems to be one of Puerto Viejo's best-kept secrets; it was only after a tip from a local that I found it, after being in the town for over a week and ostensibly exploring all recommended food options. In the past, Costa Rican cuisine had a reputation for being rather overcooked and bland: like its neighbor Nicaragua, meals centered around meat with some form of starchy vegetable for accompaniment, be it plantain, yucca, taro or the ubiquitous rice and beans. But the past decade has seen enormous developments in the variety of foods on offer, and traditional tico recipes have been combined with Mexican, Caribbean and other international flavors to create some mouthwateringly unique dishes.
Costa Rica's flourishing reputation for eco-tourism means that the focus on sustainable, organic food will only to continue to grow, but happily, today the country is already on the cusp of its own food revolution.
Next up: Where to find vegetarian food in seafood-centered Panama.