Selene Nelson is a U.K.-based journalist who is traveling the world for a year, reporting on her search for vegetarian food in each of the locales she visits.
Cuba is famous for many things. Rum. Cars. Cigars. Che. Food isn't one of them.
Aside from the staples (every Cuban citizen receives a regular supply of rice, sugar, coffee, meat, eggs and bread), food supplies are often limited and can run out without warning. Partly for this reason, many meals are based around meat or fish with rice and beans as filler.
Traveling the world as a vegetarian, Cuba was the country I thought would prove hardest to eat well in — or even moderately well. Its vegetarian food has a reputation for being either "completely uninspired" or "uniformly terrible" — but is the vegetarian food in Cuba really so bad?
In a word, no. Definitely not. But I wouldn't call it great, either. Let's explore.
HAVANA
The first stop in Cuba is usually Habana Vieja, or Old Havana. As the vibrant and historic hub of the city, Old Havana is known for its striking colonial beauty, art galleries and museums, and countless restaurants offering authentic and traditional Cuban meals. In Habana Vieja, this almost always means meat or fish.
Restaurant staff linger outside their establishments, trying to draw you in by tapping their menus and describing their dishes with an almost feverish passion. Mention you're vegetarian, however, and even the most enthusiastic waiters usually give up. Sometimes they'll try to act as though the rice and beans accompanying the meat are the real draw of the meal, but usually the response is just defeated disappointment. I actually started to feel quite bad for them.
After bypassing many restaurants without a vegetarian main course, I wandered into O'Reilly 304. A tiny, trendy restaurant specializing in gin cocktails and contemporary Cuban cuisine that's unassumingly sandwiched between two shabby buildings on the outskirts of Habana Vieja, it's easy to walk past altogether. But it's clear from first entry that here is something quite different.
Framed glowing reviews from the Miami Herald hang proudly on the walls, cool bartenders shake up incredible-looking cocktails, and the menu offers several meat-free plates. From pumpkin soup with Cuban blue cheese and cilantro to soft veggie tacos stuffed with beans and seasonal vegetables, O'Reilly 304 reflects the slowly developing restaurant scene in Cuba.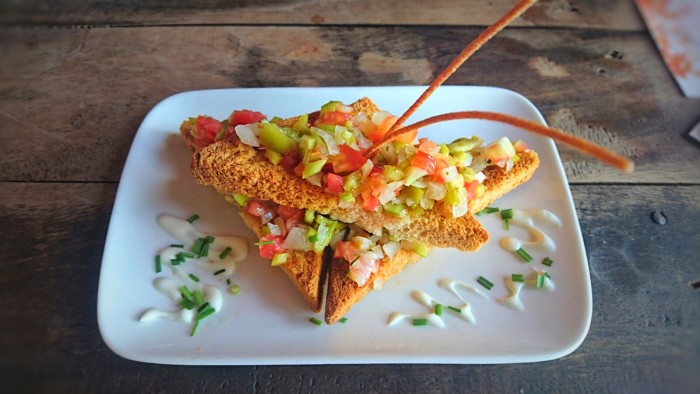 One thing I discovered at O'Reilly 304 is that Cubans love bruschetta. It's on the menu at any half-decent restaurant, and O'Reilly 304 is no exception. But Cuban bruschetta is a little different than what may strike you as familiar. The onion is sweet, and spring onion and chives usually make an appearance, too. Also unlike traditional bruschetta, the onion outweighs the tomato in quantity, and an added splash of vinegar makes for an unusually sweet yet tangy appetizer. Cuban bread isn't good, but when it's lightly toasted and doused in oil, garlic and vinegar, it's great.
The quality of food at O'Reilly 304 is excellent. The banana chips come served with the most delicious dipping sauce I've ever had — so good that I embarrassed myself trying to wipe up every last drop of it and had to write down every discernible ingredient to try to replicate it later (it definitely contained ginger, chili, sugar, cilantro, spring onion, onion, garlic and vinegar).
If a vegetarian winds up at one of the many Havana restaurants that don't cater to veggies, keep an eye out for the street food carts afterward. The corn carts are the best: The husks are soaked in water, toasted until the corn is charred and tender, and then drenched in butter, salt, cheese and squeezes of lime. Cuban churros will also hit the spot if the not-so-veggie-friendly menus didn't: lighter and fluffier than Mexican- and Spanish-style churros, Cuban churros are sweetened with condensed milk (surprisingly delicious) and white sugar rather than brown.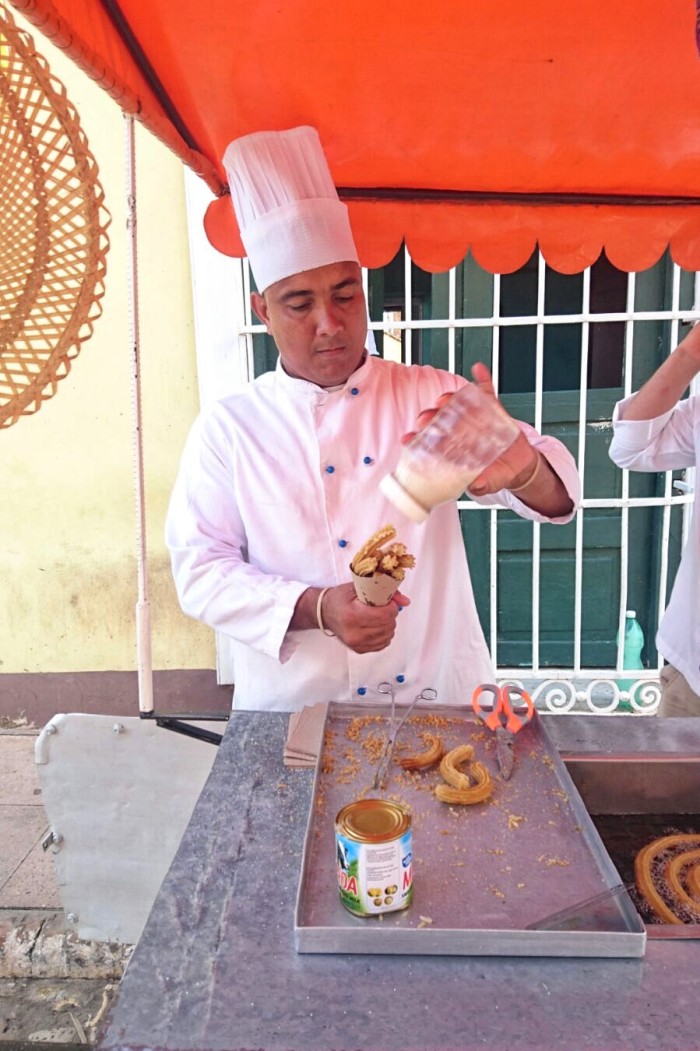 TRINIDAD
The food choices picked up, unexpectedly, in Trinidad, a UNESCO World Heritage Site at the foot of the Escambray Mountains. Walking through this beautiful town, with its cobbled streets and perfectly preserved colonial buildings, really is like stepping back in time. The prospect of getting any good vegetarian food in a town that wasn't even connected to the rest of Cuba until the 1950s didn't seem too realistic. But I was wrong.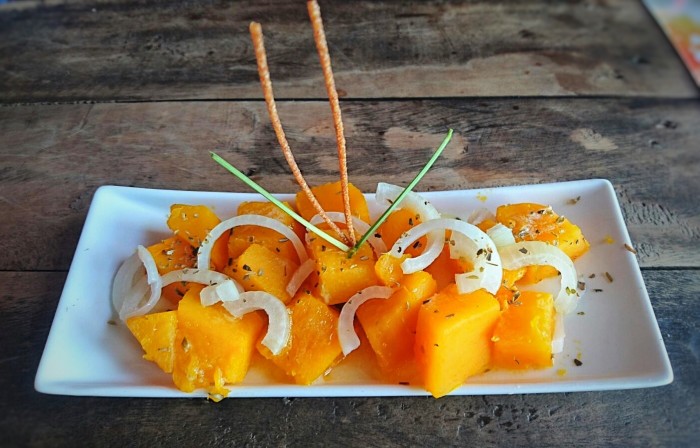 At Giroud, a bizarrely cool place where you sit on old TV sets and beer crates and chairs hang upside down from walls, there was a whole variety of meat-free, tapas-style dishes: stuffed peppers and tomatoes packed with cheese and sautéed vegetables, pumpkin cream, vegetable bruschetta, diced pumpkin with onion and herbs, and cooling gazpacho. Serving beautiful and great-tasting dishes, Giroud is another example of Cuba's emerging avant-garde food scene.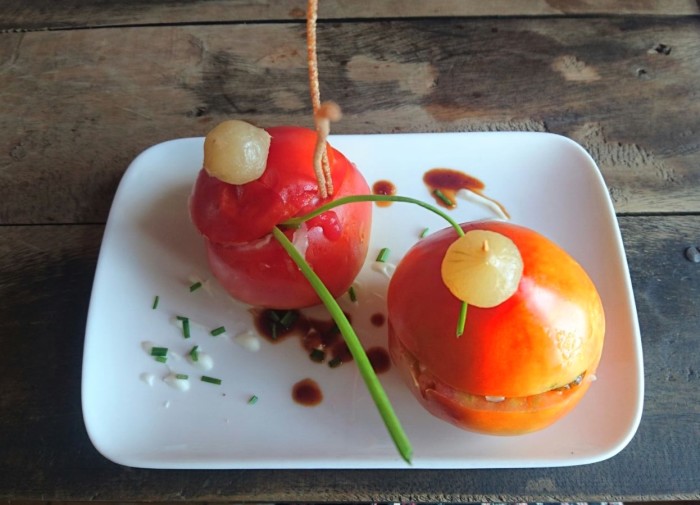 The standout in Trinidad for me was Taberna La Botija, a lively 24-hour restaurant where the country's Spanish and Latin influences seamlessly merge with traditional Cuban cuisine. The sweet corn fritters, served with a creamy garlic dip with a hint of dill, were lovely, but the fried Cuban cheese balls were incredible. I had two portions, one right after the other.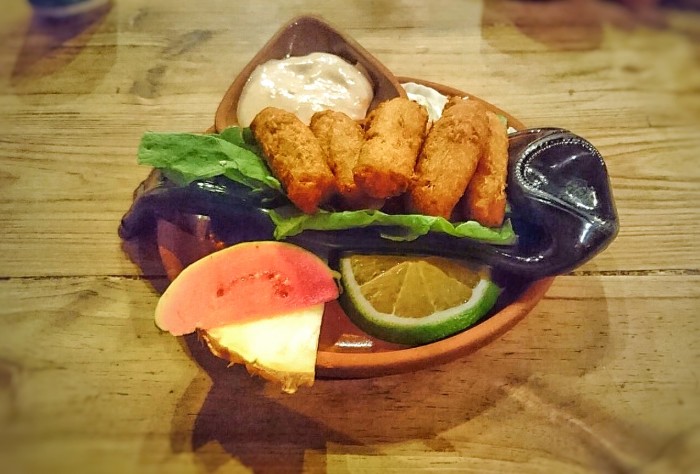 VARADERO
In the beach resort of Varadero, finding vegetarian-friendly meals got harder. In most restaurants, the only vegetarian option was spaghetti napolitana. Now, I love all forms of pasta and honestly never thought I could tire of it, but when you've had spaghetti napolitana three times in 24 hours because it's the only vegetarian main dish on the menu, things can get dull. Thank goodness, then, for the prevalence of Cuban street pizza.
While we're still talking about carbs, cheese and tomato sauce here, Cuban pizza is actually quite different from most pizza. The dough is thicker, softer and squidgier, the sauce sweeter and smokier. Rather than only using mozzarella cheese, Cuban pizza usually involves Gouda — a staple in the Cuban diet and the backbone of the celebrated Cuban sandwich.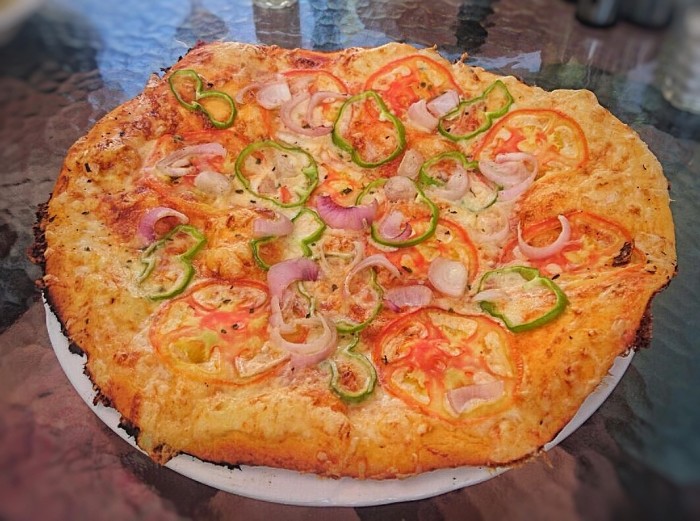 There are two types of Cuban pizza: The more authentic kind has the cheese, sauce and fillings cooked into the pizza — so you can turn your pizza upside down, shake it about, and nothing will fall out. The second is more like Italian-style pizza, where the toppings are scattered over the top of the pizza. While it may look Italian, one bite of the plump dough, sweet sauce and buttery Gouda cheese and you'll know this pizza is certified Cuban.
Breakfast was a much easier matter all over the island, and one of the reasons why getting enough protein was never an issue. Cubans love their omelets. Like their pizza, it's almost an institution, and no authentic Cuban breakfast is considered complete without an omelet.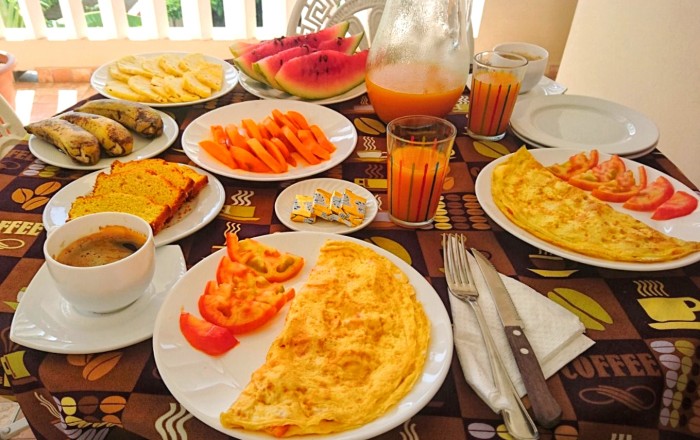 Traditionally the eggs aren't scrambled while the omelet, packed full of cheese, onions, peppers and tomato, is cooking. As a result, the omelet is firm and easy to fold. Omelets are typically served with piles of fresh and delicious seasonal fruit: the sweetest, ripest mango I've ever tasted, papaya, watermelon and pineapple. Cuba is inundated with tropical fruit, and the portions are huge. If you visit Cuba and your accommodation offers a traditional breakfast, take it.
After so much pizza, spaghetti and omelets, I began craving salad and fresh vegetables like never before. Cuban salads are generally very simple — most consist of tomatoes, cucumbers and cabbage. Basic though they are, it was nice to have a reminder of one of life's most easy culinary pleasures: fresh, ripe tomatoes with just a sprinkling of salt. In Cuba's sweltering and relentless summer heat, sometimes the simplest things work best.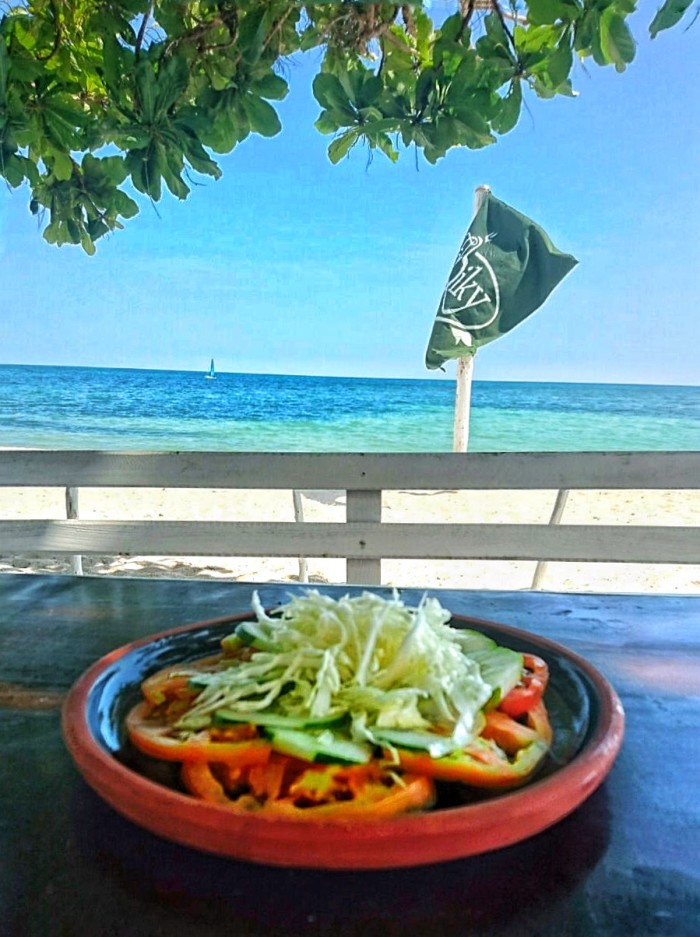 While I would never cite Cuba's food as one of the reasons to return, in the face of its rapidly developing gastronomic scene, its reputation for truly terrible vegetarian food now seems a little undeserved. It may take a while before it can be considered "veggie friendly" (and vegans would certainly struggle), but the meat-free options are expanding. Changes are being made, and attitudes are adjusting. Embargoes may even be lifted. The wheels on this classic Cuban car are in motion, however slowly they may be turning.
Next stop: Searching for vegetarian food in fish-famous Belize.