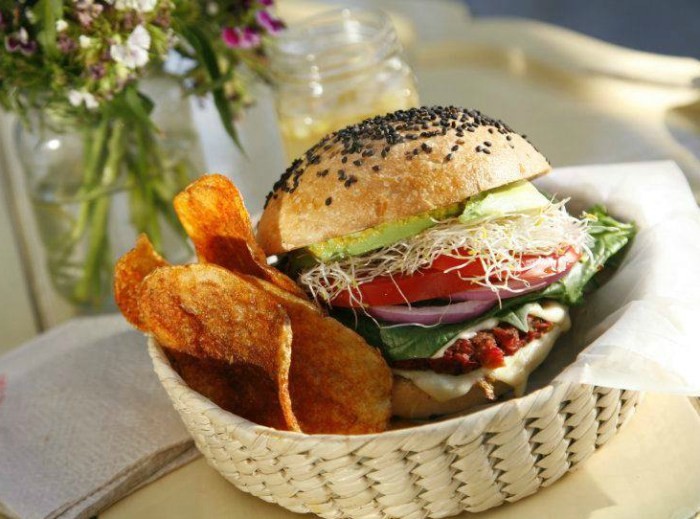 Selene Nelson is a UK-based journalist who is traveling the world for a year, reporting on her search for vegetarian food in each of the locales she visits.
The best thing about traveling is eating. There's no better way to appreciate a different country and its culture than to tuck into the national dishes, and for most people, sampling the local cuisine is one of the things they look forward to most about exploring a new place.
But if you're vegetarian, things aren't always so easy. As a Brit, I'm pretty spoiled for choice for meat-free dishes when eating out, but experience tells me things are very different abroad. My last attempt at explaining, in Spanish, in Spain, that I'd like a vegetarian meal resulted in being served a bowl of boiled carrots. Literally, just a bowl of soft, sliced, overcooked carrots.
But times are changing. As environmental awareness grows, so does interest in "greener," more ethical foods. But just how quickly are things changing? In 2016, what's the reality of being a vegetarian on the road? I've embarked on a yearlong, round-the-world, trip and like most people, the food aspect is what I'm excited about the most.
"But what are you going to eat?" I've heard this phrase a lot, and it's not necessarily unwarranted. Generally speaking, many of the countries I'm visiting struggle to grasp the basic concept of vegetarianism, and "no meat" is often interpreted as no red meat: Fish and poultry don't always count.
I hope that this trip, which encompasses four continents and 23 countries, will further the idea that even in meat-centric countries, a vegetarian diet doesn't have to be bland or repetitive. But I must confess, I have my doubts. From ceviche-loving Central America to steak-mad Argentina to the fish, pork and chicken dishes so prevalent in Southeast Asia, many of the most popular and common dishes on offer are based around meat.
Mexico is my first stop, and initial impressions aren't too encouraging; on hearing that I'm vegetarian, the Mexican girl I chat to on the plane sucks in her breath and raises her eyebrows skeptically. Perhaps I should be resigned to eating unlimited bowls of gallo pinto….
MEXICO CITY
It's almost a requirement to eat as many tacos as you possibly can while in Mexico, and in Mexico City they're impossible to avoid. The aroma of hand-patted tortillas is everywhere, and on almost every street corner you'll find stands selling tacos, tamales, quesadillas and enchiladas. The sheer scale of Mexico City means you could spend decades traversing its streets and still not scratch the surface of what culinary delights it has to offer, but research told me the neighborhood of Condesa would be the best place to start.
Condesa is lively, trendy and artistic, its tree-lined streets sun-dappled and spirited. Cool couples, young professionals and countless dog-walkers stroll past colorful wall art, buzzing bars and, of course, ubiquitous taco stands. Location-wise, I lucked out: Thirty seconds from my apartment was a tiny taco restaurant, so small it's basically just a stand. The tacos here were so exceptional that it became my morning breakfast routine: Get up, eat tacos, go.
Known locally as Tacos Hola (but formally called Taquería El Guero), you order your tacos one at a time and then customize them with guacamole, sliced onions, jalapeños, salsa, slivers of radishes and squeezes of fresh lime from the big colored bowls on the counter. You can wash your tacos down with the aguas frescas (fresh fruit juice) on offer, usually refreshing cactus water or a slightly sweeter type of pear juice.
There are plenty of vegetarian fillings to choose from. The acelgas (braised chard) and coliflór (cauliflower fritters) are delicious, as are the nopales (cooked cactus stems). The queso (cheese) taco contains a large chunk of soft, crumbly white cheese topped with pinto beans and guacamole. This was the first taco I tried, and its enticing simplicity brought out the quality of the tortilla itself — something I (ignorantly) had never considered that important before.
What makes authentic Mexican tacos taste so good is the freshly made masa, a rarity in other parts of the world. Masa is the corn-flour dough tortillas are made from, and the often-frozen, brought-in masa in European Mexican restaurants just isn't the same. These toasted tortillas were fragrant and fresh, with subtle hints of cilantro within their soft resistance.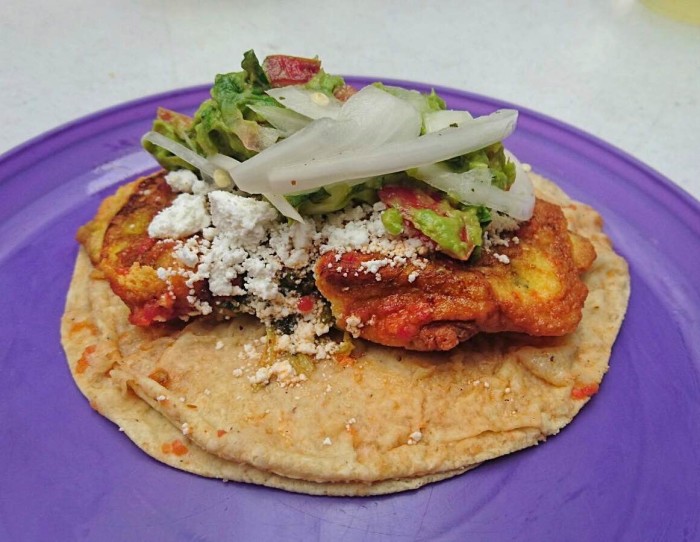 My favorite filling was the quelites, which I sadly only discovered on my last day in the city. Translated on the posters as milkweed, quelites are actually steamed spinach-like leafy greens mixed with crumbled cheese and then fried into delicious little fritters. I can't speak more highly of the food or the stand itself. Warm, friendly and sweetly patient with my terrible attempts at Spanish, the Tacos Hola staff brush off all offers of tips (each taco is about 50 cents) and the ever-busy stand is testament to its popularity in the neighborhood.
The next neighborhood along is Roma, similar to Condesa but a little grittier, a little less genteel. Down one relatively quiet street there's a small restaurant called Pan Comido, which drew my eye with the words "vegetariano" emblazoned on the exterior. I couldn't pass up the opportunity to be able to eat everything on the menu — a rarity even at home.
Pan Comido could seem too cool for its own good, at least at first glance, with hipster waiters and drinks served in jam jars. Luckily, this wasn't a case of style over substance. To start with I had the Uma — one quirk of this restaurant is that the names of their dishes are named after celebrities. The Uma consisted of spiced, roasted artichoke served with two sauces, one mustardy and one cheesy. The artichoke was mouthwateringly piquant and a pleasure to eat, if you don't mind getting oil and gritty, bright-orange spices all over your hands (I don't).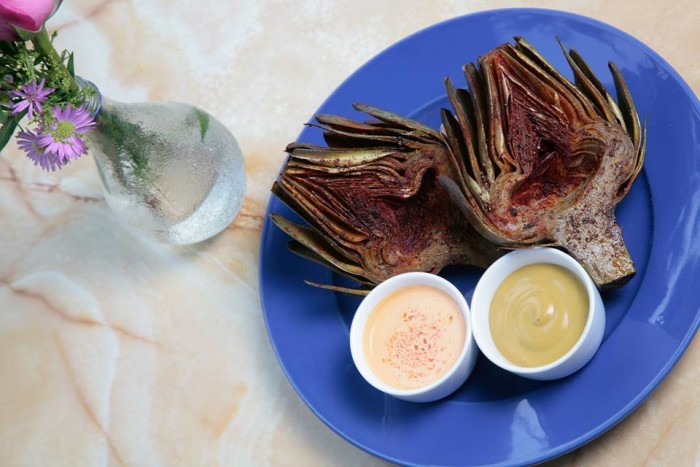 I was sorely tempted to taste Brad Pitt's Balls — tempeh "meatballs" stuffed with plantain and tomato and served in chipotle sauce — and the Brigitte Bardot — tortillas stuffed with plantain, potato and carrots and bathed in mole poblano, cotija cheese and cream. In the end I went for the aptly named Big Juan, a veggie burger made with sweet corn, beans, carrots, beetroot, six different types of seed and succulent soya pieces that curled over themselves like seashells.
Topped with melted Manchego cheese and served with spinach, tomato, avocado, red onion, pickles, alfalfa sprouts, mayonnaise and mustard, this is the type of food I wish I had to offer the people who think vegetarians only eat salad. The Big Juan was exquisite, filling, and dripped juice down your wrist as you ate it. What more can you ask for for the equivalent of about $4?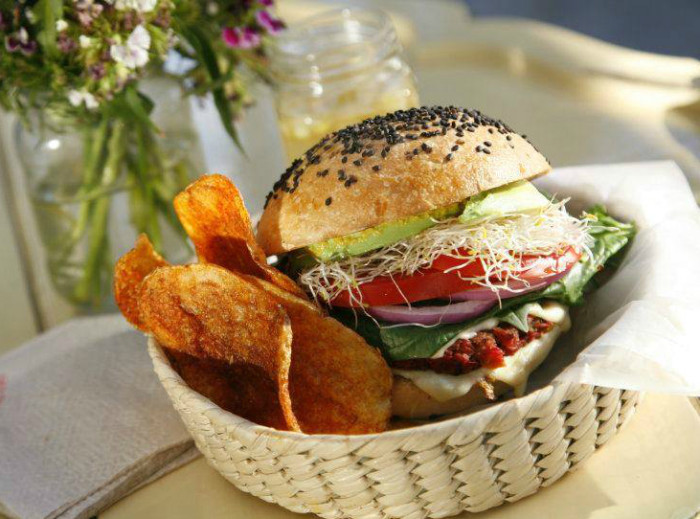 OAXACA
I had an inkling that veggie-friendly Mexico City had spoiled me. I may have been right. Vast, cosmopolitan Mexico City is light-years ahead of other cities and areas — even Oaxaca, my next stop, which is considered the gastronomic capital of Mexico. The bus from Mexico City to Oaxaca takes around seven hours and includes several stops for food. Unfortunately, I misconstrued what these stops involved.
These stops are actually minute-long breaks where no one gets off the bus and food is brought up to the door by local vendors. Baskets of golden, temptingly hot empanadas were held up to the windows. They looked alluring but, as the only food offering, I knew they were unlikely to be meat-free. The phrase "soy vegetariana" was met with a puzzled look, so I tried again, pointing to the food and asking "con carne?" The vendor nodded encouragingly. I thanked her and retreated to my seat, my stomach growling. Lesson learned.
Oaxaca itself looks just the way I hoped it would. The buildings are painted vivid blues, oranges and reds, and on the energetic, chaotic streets animated vendors sell handmade jewelry, ponchos, flowers, fried crickets (the local delicacy) and everything else you could possibly need. If ever a city was deserving of being called colorful or vibrant, Oaxaca is it.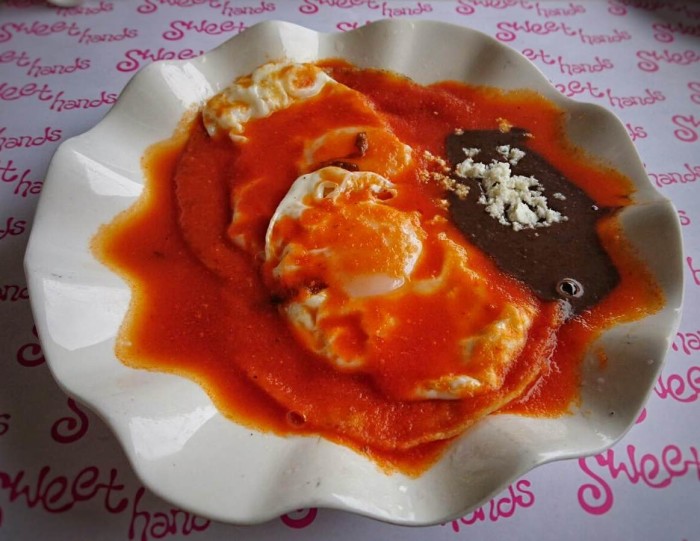 Brunch was at Sweet Hands, a pastry-focused café that also offered traditional Oaxacan breakfasts. I ordered the huevos rancheros, but what arrived was unlike any I'd tried before. Authentic huevos rancheros is much "saucier"; the tortilla and fried eggs are generously bathed in a sweet tomato sauce that packs a gentle punch, with the city's famous mole negro stirred into the side and topped with a crumbling of cheese.
Oaxaca is renowned for its moles (it's nicknamed the "land of the seven moles"), and moles negro has a wonderfully complex flavor. There was a very faint whisper of aniseed, which I later learned comes from the avocado leaves that are cooked with the beans. Authentic mole negro also contains six different types of chilies, onion, tomatoes, cinnamon, cloves, plantains and chocolate, and the Oaxaca markets sell huge vats of the stuff to locals and tourists who've developed a taste. Packed with protein, the pervasiveness of mole throughout Oaxaca state and much of Mexico is a great-tasting bonus for veggies.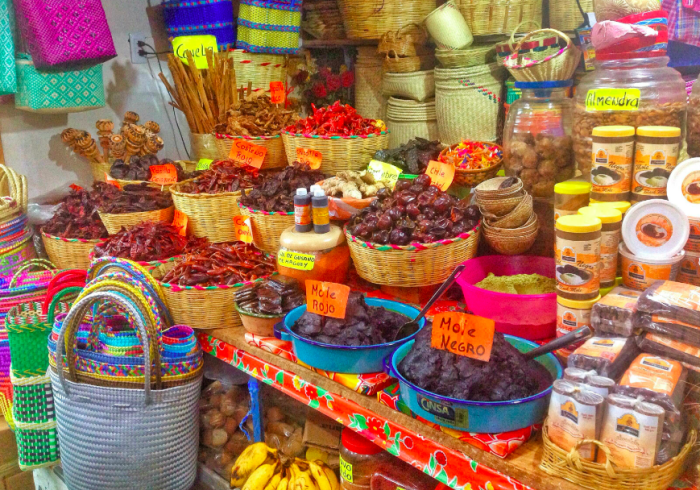 The food scene is certainly changing in Mexico. There are no less than 16 vegetarian or vegan restaurants in the small Mexico City neighborhood I stayed in, and judging from their popularity, this number will only continue to rise. Having said that, in the states of Oaxaca and Quintana Roo, dining out can become somewhat repetitive once you take meat out of the equation.
One Playa del Carmen restaurant served a vegetarian platter: papaya salad, veggie chimichangas, carrot tagliatelle, fried plantains, couscous, avocado tapenade bruschetta, vegetarian crepes and guacamole. This was refreshingly different, as most Mexican restaurants in this touristy town offer only cheese-stuffed quesadillas and enchiladas as their meat-free options. My favorite dishes generally revolve around variations of cheesy carbs, so this was no real hardship, but if you're vegan things would be much harder.
With so many meals revolving around tortillas, beans and cheese, there certainly aren't any worries about vegetarians going hungry in Mexico — unless you're on a bus. My weeks here were spent feeling happily stuffed or greedily bloated, and my clothes are tighter, my stomach larger. But considering the next stop is Cuba — notoriously tough for vegetarians — that may be a good thing.