Selene Nelson is a U.K.-based journalist who is traveling the world for a year, reporting on her search for vegetarian food in each of the locales she visits.
There are places you know you won't find any good vegetarian food, and there are places you think you won't find any. Belize is the latter.
The Central American nation has a lot of coast for such a small country, so fish and seafood form a substantial part of the traditional diet. Ceviche, conch and lobster are the national dishes, and the idea that a vegetarian movement would be strong here didn't seem too likely.
But Belize is veggie-friendly — far more so than I anticipated. That the diet is varied shouldn't really come as a surprise considering Belize's cultural and ethnic diversity. The population is made up of Mayan, Mestizo, Creole, African, Chinese, Lebanese and Latin American people (to name just a few), and the food is an amalgamation of these diverse groups.
San Ignacio
The backpacker town of San Ignacio is considered the heart and soul of the Cayo district, and it was here that I first discovered the variety of Belize's vegetarian food. Despite its small size, San Ignacio has an excellent vegan/vegetarian cafe, Roots, Wraps & Smoothies, where the light, flavorsome food and fresh, healthy juices are the perfect antidote to the stifling summer heat.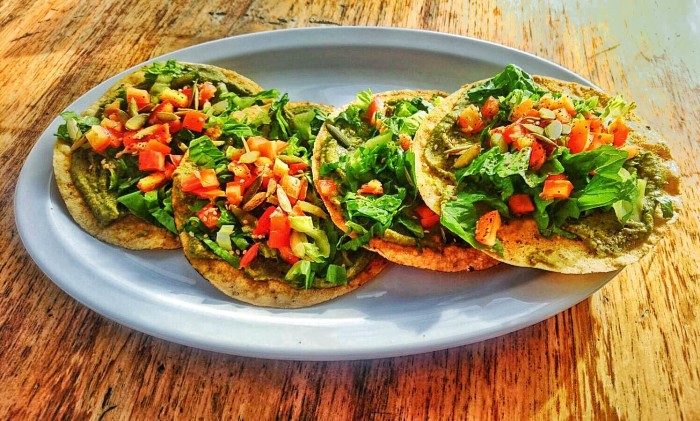 I first tried the green tostadas: fried corn tortillas topped with basil hummus, lettuce, salsa frecca, balsamic vinegar reduction and vegan Parmesan cheese. Washed down with a freshly made and perfectly zingy carrot, orange and ginger juice, it left me feeling refreshed rather than bloated, as has become the new norm (the amount of pasta, pizza, bread and fries I've eaten while traveling has tripled).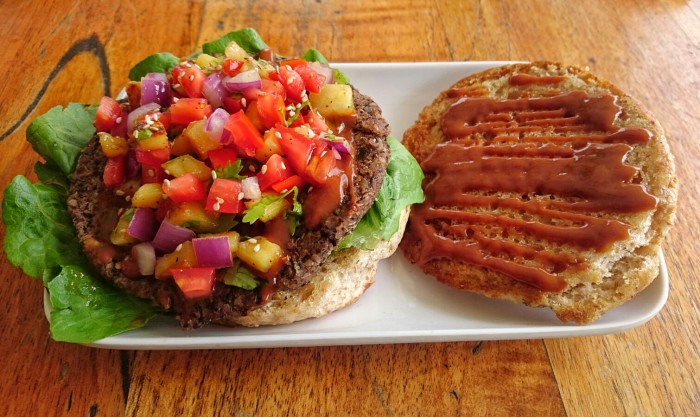 Next up was the black bean and quinoa burgers served with plantain fries. If I'm honest, even as a vegetarian I'm often guilty of doubting just how satisfying vegan food can be; I'm also not too partial to quinoa and prefer the dubious fake-meat-style veggie burgers to the bean variety. So I did wonder how well this would go down.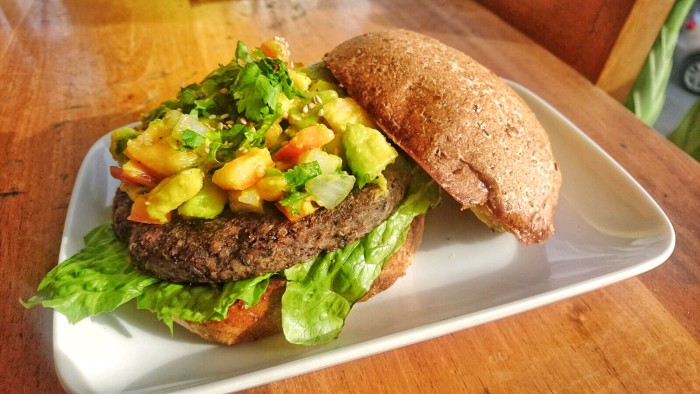 But sometimes it's nice to be proved wrong. The burger was excellent with a great texture and taste, and the plantain fries, cooked in coconut oil and then seasoned with turmeric and cinnamon, also hit the spot. You can customize your burger with a variety of different fillings and toppings, too: Depending on your tastes, layer it with avocado cream and chunky guacamole, pineapple salsa and spicy barbecue sauce, or Greek salad, lettuce, feta cheese and olive tapenade.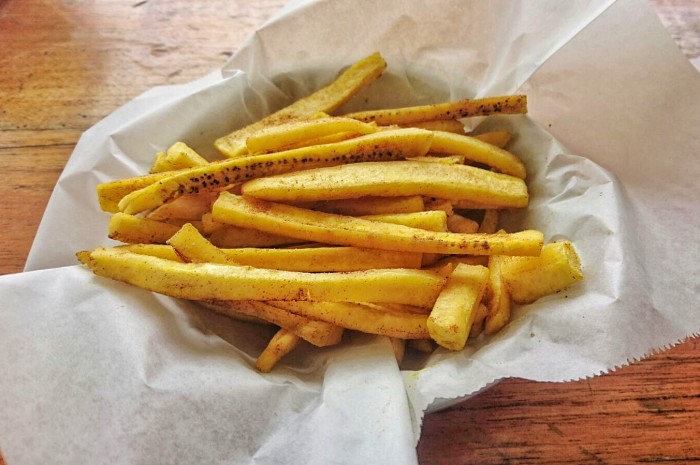 But it wasn't just vegan cafés where the meat-free options proved surprisingly good. Nearby Ko-Ox Han-nah ("Let's go eat" in Mayan) serves a wide array of vegetarian fusion food with strong Mexican, Indian and Southeast Asian influences. Be aware, however, that the portions here are huge: The veggie burrito was longer than my forearm, and the (delicious) one-person quesadillas easily serve two.
But San Ignacio is a tourist hub on the Belizean mainland. Surely the islands, with their famous "Go Slow" mentality and reliance on imported ingredients, wouldn't be quite as veggie-friendly? But Belize surprised again.
Caye Caulker
The small island of Caye Caulker is renowned for its seafood — in particular its lobster — and many of its restaurants are geared toward that. Despite this, there's no shortage of vegetarian options, and the tropical climate means there's an abundance of tomatoes, onions, plantains, beans, carrots, squash, spinach, avocados and coconuts.
You may not have thought so, judging by their names, but popular beachside bar/grills Bambooze and Barrier Reef Sports Bar served up good food with decent vegetarian options, in particular Sports Bar's deep-fried okra appetizers: fried slices of okra in a crispy cornmeal crust that pop satisfyingly in your mouth. It was served with an authentic Belize dip — a delectably creamy blend of cheese, cilantro, sweet pepper and chili.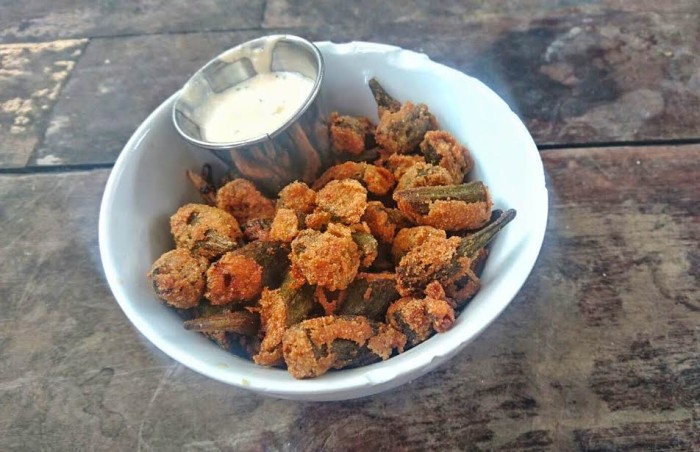 For me, the best restaurant by a mile was Maggie's Sunset Kitchen, a small, local establishment where you can watch the sun set over the Caribbean Sea as you eat. The veggie kebabs were exceptional: locally grown and perfectly charred tomatoes, onions, squash and peppers that, when combined with that incomparable char-grilled flavor, became what might just be my favorite ever alfresco meal. This was a big surprise considering that veggie kebabs without halloumi cheese never excited me. That'll teach me to doubt the appeal of fresh, ripe vegetables cooked on a charcoal grill.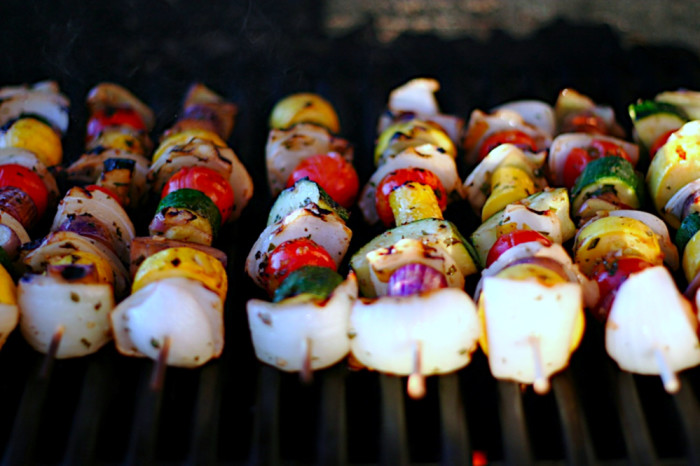 Served by warm and smiley staff and situated just a couple of meters from the ocean, a meal at Maggie's is wonderful experience all around — and one that prompted me to come back three times. Aside from Maggie's, the other standout on Caye Caulker was Errolyn's House of Fry Jacks, a small wooden hut that almost always has a line of locals and tourists outside. Fry jacks are a breakfast staple in Belize: soft but chewy dough that's fried until golden and crisp, and then stuffed with your choice of filling.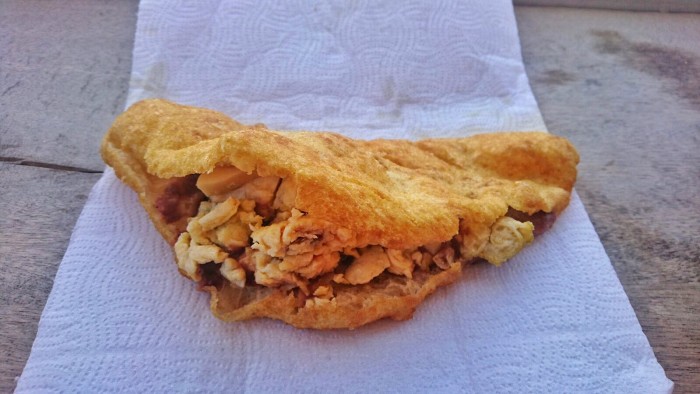 They don't make the prettiest breakfast, but what they lack in aesthetics they make up in taste and texture. Stuffed with eggs, cheese and refried beans and with just the right amount of grease, fry jacks will fill you up for hours — even if the jack itself is gone in a few greedy minutes.
Coming after my experiences with Cuban food (much better than expected but still somewhat repetitive), the diversity of Belizean food was a very welcome surprise. Belize itself is a beautiful country with a fascinating history and the friendliest people — but somehow I think the most lasting memory will be eating those delicious veggie kebabs in front of the warm Caribbean Sea.

Next up: Searching for vegetarian food in Guatemala, the Mayan heartland of Central America.